Hope nobody out there is getting too worked up over those "intense internal conversations" the Rams supposedly are having over the possibility of trading for Donovan McNabb.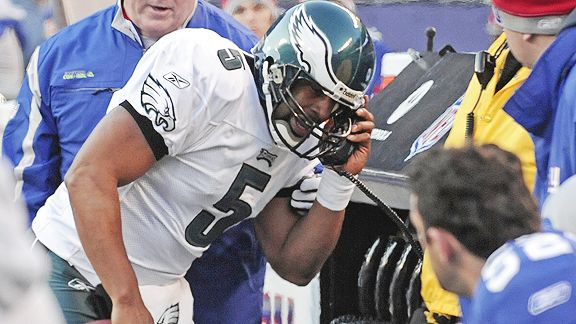 Sure, anything's possible. But let's think this through. The Rams, the worst team in the NFL last season, are undertaking a huge rebuilding project. Their draft picks are precious. To get McNabb, they'd have to give up something pretty darned significant -- at least the first overall pick in the second round, maybe more. OK, if they're going to do that, they're projecting McNabb as their quarterback for at least a few years, right? Yet, he's only signed through 2010. To make such a deal happen, you'd think the Rams would have to be assured they could sign McNabb to a new deal. Why on earth would McNabb be willing to play along?
BTW, maybe the McNabb camp had this scenario in mind last June, when contract revision talks reached that odd conclusion of more money but no added years. The assumption then was that the Eagles didn't want to extend McNabb -- but what if he saw he could retain more control of his destiny by keeping his 2011 options open?
Maybe I'm missing something here, tradewise. Just yesterday, ESPN's Adam Schefter opined that he thought McNabb was the most likely Eagles quarterback to be dealt, ahead of Michael Vick. I don't see it. The only situation that makes sense for McNabb is a contending team, that he'd like to sign with beyond this season. How many of those need quarterbacks? The Vikings seem to be willing to wait indefinitely for Brett Favre. The Cardinals have indicated they intend to go forward with Matt Leinart, and unlike with Minnesota, there is no obvious McNabb connection (where a guy lives in the offseason has nothing to do with anything). San Francisco, a borderline contending team, also has shown no inclination toward trading for a 33-year-old QB, and no McNabb connection.
If you told me the Eagles really were ready to move on from the McNabb Era, despite everything Andy Reid has said since the season, I wouldn't be shocked. I'm really not sure how the moving on gets accomplished, though, unless they decide to sell a "one-year" McNabb at a discount to a bad team ... which you'd think would not be looking for a one-year solution.
I'll believe it when it happens.