Not many high profile players have emerged to be interviewed so far on a steamy Monday afternoon at Leh...er, NovaCare, but general manager Howie Roseman, who just became a father for the fourth time, by the way, emerged from his bunker to talk about the opening of the first training camp of the Chip Kelly era.
Of course, Roseman was asked about the Eagles' quarterback competition; they begin camp with the starter not named for the first time since 1997. Incumbent Michael Vick said in June that he wished Kelly would name a starter before camp. Kelly has not, saying he wants to see Vick, Nick Foles and Matt Barkley "live."
Roseman was asked if he sees Vick being here this season, should he end up not being the starter.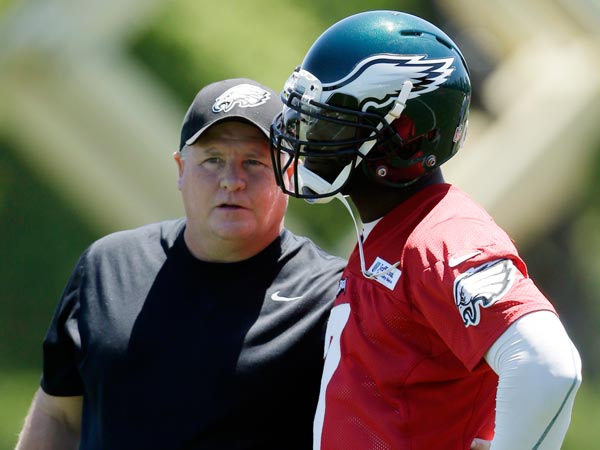 "When we signed Michael (to a new deal in February), it was with every intention that he was going to be on this team," Roseman said. "He's a very talented guy, and he's really eager to show what he's capable of, and we're eager to see it.
"Every conversation I've had, and everyone in this building has had with Michael about competition, he's all for it," Roseman said. "He wants the best players to play. He's not shying away from competition in any aspect. He knew that when we signed him; he knew there was going to be competition in every spot, and he's said nothing other than that he wants to compete."
Vick is scheduled to be among 30 rookies and select vets -- the vets being the quarterbacks and guys coming off injury -- reporting to NovaCare Monday. They will practice Tuesday and Wednesday afternoons before veterans arrive Thursday.