The Eagles completed their final real practice before flying to St. Louis for Sunday's season opener, affirming that they are ready to get going on their Super Bowl quest.
Eagles coach Andy Reid said the only injury of note was backup quarterback Vince Young's hamstring. Reid said Young took some snaps today but is listed as "doubtful." It will be interesting to see, with the third quarterback now a fully active spot, whether the Eagles dress Young on the theory that he could at least hand the ball off if their other two QBs had to leave the game, or if they just dress an extra player at another position and figure Jason Avant can be an emergency third QB.
Quarterback Michael Vick said it is "going to be great to be back out there ... We didn't even know if we were going to have a season a couple of months back; now we're in a position to go out and play in front of the world. This is the greatest game on earth. We get an opportunity to give the fans what they want to see. The NFL is back."
Vick said he was inspired by the overall league season opener, Thursday night's 42-34 Packers victory over the Saints, a memorable battle between Green Bay quarterback Aaron Rodgers and New Orleans quarterback Drew Brees.
"Aaron and Drew, they're great, they're the best. I admire those guys. That game last night made me really want to go out and play on Sunday," Vick said. "It actually got me excited. It was just a totally different feel for me in practice today, my mindset is different" now that the start of the season is at hand.
Reid once again was cagey about whether wideout Steve Smith will play Sunday, less than nine months after microfracture surgery to his left knee. But Smith has practiced all week with the starters and his participation seems likely. He is not listed on the Eagles' injury report.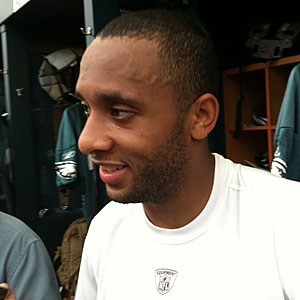 "There's a chance, but I can't tell you how many snaps or any of that," Reid said. "But there's a chance he does play."
Smith said he expects to play, though he isn't sure how much.
"I'm just thankful," said Smith, who was jerked backward on a tackle by the Vikings' Chad Greenway back on Dec. 13, in Smith's first game back for the Giants after missing a month with a torn pectoral muscle. Smith signed with the Birds as a free agent last month after the Giants dithered about bringing him back right away, seeming skeptical he would be ready for the start of the season.
"It is kind of a shocker," he agreed. "I've worked so hard, and I haven't had any setbacks."
Reid said it was significant that Smith has not experienced any swelling during his rehab.
The early weeks and months after the injury were "very scary," said Smith, 26, who caught 107 passes for the Giants in 2009. "It just feels good to be able to play football."
***
Corner Asante Samuel suffered what Reid called a "tweak" of his shoulder in a practice collision with Riley Cooper today, but Reid said Samuel is probable for Sunday. Samuel said he is fine. "I just wanted some attention" from reporters watching practice, he said.
"