Eagles and NFL predictions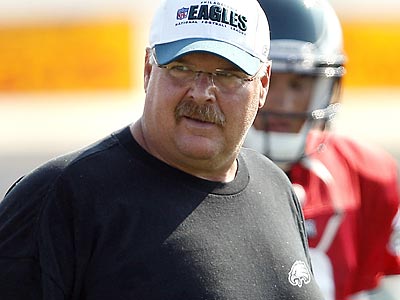 The Daily News will offer its staff predictions for the Eagles and the NFL season in tomorrow's editions. Here are Les Bowen's picks: NFC East 1. Cowboys 11-5 2. Eagles 9-7 3. Giants 9-7 4. Redskins 6-10 NFC North 1. Packers 13-3 2. Vikings 10-6 3. Bears 7-9 4. Lions 7-9 NFC South 1. Saints 11-5 2. Falcons 10-6 3. Panthers 7-9 4. Bucs 2-14 NFC West 1. 49ers 9-7 2. Cardinals 6-10 3. Seahawks 6-10 4. Rams 5-11 AFC East 1. Jets 10-6 2. Patriots 9-7 3. Dolphins 8-8 4. Bills 5-11 AFC North 1. Ravens 12-4 2. Bengals 11-5 3. Steelers 9-7 4. Browns 5-11 AFC South 1. Colts 11-5 2. Texans 10-6 3. Titans 9-7 4. Jaguars 4-12 AFC West 1. Chargers 11-5 2. Raiders 9-7 3. Broncos 7-9 4. Chiefs 6-10 NFC Wild Cards: Vikings, Falcons AFC Wild Cards: Texans, Bengals NFC title game: Packers over Saints AFC title game: Texans over Colts Super Bowl: Packers over Texans NFL MVP: Aaron Rodgers, Packers Coach of the year: Gary Kubiak, Texans Top Rookie: Ryan Mathews, Chargers
Eagles and NFL predictions

The Daily News will offer its staff predictions for the Eagles and the NFL season in tomorrow's editions. Here are Les Bowen's picks:

NFC East
1. Cowboys 11-5
2. Eagles 9-7
3. Giants 9-7
4. Redskins 6-10

NFC North
1. Packers 13-3
2. Vikings 10-6
3. Bears 7-9
4. Lions 7-9

NFC South
1. Saints 11-5
2. Falcons 10-6
3. Panthers 7-9
4. Bucs 2-14

NFC West
1. 49ers 9-7
2. Cardinals 6-10
3. Seahawks 6-10
4. Rams 5-11

AFC East
1. Jets 10-6
2. Patriots 9-7
3. Dolphins 8-8
4. Bills 5-11

AFC North
1. Ravens 12-4
2. Bengals 11-5
3. Steelers 9-7
4. Browns 5-11

AFC South
1. Colts 11-5
2. Texans 10-6
3. Titans 9-7
4. Jaguars 4-12

AFC West
1. Chargers 11-5
2. Raiders 9-7
3. Broncos 7-9
4. Chiefs 6-10

NFC Wild Cards: Vikings, Falcons
AFC Wild Cards: Texans, Bengals

NFC title game: Packers over Saints
AFC title game: Texans over Colts

Super Bowl: Packers over Texans

NFL MVP: Aaron Rodgers, Packers
Coach of the year: Gary Kubiak, Texans
Top Rookie: Ryan Mathews, Chargers
**
A few other tidbits to pass along:
* Some people question the way Andy Reid conducts his press conferences, but he certainly is more engaging than the Giants' Tom Coughlin. Here is how Coughlin began his meeting with the media today: "Good morning. What can I do for you? Practice is in five minutes." At least he said good morning.
Coughlin was asked about the status of Shawn Andrews during his session. "He's coming, he's coming. We have lengthened him out each time we've worked him. We feel like he's getting there and he'll have to contribute." Coughlin said Andrews is still working on learning the plays and getting into football shape.
* Down in Washington, the Redskins have adopted two themes, at least their marketing department has, heading into their Week 1 game with Dallas. The Redskins are hosting a daylong "Beat Dallas" Party and a "Return to the Glory" Party. "Return to the Glory" seems like something that will be a theme down there all season, capitalizing on new coach Mike Shanahan and new QB Donovan McNabb.
* The Web site Pro Football Focus has ranked the Eagles with the sixth-best defensive line in the NFL.
Philadelphia is another team like Baltimore and the Jets that has a stout run defense but struggles to bring pressure with the line. Unlike the Ravens and Jets, the Eagles' pass rush is largely a one-man band, with Trent Cole bringing an elite level of individual pass rush but the rest of the group not following his lead. Inside, Brodrick Bunkley provides strong run defense and the Eagles will hope for slightly more from Mike Patterson next to him, but there is next to no interior pressure forthcoming (28th-ranked interior pass rush). Jim Johnson-inspired blitz packages ensure the pressure gets there but the base pass rush is average. However, as long as these teams continue to make the playoffs, the lack of base pass rush may not be viewed as their most pressing need.
Of the five teams ranked ahead of the Eagles, two of them are in the division, with Dallas at No. 1 and Washington at No. 5.
*
To read our reports from earlier today, click here.