Each week, Paul Domowitch of the Daily News provides an in-depth look at the keys to an Eagles' victory, as well as who has the edge in their upcoming matchup.
WHAT WE'RE WATCHING
CONTAIN CAM: For the second straight week, the Eagles are facing a dual-threat quarterback. They did a poor job last week against Robert Griffin III, allowing him to extend plays and rush for 84 yards. Cam Newton isn't as accurate as Griffin and doesn't take care of the ball nearly as well (13 turnovers), but leads the Panthers in rushing and has accounted for 29 of their 65 rushing first downs.
TAKEAWAY DROUGHT: The Eagles forced six turnovers in their season-opening wins against the Browns and Ravens. In the eight games since, they have only four takeaways. Their 10 total takeaways are the fourth fewest in the league. Making matters worse, just three have been on the opponents' side of the 50. The Eagles have intercepted one pass in the last six games. Carolina's 18 giveaways are the seventh most in the league.
CAN YOU HEAR ME NOW?: Early last year, with all of the new faces on defense, the plethora of blown coverages and communication screwups by the Eagles was somewhat understandable. This year there's no excuse. Yet it keeps happening. Their linebackers and defensive backs are suckers for play fakes and double moves. Their safeties too often have failed to provide over-the-top coverage help. In the last four games, opposing QBs have a ridiculous 143.5 passer rating that includes a .783 completion percentage, 11 TDs, no interceptions.
KEEPING LITTLE NICKY SAFE: Having a rookie throw 46 passes in his first start wasn't the smartest thing Marty Mornhinweg ever has done, though 19 of them came in the fourth quarter after the Eagles fell behind 24-6. Foles got the ball out quickly. Just 15 of his 46 attempts traveled more than 9 yards, and Mornhinweg called a season-high 11 screens. Yet Foles still was sacked four times, hit six times and hurried 11 other times. The Panthers have a good pass rush.
PRODUCTION FROM THE BIG TWO: In last week's loss to the Redskins, wide receivers DeSean Jackson and Jeremy Maclin were targeted a total of nine times and had two catches for 5 yards, both by Jackson. Two years ago, when the Eagles won the NFC East, Jackson and Maclin combined for 16 touchdowns catches. In the Eagles' six- game losing streak, they've got three. They've combined for 130 or more receiving yards twice in the six losses.
SCOUTING REPORT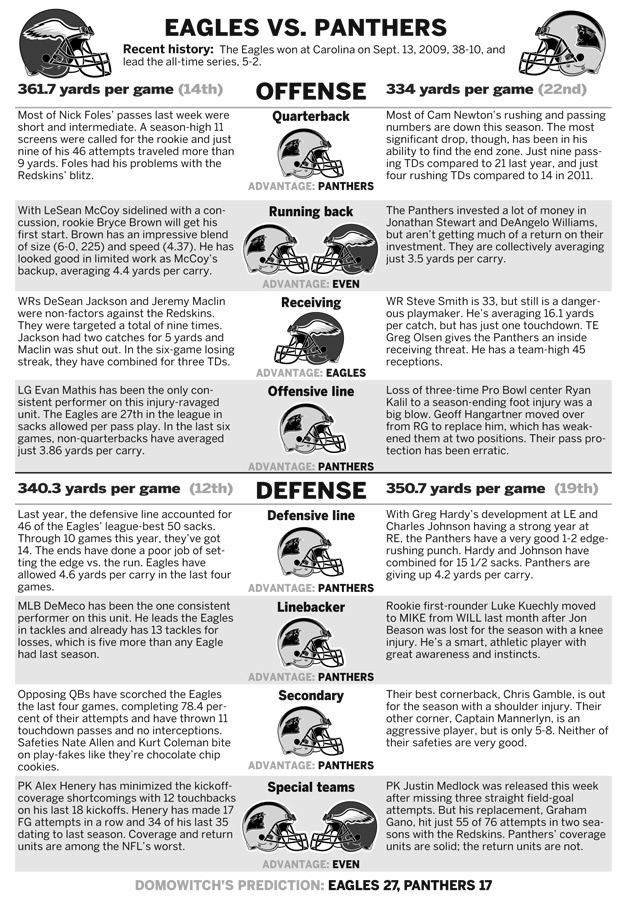 KEY MATCHUPS
1. Eagles LT King Dunlap vs. Panthers RE Charles Johnson: Johnson has a team-high 8 1/2 sacks. Dunlap is coming off back-to-back bad games vs. Dallas and Washington. Advantage: Panthers
2. Eagles WRs DeSean Jackson and Jeremy Maclin vs. Panthers CBs Captain Munnerlyn and Josh Norman: Jackson and Maclin combined for just two catches for 5 yards last week. Eagles will be trying to get them more involved in the offense. Advantage: Eagles
3. Eagles SLB Mychal Kendricks vs. Panthers TE Greg Olsen: Olsen is one of Cam Newton's go-to guys along with Steve Smith. He has a team-high 45 catches. Kendricks has given up TD passes to TEs in each of the last two games. Advantage: Even
STAFF PREDICTIONS

Les Bowen: Panthers 17, Eagles 9
Paul Domowitch: Eagles 27, Panthers 17
Ed Barkowitz: Panthers 13, Eagles 7
Marcus Hayes: Panthers 35, Eagles 13
John Smallwood: Panthers 24, Eagles 17
Bob Cooney: Panthers 24, Eagles 20
Vegas Vic: Panthers 31, Eagles 24