BETHLEHEM -- Where to begin?
Here at the center of the NFL universe, all of a goshdarned sudden, huge stories just seem to be just wandering down from the low hills surrounding the practice fields and chasing us, instead of the other way around.
We had interviews with Dominique Rodgers-Cromartie, Jason Babin, Vince Young, Andy Reid and Joe Banner this morning. Nnamdi Asomugha apparently is scheduled for tomorrow.
Headline No. 1: DRC says a three-cornered defense isn't a problem for him.
"That'd be all right with me," he said, about the possibility of lining up as the nickel corner, with older heads Asante Samuel and Asomugha also in the equation. "Long as I can get on the field and just compete."
Rodgers-Cromartie said he was excited, not flustered, to find that Asomugha had trumped him as the Eagles' big cornerback acquistion, even as DRC was flying in from Arizona in the wake of the Kevin Kolb trade.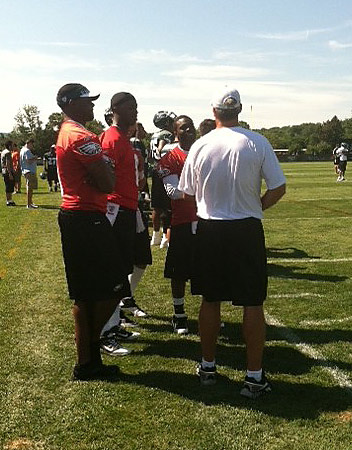 Headline No. 2: Young showed for practice, even though he can't work out until Aug. 4, conferring on the field and on the sideline with the other QBs and QB coach Doug Pederson. Young has jersey No. 9, perhaps an homage to Sterve McNair, his Tennessee mentor. Later, Young called the new-look Eagles "a dream team."
Asked why he chose to pursue a backup role in Philadelphia to restart his career, Young said: "Andy Reid."
Both Young and Reid referenced a meeting at the 2006 Maxwell Club banquet.
"I met him a long time ago. Some things just stand out about him, there's a respect across the league, as well as how players talk about him, and have respect as well," said Young, the third overall pick in the 2006 draft. "I really felt like it was a good fit for myself. I had a lot of opportunities, but I felt like this was a great opportunity for me to get better as a quarterback and learn from him, as well as learn from the rest of the quarterbacks here -- Michael Vick."
Headline No. 3: Reid finally shed some light on wideout Jeremy Maclin's excused absence. Reid said Maclin is "still ill."
Maclin reportedly lost weight early in the offseason with a mono-type illness. When he joined lockout workouts in South Jersey in late May and early June, he said he was over that problem and back to normal. Apparently not. The Eagles offered no further update.
Headline No. 4: Banner spoke passionately about the front office's attempts to load up the wagon and win a Super Bowl.
"It's dramatic. We went in with an aggressive plan," Banner said on the day after the Eagles shocked the football world by signing Asomugha to a five-year deal. Banner said agent Ben Dogra told the Birds they were Asomugha's top choice from the beginning "if the economics were right." Sometime in the middle of Friday afternoon, that began to seem likely, Banner said.
Banner called the Eagles "one of the most desirable places to play in the league," and acknowledged reports that Asomugha left money on the table to join Vick and the Eagles.
"My impression is that there were some higher offers," Banner said. "I don't think there's any doubt he wanted to be here very badly."
Banner wouldn't discuss possible new deals for Vick or holdout DeSean Jackson, but assured reporters "we still have some flexibility" under the $123 million cap.
"We're doing everything and anything we can," Banner said. "The expectations are high."
Asked if there was a big focus on "legacy," Banner said: "There's a big focus on relieving the stress and pain of having been so close of having been so close so many times and not winning it all. We're very focused on getting that knot out of our stomachs."