In a blog posting earlier this week, listing things he is thankful for, Donovan McNabb announced he and his wife Roxie have become parents again. Their fourth child, Devin James McNabb, was born a week ago today, McNabb said.
After practice Friday, McNabb said everyone is doing well, and he said he won't be attempting to field a McNabb family basketball team of youngsters. 'That's it -- that's all for us," said McNabb, who turned 33 Wednesday.
***
Corners Asante Samuel (neck) and Sheldon Brown (hamstring) were full practice participants Friday, though Samuel is listed as "questionable" for Sunday's game. Samuel and Eagles coach Andy Reid indicated he will play.
Also questionable, after sitting out to calm down some knee swelling Friday, was Jeremiah Trotter. Again, both Reid and Trotter said Trot will play against the Redskins, but the swelling is a little concerning, given that Reid listed starting weakside linebacker Akeem Jordan as "out" again this week with his knee hyperextension. The plan is to again split the middle between Trotter and Joe Mays, with Will Witherspoon taking Jordan's place, a configuration that worked reasonably well last week in Chicago.
Reid said right tackle Shawn Andrews is in Dallas, getting a second opinion on the need for more back surgery. Reid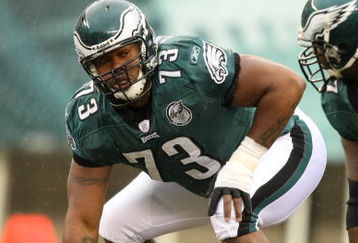 said Dr. Robert Watkins, the California specialist caring for Andrews, asked that he get another view. Apparently, Watkins feels Andrews needs work on two discs if he intends to play football again. Andrews has essentially missed the last two seasons with back trouble.
"He just hasn't made progress from the rehab, and it's not from lack of effort," Reid said.
Reid said Andrews' setback was not connected to the team's decision to give replacement Winston Justice a four-year contract extension this week.