Chip: Can't gauge Vick 'til Tuesday practice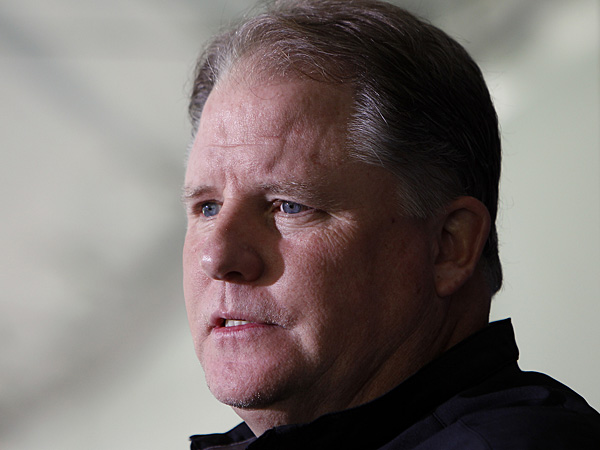 Eagles coach Chip Kelly said he won't know who will take the most first team reps in practice tomorrow until he sees Michael Vick on the field.
Chip: Can't gauge Vick 'til Tuesday practice

Rich Hofmann pointed out in Monday's Daily News that in the week between the aftermath of the Giants game and the aftermath of the Bucs game, Chip Kelly became much less adamant about Michael Vick remaining the starting quarterback, no matter what.
That trend continued in the coach's day-after news conference, when Kelly was asked who takes the first-team reps Tuesday, as the Eagles begin preparations for this Sunday's game against the Cowboys.
"Depends on where we are from a health/depth standpoint," Kelly said.
Kelly said his allusion Sunday to wanting to evaluate everything after watching the Tampa film was him "talking about Michael's health," though at the time, he mentioned Vick's health as one of the factors that would figure in an evaluation.
When both are healthy, who should be the starting quarterback of the Eagles?
After the win at the Giants, Kelly was asked if Vick is still the QB when he gets healthy and Kelly snapped "yes." Asked the same question Monday, Kelly said: "Until we know what the health is, I'm not saying what anybody isn't or anybody is ... All our decisions on who's going to play are based on health."
In the locker room after Sunday's game, Vick did not give the impression that he was ready to go. In fact, he shied away from predicting he would be able to start against Dallas.
Other notable topics:
*Safety Patrick Chung, running back Chris Polk and tackle Jason Peters have shoulder injuries. Kelly said he doesn't expect any of them to be full participants Tuesday, but he thinks Peters will practice Wednesday.
*Kelly praised Brent Celek, especially his blocking on the final field goal drive, when the Eagles ran the ball 11 times in a row.
*Kelly said defensive lineman Fletcher Cox played his best game of the season against the Bucs.