The Eagles' informal gathering for media folk Tuesday evening down at NovaCare was an interesting, and in some ways encouraging, affair. On one level, as is the case with almost any access an NFL team grants, the goal surely was to favorably influence the way the team is viewed by the people who cover it. But knowing a little about the genesis of the event, I would say the intent was more fostering communication and mutual understanding, than co-opting anyone or trying to force-feed any sort of organizational dogma. I said "encouraging," because one of the criticisms of this regime, voiced here and elsewhere, has been its penchant for secrecy and its rigid adherence to protocol. Anything that breaks down that wall a little bit, I'm all for.
Reporters were divided into groups, who shuttled among sessions with special teams coordinator Bobby April, offensive coordinator Marty Mornhinweg, defensive coordinator Sean McDermott and general manager Howie Roseman. Here are a few observations:
*April gave an overview of how he sets up his operation, but it was hard to delve much into specifics, because he is new here. No way to ask about last year's Eagles kick coverage, with a guy who was in Buffalo at the time. But as he
showed in his initial news conference during minicamp, April is an entertaining, engaging speaker. His narration of a season-long quest in 1995 to get the Steelers to try an onside kick, complete with jaw-jutting Bill Cowher imitation, would have been worth the price of admission, if there had been one. (They finally tried it, and converted it, in the Super Bowl, after April covertly engaged offensive coordinator Chan Gailey to help him win over Cowher. But Neil O'Donnell made the whole thing moot with a crucial pick.)
*Mornhinweg was a physics professor speaking to a bunch of guys who hadn't gotten closer to the subect than taking phys ed. He seemed to assume a much greater grasp of X and O jargon than most of us possessed. Until Tuesday, I thought "cloud" coverage only affected sunlight, not wideouts. But his session was worthwhile. For one thing, you got a sense of why things sometimes break downor get garbled, in the Birds' complex offense -- Mornhinweg is dealing with an almost limitless set of variables. There might not be a half-dozen people on the planet better versed in the West Coast offense. But as anyone who has ever watched him in a press conference knows, Marty has an amiable, absentminded professor personality. He is not averse to meandering off on a tangent, in explaining something.
The most important thing I gleaned there was the importance of the quarterback following the prescribed progression. One film Marty showed had Donovan McNabb throwing in the flat to Brian Westbrook for a short gain. Meanwhile, L.J. Smith was wide open over the middle, for what might have been an easier, greater gain. I asked why McNabb hadn't thrown to the tight end. The answer was that Westbrook was No. 2 in McNabb's progression, Smith No. 3. While Mornhinweg wouldn't have downgraded McNabb had he seen Smith and broken the progression to throw to him, McNabb really wasn't supposed to look to Smith until he had checked Westbrook. If Westbrook was open, he was supposed to throw it there. And he did. It isn't the type of deal where you hold off on throwing to 2 while you check on 3, to see if he might be an even better option; the reason Westbrook was second and not later was the pattern he was running, he needed the ball pretty quickly, if he was going to get it.
*To me, McDermott's session was the most accessible and useful, maybe because he took a lot of questions. The prime information there was that McDermott acknowledged what we've all been speculating on -- as he tries to find ways to use all his new personnel, he is thinking of doing more with 3-4 looks. The Eagles' base defense will remain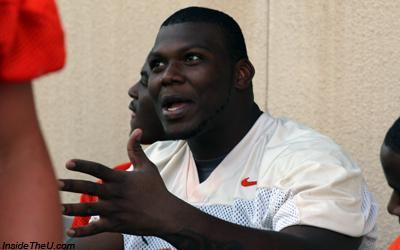 4-3, but they've shown 3-4 here and there in the past, and that tendency very well might increase. The biggest obstacle would seem to be the lack of a true 3-4-style, monster nose tackle. McDermott said he thought Brodrick Bunkley could fill the bill, and he noted that Antonio Dixon is "320 and rising."
The Eagles also have some variations in which they employ five down linemen, and that might be something McDermott does more with, as well.
The Eagles have different sorts of nickel and dime packages, including one where a nickel back lines up almost as a linebacker. McDermott seems to see Marlin Jackson as a guy he wants to plug into that spot.
We talked a little about how important returning middle linebacker Stewart Bradley is to what McDermott is doing. He noted that not only is Bradley effective against the run, he is very tough to throw over, in the middle of the field.
McDermott confirmed that after those season-ending losses to the Cowboys, he was "seeing bubble screens in my sleep." He didn't give specifics, but obviously, a big focus of his offseason has been plotting to patch that hole.
*I got to ask Roseman about that business with inadvertent post-draft leaking of the Cowboys' draft board, which rated Brandon Graham a high second-rounder, instead of 13th overall, where the Birds traded up to take him. It wasn't surprising to hear him say teams vary greatly in their assessments, often because a particular player does or doesn't fit what you try to do offensively or defensively. In other words, you don't assess players in a vaccuum. A running back with no receiving skills, for example, probably would not get the kind of rating from the Eagles he might get from a team that doesn't throw to its backs.
Roseman said the Eagles predicted the 3 top DEs would go between 13 and 18 in the first round, so they would need to trade up from 24 to get any of them. As it turned out, they all went between 13 and 16.
Last month's Eagles draft had a distinctive big-school feel. In that context, it was interesting to hear Roseman say that one thing they valued in a prospect was "big time producution against big time competition." Of course, smaller school players could give a glimpse of that in postseason all-star games, as he noted.
Some of the media folk present haven't been around Roseman that much, so it wasn't surprising that his background was again a topic for discussion. Roseman framed the issue of "GM as lifelong football geek" vs. "GM as former player or coach" with an image I hadn't heard him use before. "Do you want the doctor who had the illness, or the one who studied it the most?" he asked.
I generally just look for one who accepts my insurance.
*
UPDATE: Former Eagles running back Brian Westbrook has concluded his visit with the Washington Redskins and is on his way to Denver to meet with the Broncos coaches, according to ESPN.com.
"He had a really positive visit with the Redskins," said Westbrook's agent, Todd France. "We're confident we're going to find the perfect fit."