Birds expect more than 200k campers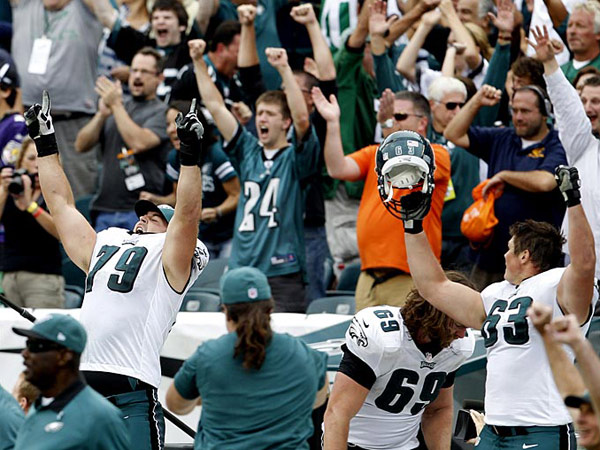 The Eagles are well aware that they haven't done this before.
Birds expect more than 200k campers

The Eagles are well aware that they haven't done this before.
Team president Don Smolenski was describing for reporters Thursday some of the changes to the layout at NovaCare, where about 300 to 400 invited fans will watch training camp, and at Lincoln Financial Field, where the Birds will hold five free public practices for which they have already distributed more than 200,000 tickets, Smolenski said.
"We didn't know what to expect with the tickets. It's exciting to see it grow, literally on a daily basis. (But) we're also walking into it with eyes wide open, (realizing) that it's a learning experience for us, and that we're going to seek feedback from the fans, hopefully get their feedback and learn from it – try to find out what can we do different, what can we do better, what can we improve on," Smolenski said. "It's new to everybody … it's the first time since 1943 (training camp has been held) here in Philadelphia … we've tried to go through as much detail as we can."
Smolenski said more than 49,000 tickets have been distributed for the July 28 first public session at the Linc, which will be a practice, not a contrived skills exhibition like Flight Night, the former Linc training camp experience. That means you should prepare to have your ears assaulted by the soundtrack new coach Chip Kelly uses to inure his team to crowd noise on the road.
Obviously, the Linc can't reproduce the intimate scale of training camp at Lehigh, where the Eagles ventured every summer for the past 17 years, even with features such as letting kids 14 and under go down to the playing surface to catch a pass from an Eagles alumni member after practice. But just as obviously, you could never fit 49,000 people into the grandstands at Lehigh. Though the Eagles leaving Lehigh is a big loss for Lehigh Valley fans, if you live anywhere south of Conshohocken, you probably have easier access to camp at the Linc. The Eagles said people who depend on public transit have told the team how much they appreciate the move.
"I think they'll like the energy" of Kelly's practices, Smolenski said. "I'm interested to see that myself. I've seen it now through all of the OTAs and the minicamp … from the music, and the enthusiasm, and just the pace of it, I think that will be intriguing to (fans)."
Smolenski noted that the NovaCare practices "will be very intimate," since the field area is actually smaller than what the Eagles dealt with at Lehigh. Of course, only corporate sponsors and 50 or so season ticketholders a day will be on hand for the NovaCare work.
The field configuration at NovaCare has been changed over the past month, with four fields now all running perpendicular to Broad Street, to try to maximize the practice area and make taping practice easier.
Kelly also has spurred changes in the weight room, and enhanced the communications equipment, such as adding screens around the facility with the players' daily schedule and other tidbits.
At the Linc, Smolenski said, "while we can't replicate the intimacy, hopefully we can create a fun, festive atmosphere."
Parking will be free. Concession stands at the Linc will be open, but no alcohol will be sold, Smolenski said. Each fan will get a scratch-off ticket upon entering, and the winners will gain admittance to an autograph session after practice. Because of the complications of the Eagles' schedule and the Linc's schedule, there is no provision for rain dates, Smolenski said. All practices are scheduled for 12:30 p.m.