Eagles coach Andy Reid said today that he has spoken with wideout DeSean Jackson, and is confident Jackson will report on time for training camp, July 29 at Lehigh. Rookies are scheduled to report July 26.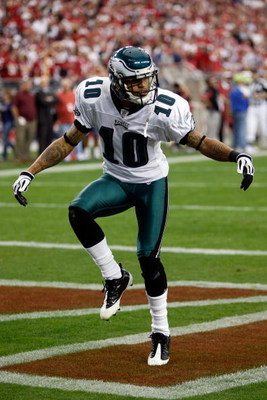 Reid, speaking at the conclusion of OTAs -- "46 days and 12 hours" before the opening of camp, as he put it, said he spoke to Jackson about Jackson's absence from the final week of these workouts. "It was personal reasons, he and Asante" Samuel, the veteran cornerback who also missed the final week, Reid said.
As he has done in the past, Reid emphasized that while he wants players to take every opportunity to get better, "it is a voluntary camp," and he feels it's important for players with personal business to "get whatever settled they need to get settled."
In the past, such absences often have been linked to contract displeasure. Jackson has said he would like to have his rookie deal redone, after making the Pro Bowl as a wideout and a returner in his second NFL season. The Eagles have said that restrictions caused by the expiring collective bargaining agreement make that difficult. Jackson has not spoken about missing this week, but there have been reports saying the absence was not contract-related.