Archive: September, 2009
Daily News staff
Vick or Favre? Which one was the bigger story nationally?
According to Nielsen Buzzmetrics, which measures the mention of a topic in all blogs in the country, Michael Vick's deal with the Eagles was mentioned in nearly 25 percent of blogs, while Brett Favre's was mentioned in 18 percent, the Milwaukee Journal Sentinel reports.
The Eagles announced the Vick signing on Aug. 13. Favre told the Vikings he was coming out of retirement to join them on Aug. 18.
Daily News staff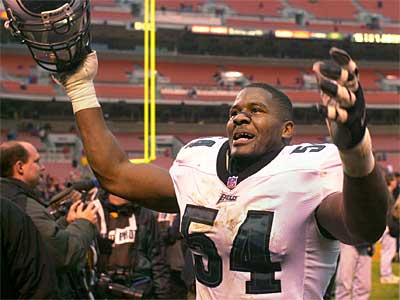 Jeremiah Trotter told a conference call with reporters Tuesday that a few months after the Eagles released him in 2007, he started having dreams in which he was playing for them again.
"I woke up, I was thinking I was crazy," he said. "I actually told a couple people ... it sounded crazy then. It sounds crazy now."
But he isn't dreaming. One day after his second workout at the NovaCare complex, the Eagles announced they have
brought back Trotter for his third tour of duty at middle linebacker. To make room, the Birds released quarterback Jeff Garcia.
Poll: Is signing Jeremiah Trotter a good move?

(4341 votes)
Daily News staff
Even as it appears more likely that the Eagles will sign linebacker Jeremiah Trotter, team president Joe Banner was not about to reveal the team's intentions.
At a media event this morning at Thomas Jefferson University Hospital, Banner declined to comment on Trotter's situation. All he would say is, "We've worked him out."
Trotter has now worked out twice for the Eagles, once yesterday, as we documented here on Eagletarian and in today's Daily News.
Les Bowen, Daily News Staff Writer
Jeremiah Trotter worked out for the Eagles again Monday, the team and Trotter confirmed.
Trotter told your Eagletarian that the session went "two to three times better than last time" -- the workout held for Trotter last Thursday. Eagles coach Andy Reid said after that one he was impressed with how well Trotter moved, after a 2008 knee 'scope, which Trotter feels has given him back some of the agility he'd lost, when he drifted out of the NFL at age 30, at the end of the 2007 season.
Trotter wouldn't say whether he feels he is about to be signed -- "I can't say any more (than that the session went well), I'll leave that to 'Big Red,' " he said. But that certainly would seem to be a reasonable inference from the tone of his remarks.
Paul Domowitch, Daily News NFL Columnist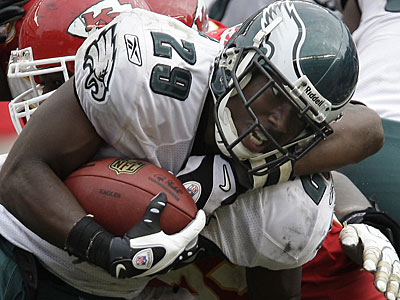 Here is Domo's Second Take on the Eagles-Chiefs game after reviewing the videotape:

* Defensive coordinator Sean McDermott made it clear very early in Sunday's game that he wasn't going to treat Matt Cassel with kid gloves like he did Drew Brees. The Eagles, who seldom blitzed Brees in their 48-22 loss to the Saints, went after Cassel with 7 rushers on the Chiefs' first two pass plays of the game.
* The Eagles, whose loss to the Saints was littered with missed tackles, did a much better job of tackling in Sunday's win. Strong safety Quintin Mikell set the tone on the first play of the game with a sure tackle on wide receiver Mark Bradley after a 4-yard completion.
* If you just looked at his rushing numbers Sunday – 7 carries for 3 yards in the first half, 38 yards on 19 carries for the game – it'd be easy to conclude that Chiefs running back Larry Johnson doesn't have much gas left in his tank. But Johnson is a north-south power runner who needs to get to the line of scrimmage with a head of steam, and he seldom was able to do that Sunday as the Eagles continually got penetration into the Chiefs backfield. On a first-and-20 run by Johnson on the Chiefs' first possession, Eagles d-linemen Brodrick Bunkley and Trent Cole both already were three yards into the backfield when Johnson took the handoff from Matt Cassel. They collaborated to drop Johnson for a one-yard loss.
Daily News staff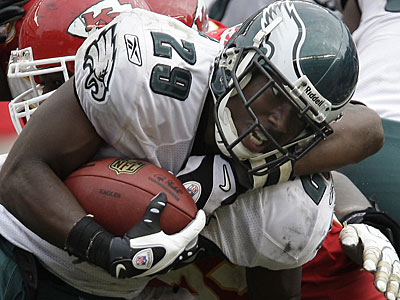 Could the Eagles' be heading to a two-headed monster at running back? Or at least lessening the load on Brian Westbrook after LeSean McCoy's performance Sunday?
"I think that will take place," coach Andy Reid said of the possibility of more balance between Westbrook and McCoy. "He will rotate in there. I don't know exactly the rotation that we would do. We would work him in there."
The bigger issue at the moment is Westbrook's ankle. He did not play yesterday against the Chiefs.
Daily News staff
TALKING POINTS
What we are talking about after the Eagles' victory over the Kansas City Chiefs:
1. The real McCoy. With Brian Westbrook resting his sore right ankle, rookie Shady McCoy got his first start and proved again that the Eagles aren't going to need 25 touches a game from Westbrook this season to win.
Paul Domowitch, Daily News NFL Columnist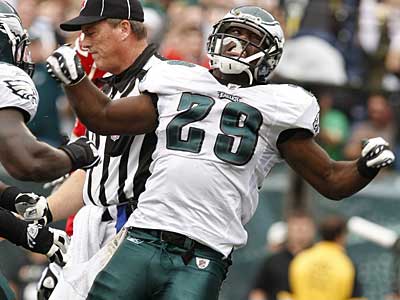 RUSH OFFENSE: LeSean McCoy played well in his first NFL start, averaging 4.2 yards per carry and rushing for a 5-yard TD on a direct snap. Eagles ran the ball 15 times for 55 yards out of the Wildcat/spread option. Grade: B-plus
PASS OFFENSE: Kevin Kolb racked up his second straight 300-yard passing game, including 64- and 35-yard touchdowns to DeSean Jackson and Brent Celek. Completed 70.6 percent of his passes and didn't throw an interception. Grade: A-plus
RUN DEFENSE: Eagles' front seven dominated the Chiefs' offensive line, holding KC to 18 yards on nine first-half carries. Larry Johnson managed just 38 yards on 19 carries, and 26 of those 38 yards came on a pair of third-quarter rushing attempts after the Eagles went ahead 27-7. Grade: A