Archive: September, 2008
Les Bowen, Daily News Staff Writer
Your Eagletarian got an e-mail this morning from a gentleman who wanted me to know that had Norm Van Brocklin been told to run that fourth-down handoff play to Correll Buckhalter, instead of a quarterback sneak, The Dutchman would have refused to do so. He would have, instead, responded with "an Obscene Jester."
A few years ago, Hugh Douglas was kind of an Obscene Jester, before the run-in with Terrell Owens, anyway. I'm not sure where McNabb fits in there. (But I can't make too much spelling fun, as the guy who, blogging and writing on deadline and trying to watch the end of the game Sunday night, managed to mangle "epitaph".)
Then, in the Inquirer, which is reinventing journalism by printing e-mail exchanges between its columnists in the paper a day later, one of the columnists, the usually reliable and witty Mr. Ford, opined that you could blame this on Andy Reid if you really wanted to, but that he felt the quarterback "came up remarkably small."
Les Bowen, Daily News Staff Writer
Eagles running back Brian Westbrook said that when he warmed up at Soldier Field Sunday, he couldn't maneuver quite well enough to play in the Eagles' loss to the Bears.
"We warmed up and we tested it. It just wasn't right. You would hate to go out there and injure it more, and then be out for two, three, or four more weeks," Westbrook, who suffered an ankle strain Sunday a week ago against Pittsburgh, said tonight on his ESPN 950-AM radio show.
"I was just trying to get a feel for how much pain there was going to be with running. I felt OK running straight. The problem was going, just the little simple weaves and things like that, just carrying and cutting, that was a problem, more than anything. At that point, I knew that it probably wasn't wise to go."
Paul Domowitch, Daily News NFL Columnist
On Sunday's four-point loss to the Bears:
What Andy said: ``We didn't perform the way we needed to on the offensive side, which is my responsibility. We didn't start the game the way we needed to start the game. That's also my responsibility.''
What he meant: ``I $%@&#d up again.''
On David Akers' two missed field goals against the Bears:
What Andy said: ``Before the game, he goes out and tests the wind out. The wind was blowing towards our bench. Where he was aiming was closer to the right goal post. But the wind didn't blow it back to where it normally blows it back to. That's not an excuse for him. That's what happened.''
What he meant: ``David wants us to hire that weather dweeb from Channel 10, Hurricane Schwartz, as a kicking consultant. But Joe Banner won't spring for it.''
Les Bowen, Daily News Staff Writer
Early this morning, at the end of a hectic day, your Eagletarian finally was given enough time with the stat sheet to figure something out:
The Eagles lost a football game Sunday night to a quarterback who threw for 17 net yards in the second half, and who looked like he needed a change of underwear every time the rush closed in.
Yes, they are singing Kyle Orton's praises along the shoreline of Lake Michigan this morning, because the Bears somehow won. Their four turnovers -- two picks and two Orton fumbles -- cost them a couple of piddling field goals. The Eagles turned the ball over twice, once leading to a touchdown. Advantage, Chicago, 7-6.
Les Bowen, Daily News Staff Writer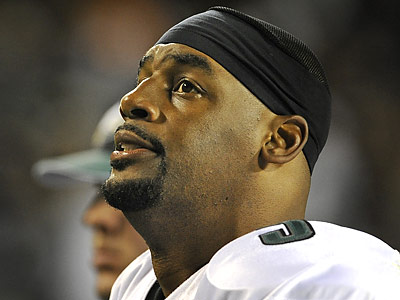 Four cracks at the goalline from the Bears' 4, three from the 1.
No points.
That was the epitaph on a 24-20 Eagles loss to the Chicago Bears at Soldier Field, a game the Eagles should have won, and surely would have won if Brian Westbrook had been able to play.
But Westbrook and his injured ankle were watching from the sideline, and the Eagles didn't have the offensive weapons to win the game, despite an amazing series of opportunities provided by four Bears turnovers.
On first and goal from the 4, after driving from their 24 in six plays, the Birds got a 3-yard run from Correll Buckhalter. On second down, Tony Hunt seemed to have a hole inside but didn't go there and lost nearly a yard. On third down, Buckhalter tried to leap the pile, the way Westbrook does so effortlessly, and he came up short.
Fourth down, three minutes and 40 seconds left, instead of a sneak or a roll by Donovan McNabb, the Eagles sent Buckhalter into the middle again, and defensive end Alex Brown got penetration, grabbing Buckhalter by the neck as he leaned into the pile. Not quite there, by an inch or two.
The Bears basically derailed the Eagles' offense in the second half by shutting down DeSean Jackson, who caught just one pass for 7 yards after catching 4 for 64 and a touchdown in the first half.
Several questionable Andy Reid decisions aside, we learned two disappointing things about the Birds.
1. Without Westbrook, Jackson is THE weapon. This became painfully apparent when the Birds could manage just 6 points off those four Bears turnovers.
2. Jackson really is just a rookie, as McNabb has persisted in trying to tell us since early in training camp.
Jackson fumbled away a punt, leading to a Bears touchdown. Then he broke the wrong way on a pass pattern, leading to a Bears interception. He also let a 67-yard punt bounce out at the Eagles' 4, and dropped a catchable pass, before disappearing from the offense down the stretch, even as Chicago kept losing cornerbacks to injuries.

Les Bowen, Daily News Staff Writer
Kyle Orton keeps trying to give this to the Eagles, with some help from Jim Johnson's fellows, but despite two Orton picks and two Orton fumbles recovered by the Birds, the Bears still lead, 21-20.
The teams exchanged turnovers early in the second half. DeSean Jackson turned the opposite way from what Donovan McNabb expected, giving Kevin Payne an easy pick and the Bears the ball at the Birds' 11, after Correll Buckhalter hurt his back making the tackle. But then Omar Gaither hit Orton as he threw and Quintin Mikell picked the ball off in the end zone.
David Akers plunked a 47-yarder off the right upright, then finally hit, from 24, after Gaither pounced on an Orton fumble produced by a Trent Cole sack.
Akers made it 21-20 with a 31-yarder, after Orton fumbled a handoff exchange with Kevin Jones and Stewart Bradley recovered.
Les Bowen, Daily News Staff Writer
The Eagles would be leading at the half, not trailing, if Andy Reid had made a couple better decisions late in the second.
The Birds might have been ready to take control when Juqua Parker hit Kyle Orton as he threw and Darren Howard picked off the pass, setting up Donovan McNabb and the offense at the Bears' 41. But a slow-developing third-and-1 Correll Buckhalter run was stuffed (no QB sneak, of course, though the QB is bigger and stronger than Buck and is standing right behind the center).
Then, on fourth down, Reid elected to have David Akers try a 50-yard field goal, despite the fact that Akers was 3-for-his-last-11 from 40 yards-plus. Akers pulled it wide right. So the Eagles got no points from the turnover, and the Bears, blessed with excellent field position the entire first half, got the ball at their 40.
This sequence of events would be extremely second-guessable, particularly in light of the ensuing nine-play Chicago touchdown drive, which ended with a 20-yard Orton touchdown pass to Devin Hester and a 21-14 Chicago halftime lead. Not to sound homerish here, but it sure looked as if Hester bumped Asante Samuel off-stride before he made the catch.
The Eagles briefly were given a fumble recovery with 11 seconds left in the first half, but video replay showed Orton's arm moving forward as Omar Gaither hit him.
quarter.
Les Bowen, Daily News Staff Writer
It's 14-14 early in the second, here's what we think.
Are the Bears ever going to start a drive in bad field position?
DeSean Jackson just made a game-changing mistake, fumbling away a punt after a really strong defensive series. and the Bears took the lead two plays later, Marty Booker eluding Quintin Mikell for a 23-yard TD catch.