Archive: July, 2012
Les Bowen, Daily News Staff Writer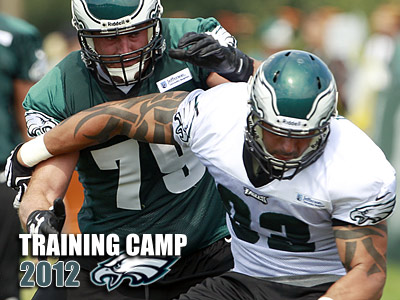 Tuesday's news that the Eagles expect to be without defensive end Jason Babin (calf strain) for two to three weeks wasn't unexpected, but it does confirm that there will be quite a few training camp reps for other defensive ends trying to make an impact.
One guy who so far has made the most of every opportunity is 2010 first-round pick Brandon Graham, who has been focused and relentless. Vinny Curry, this year's second-round rookie, is an imposing figure who has had his moments but seems pretty raw. Don't be shocked, given their depth at defensive tackle, even without Mike Patterson right now, if the Eagles use Cullen Jenkins a lot on the outside this camp.
Jenkins, 31, a starting defensive tackle, notched five of his 5.5 sacks last season in the first five games. In the offseason, I think coaches figured if they moved him around a little, it would be harder for offensive lines to shut him down.
Philly.com Sports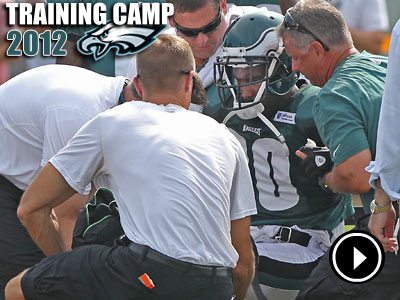 Video: Les Bowen of the Daily News and John Roach of Philly.com Sports report on a day that featured DeSean Jackson getting in a fight and Ron Johnson suffering a gruesome ankle injury.
Les Bowen, Daily News Staff Writer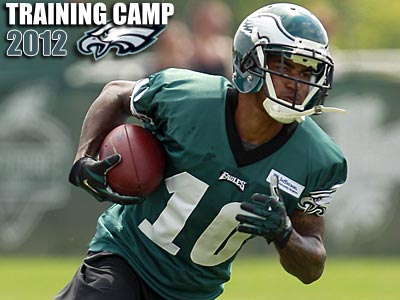 BETHLEHEM --- Another afternoon of live practice brought another injury and another fight.
Ron Johnson, a wide receiver who spent last season on the Eagles' practice squad, suffered a gruesome right ankle dislocation and apparent fracture when his cleats seemed to catch and he fell awkwardly. Eagles head athletic trainer Rick Burkholder said Johnson was transported to the Lehigh Valley Medical Center for treatment.
Burkholder confirmed what onlookers reported -- that Johnson tried to pull his ankle back together as he lay on the ground, but was unsuccessful, as was the Eagles' medical staff.
Paul Domowitch, Daily News NFL Columnist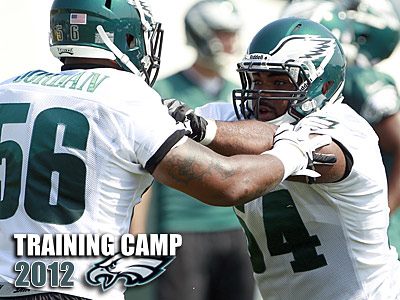 BETHLEHEM -- Monte Taylor is a rookie free agent defensive end out of the University of Cincinnati who was signed by the Eagles in mid-June after he was released by Seattle.
Brandon Graham was the 13th overall pick in the 2010 draft.
As far as Graham is concerned, though, there's no difference between he and Taylor right now.
Les Bowen, Daily News Staff Writer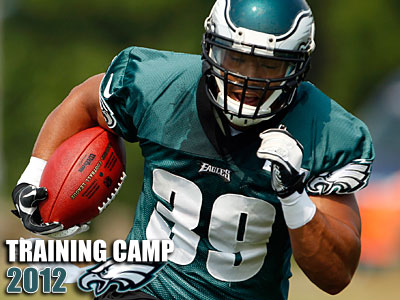 BETHLEHEM --- One of the continuing storylines reporters will follow through this Eagles training camp will be the fullback situation. By letting incumbent Owen Schmitt -- the guy who got Jason Kelce excited about that "Beserker" look -- walk in free agency, the Birds might have been hinting that they don't really plan to carry a fullback this season.
They used one for only about 19 percent of their 2011 snaps. There is some thinking you could plug in a third tight end type in the backfield for that minimal workload, and make more efficient use of your roster space. The Eagles like 2011 practice squad fullback Stanley Havili, but we'll see if they like him enough to put him on the roster. It's interesting that with Brent Celek currently sidelined, undrafted rookie fullback Emil Igwenagu from UMass is taking tight end reps. He was a tight end and running back his senior year in college. If you're looking for a hybrid, he might be the guy.
Offensive coordinator Marty Mornhinweg was asked about that Monday. Mornhinweg outlined the situation, while cleverly avoiding having to pronounce "Igwenagu."
Les Bowen, Daily News Staff Writer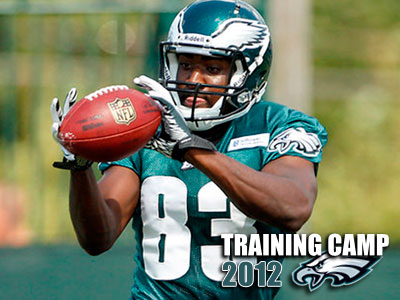 BETHLEHEM --- Eagles coach Andy Reid said Sunday that wide receiver Riley Cooper will have surgery Monday to set a plate into his broken left collarbone. Reid said Cooper should be sidelined about six weeks, which is pretty much what the Eagles have before their Sept. 9 season opener at Cleveland.
Reid said the team won't add a wideout, that he wants to see how some of the young guys look, from among the group of a dozen healthy WRs still in camp. He agreed that the most obvious benefactor from Cooper's absence is sixth-round pick Marvin McNutt, 6-2, 216, from Iowa.
McNutt looked slow, frankly, in noncontact spring work, but he looked much better Saturday, when the Eagles put on the pads for the first time.
Les Bowen, Daily News Staff Writer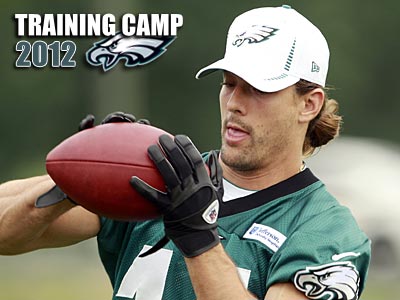 BETHLEHEM -- It didn't seem to have much to do with hitting, but the Eagles lost a player, probably for several weeks, in their first practice in pads this year at Lehigh.
Third-year wideout Riley Cooper went down awkwardly on an attempted long catch and defender Curtis Marsh fell on him. Cooper stayed down, then left practice. Afterward the Eagles announced he had suffered a broken left collarbone.
Eagles general manager Howie Roseman noted the team has 13 WRs on the roster and said no move would be made right away. But he also said he hoped to have a better idea of the severity of the injury after the daily "medical meeting" tonight.
Les Bowen, Daily News Staff Writer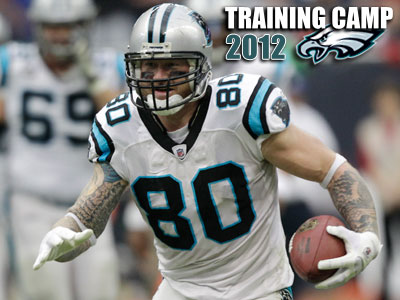 BETHLEHEM -- Brent Celek was present for Friday morning's walkthrough, which didn't mean that much, since it was, well, a walkthrough. But Eagles coach Andy Reid indicated Celek's knee "tweak," suffered during the first full-squad workout Thursday, probably won't mean the team will bring in another tight end right away.
Reid specifically said there was no plan to bring in Jeremy Shockey, at this point. He said he and general manager Howie Roseman are looking at whether they need to bring in a TE, to take training camp reps, if nothing else, with just three on the roster other than Celek, but arguing against that possibility is the new rule madating a three-day "stepup" period for signees who haven't been in someone's camp this year -- if the Birds signed a tight end today, he couldn't practice for three days, by which time Celek might be close to returning. Reid said Celek could miss a few days to a week of practice.
"We've just got to weigh that out," Reid said. "Really, it's not going to help you tomorrow."