Archive: June, 2012
Paul Domowitch, Daily News NFL Columnist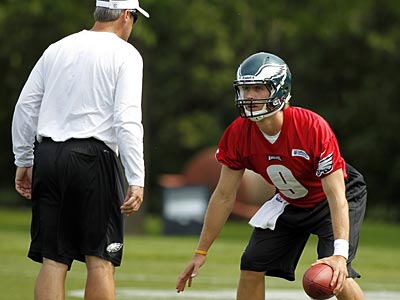 With the Eagles having closed up shop at the NovaCare Complex for the spring, here is an early look at the five training camp battles I'm going to be most interested in following. Training camp opens July 22 at Lehigh.
1. Mike Kafka vs. Trent Edwards vs. rookie Nick Foles for the backup quarterback job. If Mike Vick stays healthy and plays well, the name of the Eagles' No. 2 QB will be irrelevant. If he doesn't, it could be the biggest topic of the season.
2. Joselio Hanson vs. rookie Brandon Boykin for the nickel cornerback job. Hanson has been one of the league's better slot corners. But he's 31 and will be seriously challenged by the rookie up at Lehigh.
Les Bowen, Daily News Staff Writer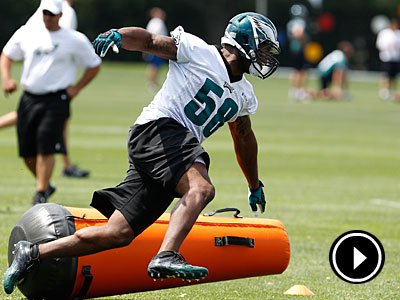 Video: Eagles minicamp has come to a close. Andy Reid, Michael Vick and the rest of the Birds will reconvene next month at Lehigh for training camp. The Daily News' Les Bowen reports from the NovaCare Complex.
Les Bowen, Daily News Staff Writer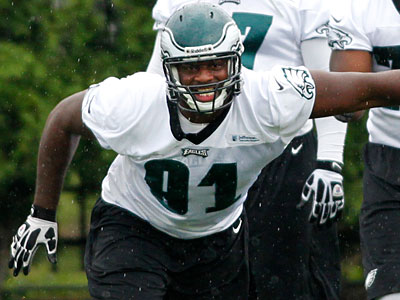 Fletcher Cox, the Eagles' first-round rookie defensive tackle, returned to Philadelphia in time for Thursday's final workout of the spring, and was very glad to see his teammates.
"It took my mind off it today, me being back out here with the team, and everybody just smiling and just getting back at it," Cox said.
He'd gone home to Yazoo City, Miss., over the weekend following the auto accident death of his cousin and close friend, 21-year-old Melvin Baker. "I'm the kind of guy, I like to smile and I like to have a lot of fun. Even when I went around his mom [after returning for the funeral], the first thing we did was smile at each other. She means a lot to me. She's like my mom."
Les Bowen, Daily News Staff Writer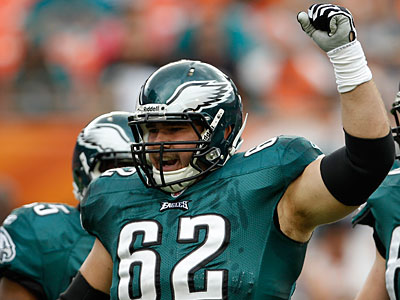 Tuesday's rare media session with Eagles offensive line coach Howard Mudd gave reporters more insight into Mudd's enthusiasm for second-year center Jason Kelce, whom Mudd compared to eight-time All-Pro Kevin Mawae, in terms of being so advanced as an NFL rookie.
Mudd reiterated that Kelce will be making protection calls at the line this season. Last year, quarterback Michael Vick made the calls, to take the burden off the sixth-round draftee from Cincinnati.
"Just having a year under my belt, having a year with Mike in the film room, a year with this unit, I feel much more comfortable. I feel the guys feel much more comfortable with me being the guy to make the calls," Kelce said Wednesday, after the next-to-last spring workout.
Philly.com Sports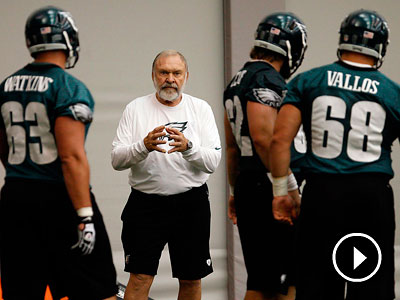 Video: Howard Mudd's offensive line was in the spotlight as the Eagles opened a three-day minicamp at the NovaCare Complex. Les Bowen of the Daily News reports on the day's action.
Daily News staff
Eagles quarterback Michael Vick was a bit more diplomatic Tuesday in his reaction to being ranked No. 70 in the NFL Network's Top 100 players of 2011.
During a Monday interview with Mike Missanelli on the 97.5 the Fanatic, Vick said, That's a joke … I won't say where I need to be, I'll let my peers and everybody else decide on that.
"It was voted on by the peers, but I just disagree. … Thank you, because they've motivated me to become a better player this year, so I'll have that in the back of my mind as I go out and play this year as well."
Les Bowen, Daily News Staff Writer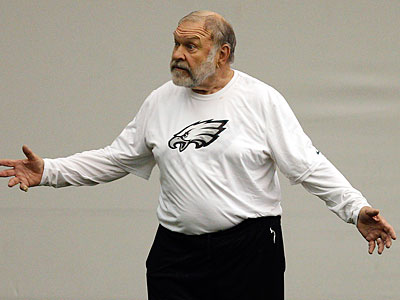 The Eagles opened their final three days of workouts Tuesday before they adjourn, to then reassemble next month at Lehigh for training camp. This is the mandatory minicamp, even for 71-year-old offensive line coach Howard Mudd, who made his first onfield appearance of the spring. Assistant Eugene Chung has been running the o-line at practices, with Mudd direction from afar.
"I told him to go practice retirement," Eagles coach Andy Reid joked. Reid lured Mudd out of retirement last year. "He wasn't very good at it last time -- if I was able to talk him out of it, he wasn't very good at it ... He's 71 years old, he came off a major hip surgery during the season, battled through that. He's got all kind of energy. Give him a little bit of time to get himself together and get back out here, and he's gung-ho. Actually, after about the third day that he went home, he was ready to come back."
Mudd, who said he spent the time in Arizona and Seattle, said: "Coaches coach with their brains. My brain still works. Well, my wife says she's concerned about it, but no, I'm good. I really am.
Daily News staff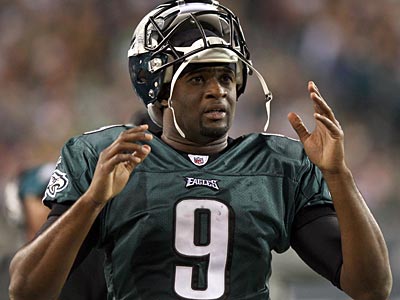 Former Eagles backup quarterback Vince Young claims millions of his money is missing and he is suing his former agent and financial advisor in Harris County court in Houston.
The suit claims fraud, unjust enrichment, conversion, breach of fiduciary duty, usury and breach of contract among other allegations. Young is suing his former agent, Houston attorney Major Adams II, as well as financial adviser Ronnie T. Peoples and his Raleigh, N.C.-based company, Peoples Financial Service. Neither Adams nor People returned messages.
Young's lawyer, Trey Dolezal, told the Houston Chronicle that the suit was necessary to determine "what happened to a large sum of money that there's no accounting for."