Archive: June, 2010
Daily News staff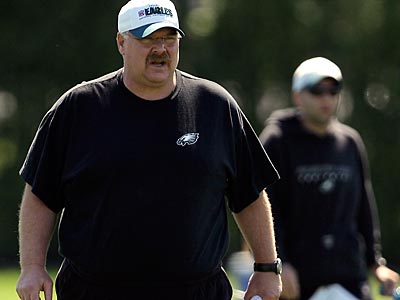 Eagles coach Andy Reid is one of four NFL head coaches on a USO tour this week in Germany. The tour begin in Washington and then proceded to Frankfurt and the Ramstein Air Base.
Here is a blog entry from the NFL's director of community affairs, David Krichavsky, who is joining the Vikings' Brad Childress, the Panthers' John Fox, the Bengals' Marvin Lewis and Reid – on a tour of U.S. military bases in the Persian Gulf.
(Be sure to scroll down to the bottom to the story of Reid , a bird and a C17 cargo plane.)
Daily News staff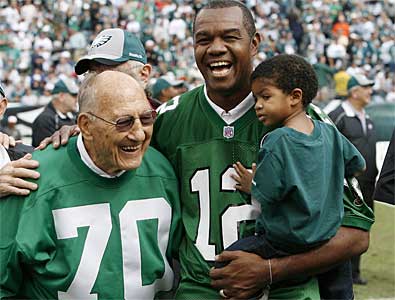 UPDATE: Bill Cassell, a spokesman for the Las Vegas Police Department, told the Daily News this afternoon that the investigation into the death of Randall Cunningham's son is continuing.
"It appear that this is a tragic accident, but it is still under investigation," the spokesman said. "No final decision has been made, but that's what it looks like at this time."
The spokesman declined to reveal the identity of the woman who was in charge of Christian Cunningham and other children at the time of the accident.
Daily News staff
Details continue to emerge from witnesses about what happened inside Michael Vick's 30th birthday party in Virginia Beach. It seems like an incident over some birthday cake might have started it all, according to various reports.
Quanis Phillips, one of the Michael Vick's co-conspirators in a dogfighting ring, ended up getting shot in the leg about a half a block away from the club where the party was being held.
David Squires from the Daily Press in Newport News, Va., had these details in a blog posting last night.
Les Bowen, Daily News Staff Writer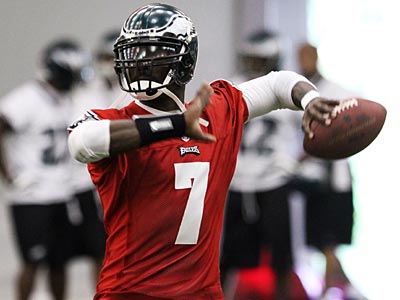 Michael Vick and his attorney, Larry Woodward, met with Virginia Beach detectives today to answer questions arising from the shooting early Friday morning of one of Vick's dogfighting codefendants outside a restaurant/bar where a 30th birthday party for the Eagles quarterback had just broken up.
Virginia Beach police spokesman Adam Bernstein provided an update on the matter Monday afternoon:
"The case in still being investigated. The case is currently assigned to a homicide detective. Over the last several days, numerous people have been interviewed by detectives. This afternoon, Michael Vick, along with his attorney, came to Virginia Beach Police Headquarters to speak with detectives. He answered the detectives' questions.
Tyler Dunne
DeSean Jackson was in Moorestown, N.J., today running a football camp for kids.
Here is some of what he had to say ...
On the status of progress toward a new contract:
Daily News staff
Commissioner Roger Goodell said the NFL is "still gathering the facts" about a shooting outside a restaurant hosting a party thrown for Eagles quarterback Michael Vick's 30th birthday last Thursday in Virginia Beach, Va., according to a Fox Sports report.
The shooting victim, Quanis Phillips, was a co-defendant in the dogfighting case that caused Vick's 1 1/2-year incarceration and 34-game NFL suspension. Phillips was hospitalized Thursday night and discharged Friday.
Goodell confirmed what police told the Daily News on Friday, that Vick "is not a focus" of the ongoing investigation. However, he might have violated the terms of his probation and NFL reinstatement if he is found to be associating with Phillips.
Daily News staff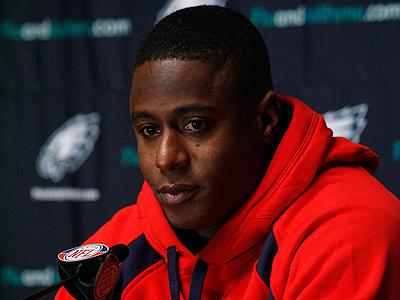 New Eagles running back Mike Bell says he envisions a larger role with the Eagles than he had with the New Orleans Saints, expresses surprise that the Birds were interested in him and termed the Eagles' being a Super Bowl contender as "achievable" in an interview with The Sporting News.
Here are some excerpts:
SN: Did you anticipate leaving the Saints so quickly after winning a Super Bowl with them?
Les Bowen, Daily News Staff Writer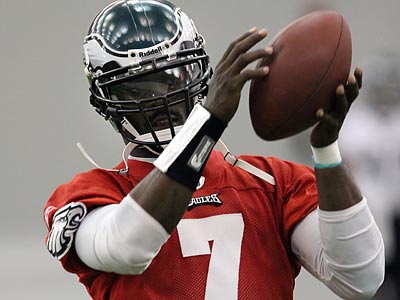 The good news for Michael Vick this afternoon might be that the Virginia Beach police say he is "of no interest to us" as they investigate a shooting that occurred early this morning outside a restaurant where Vick reportedly had been celebrating his 30th birthday.
However, given the stringent protocols of Vick's reinstatement to football last year by NFL commissioner Roger Goodell, it might not be a great thing for the Eagles' backup quarterback that a man identified by Virginia Beach General Hospital as Quanis Phillips, one of Vick's 2007 dogfighting codefendants, suffered a nonlifethreatening wound in the incident. Vick is not supposed to associate with anyone from his dogfighting days, after serving more than a year and a half in prison and being released on probation before his reinstatement last year.
Police spokesman Adam Bernstein said his department got a cell-phoned 911 call at 2:11 AM from someone who had heard an argument followed by a gunshot in the 4600 block of Columbus Street, in Virginia Beach's Town Center section. Officers arrived at the Guadalajara nightclub/restaurant and were told the victim had just gotten into a vehicle, to be driven to the hospital. The police stopped the vehicle, Bernstein, said, and transported the adult male victim by ambulance to the hospital for treatment of a gunshot wound to his leg.