Archive: May, 2012
Les Bowen, Daily News Staff Writer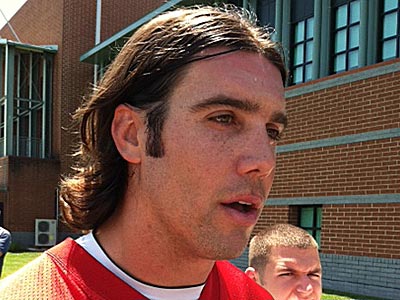 Trent Edwards did a lot of watching Thursday during Eagles OTAs on a perfect morning at NovaCare.
He watched Michael Vick. He watched Mike Kafka. He watched Nick Foles, during the 7-on-7 and full-team passing drills. Edwards, who is trying to learn the Eagles' offense, got no more than a couple of reps.
"That's been explained to me, what the situation is. I completely understand. I understand that I still need to get those reps, from the side, from behind, and making sure I'm picking up as much as I can as fast as I can," Edwards said. "I think you can still compete. There's other drills out there, there's other ways ... you can compete in the weight room, you can compete in the drills before and after practice. That's kind of the way it is right now, so that's all I have to go off of."
Les Bowen, Daily News Staff Writer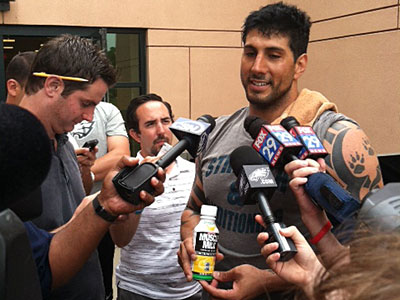 Jason Babin was bear hunting in Cold Bay, Alaska, when the Eagles began full-team OTAs last week, as previously reported. But Babin said Wednesday he'd intended to be back at NovaCare in time for the start of the optional workouts; bad weather pinned him down in a remote spot, where he and a hunting guide had to extend their stay several days.
"When the weather blows in, you don't have a lot of options," Babin said after arriving for his first OTA session, on a humid morning in sprinkling rain. "There were times when the tent bent in so hard, the tent was in our sleeping bags. There was snow drifting over."
Babin said he was upset he missed last week's action, though coaches didn't seem upset. "I don't miss stuff. I'm not late," he said.
Les Bowen, Daily News Staff Writer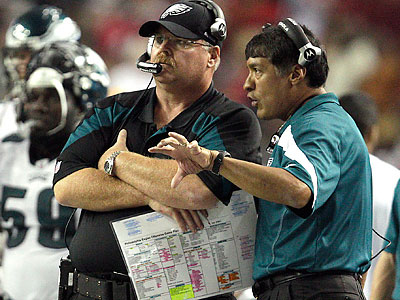 Juan Castillo still shows up for work every morning at 4 a.m., and when he does, he thinks about Andy Reid, who ensured that Castillo would still have work to show up for, after Castillo's turbulent first season as the Eagles' defensive coordinator.
"I've worked for coach for a lot of years," said Castillo, Reid's offensive line coach from 1999 to last year. "We've not won the Super Bowl, but we've won a lot of games ... I come to work every morning at 4 o'clock. There's a reason I'm coming to work that early, because I want to get it done for coach. It's coach, the organization and the city. That's very important."
Asked about Reid sticking with him when lots of people were predicting Castillo would be fired in the aftermath of an 8-8 season, Castillo said: "You never forget that, as long as you live. You'd take a bullet for him, you know? Just like he does for us."
Les Bowen, Daily News Staff Writer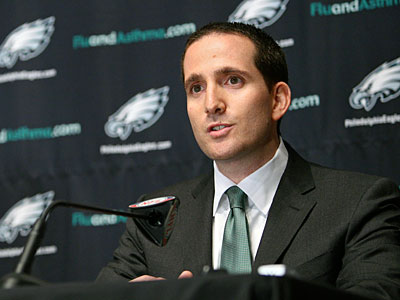 The longer after the draft the Eagles went without putting someone in overall charge of personnel, as Ryan Grigson was before he became the Colts' GM, the more likely it seemed that nobody was going to get that level of power.
Eagles general manager Howie Roseman confirmed this Thursday, when Roseman talked to reporters after the team announced several changes in scouting and personnel that Roseman said finalized that department's roster.
"We're going to go with the people we have," rather than hiring a Grigson successor, Roseman said after the team finished a third OTA day at NovaCare. The most notable new name is that of Tom Donahoe, the former Bills and Steelers general manager, who is assuming the advisory role formerly filled by ex Ravens and Browns exec Phil Savage. "Through this process when Ryan left, we kind of went with the people we had here, and we added some people that we feel really good about, and we like the dynamic as it's currently set, and we're going to go with it."
Les Bowen, Daily News Staff Writer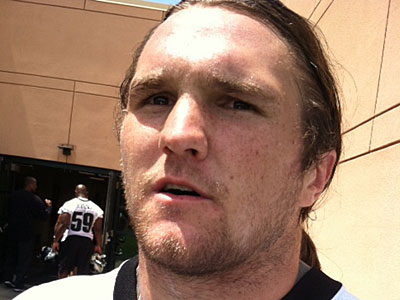 It's too bad this can't be Casey Matthews' rookie year. Early in the 2012 offseason, Eagles strength coach Barry Rubin started working to get the 2011 fourth-round pick from Oregon up to 250 pounds, from 232, to give him more strength for grappling with linemen. Then the Birds traded for DeMeco Ryans, a two-time Pro Bowl middle linebacker, who will start, and can teach Matthews a lot about the position in a less pressured situation.
A year ago, because of the NFL lockout, Matthews had little access to Rubin. The Eagles' window for doing something with a vet at MIKE was much tighter, and they ended up doing nothing, installing Matthews as the rookie starter at Lehigh, in his first day lining up in their defense.
It was breathtakingly unfair, a projection far beyond anything Matthews' career would have suggested, other than the fact of his famous bloodlines -- he is the sixth member of his family to play in the NFL, and older brother Clay is a star LB with the Packers. Turns out, bloodlines mean considerably less when you're running down running backs than when you're running at Churchill Downs.
Paul Domowitch, Daily News NFL Columnist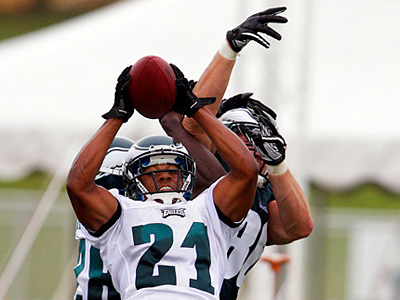 A lot of people already seem to have penciled in fourth-round pick Brandon Boykin as the team's nickel cornerback this season. But Joselio Hanson doesn't intend to give up that job without a fight.
Hanson, 30, is entering his seventh year with the Eagles. He was signed out of NFL Europe in 2006. Under the tutelage of the late Jim Johnson, he developed into one of the league's better nickel corners.
"Jim really made me who I am," Hanson said. "A lot of teams at the time weren't big on putting small guys in the slot. I feel like I changed the game. After Jim put me in there and I played well, teams started drafting smaller guys to play inside."
Les Bowen, Daily News Staff Writer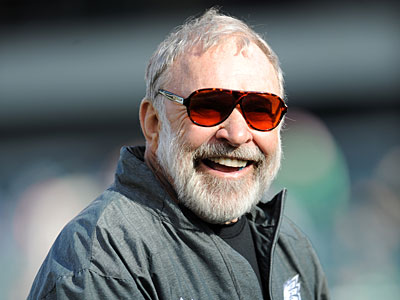 Eugene Chung doesn't appear in the listing of Eagles coaches posted on the team Web site, but he does indeed exist. Chung was seated at a long table in the NovaCare cafeteria Monday afternoon, answering questions about the offensive line.
The Eagles offered a rare chance for reporters to talk to offensive position coaches, and Howard Mudd was absent, as he was for the recent rookie camp, as he will be for this week's start of full-team OTAs.
The Eagles insist that Mudd is OK and will be back long before the spring minicamps are over. Basically, at 70, having been lured out of retirement last year by Andy Reid, Mudd decides when he wants to work.
Les Bowen, Daily News Staff Writer
This is the column I wrote for SportsWeek, which most people don't see until a carrier pigeon posts it on the Internet, three weeks after a full moon, or something:
It was a natural question from a Twitter follower to an Eagles reporter, the follower presumably watching Thursday evening's LeSean McCoy contract news conference live on the Eagles' website.
"Where is Joe Banner?"