Archive: May, 2010
Daily News staff
Safety Ryan Hamilton, a former Council Rock North star, was on the field at NovaCare today wearing jersey No. 48, just a few days after being released by the Saints.
Hamilton said the Birds, his favorite team growing up, inquired about signing him in the hours after last month's NFL draft, but he had already signed with the Saints. The opportunity for Hamilton to play near home arose again after injuries to some offensive performers led New Orleans to want to bring in reinforcements -- something that required them to make cuts elsewhere.
"I was the only rookie" at the safety position, where New Orleans is pretty well stocked, Hamilton said.
Les Bowen, Daily News Staff Writer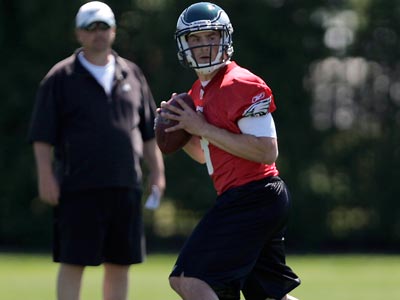 Eagles fourth-round rookie quarterback Mike Kafka is an engaging, obliging fellow, but he has a dark side.
Kafka, a Chicago native, will not be rooting for the Flyers in the Stanley Cup finals, scheduled to start Saturday.
"I'm rooting for the 'Hawks this time," said Kafka, who was born a little more than 26 years after the most recent Chicago Stanley Cup victory, which came in 1961.
Paul Domowitch, Daily News NFL Columnist
So, the NFL is going to play the 2014 Super Bowl in the Giants and Jets' new $1.6 billion palace in the Meadowlands. Maybe it'll snow, maybe it'll sleet, maybe the wind-chill factor will dip into the single digits. Or maybe it'll be sunny and unseasonably warm.
Regardless, I disagree with the decision to play the game in an open-air stadium in a cold-weather city.
I'm not a weather wimp. I've got nothing against playing football in crummy conditions. Some of the best games I've ever covered, some of the best games ever played have been played in frigid temperatures or snow or both.
Les Bowen, Daily News Staff Writer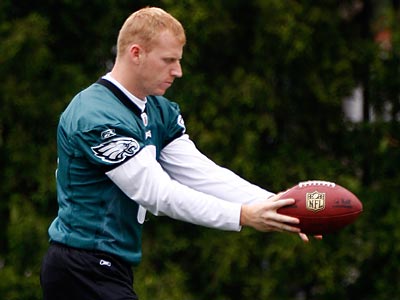 The Eagles released punter Durant Brooks today. Brooks was signed early in the offseason and was touted as viable competition to OK-but-not-overwhelming Sav Rocca. His demise leaves Ken Parrish as Rocca's only competition, which is interesting, because Parrish, signed and cut a year ago, spent his downtime productively -- not only trying to refine his punting but also continuing his experiment in learning to kick off.
New special teams coordinator Bobby April mentioned this recently, and you could tell April was intrigued by the idea of having a punter who could take kickoff duties off the 35-year-old shoulders of David Akers. Akers would seem less susceptible to injury if he weren't trying to boot the ball 70 yards and then running down to throw himself at returners, something Akers takes pride in doing, whenever the coverage breaks down.
You might recall Parrish from last year as the Monroe County police officer, son of a captain, who quit the force to take another shot at the NFL, two years after a preseason fling with the 49ers. Parrish, who played at East Stroudsburg, was cut during training camp at Lehigh; he later got a look with the Jets. The Eagles signed him again this spring.
Les Bowen, Daily News Staff Writer
After Ellis Hobbs took a hit to the head returning a kickoff against the Cowboys last Nov. 8, it was hard to see him ending up where he is today, the starting right corner for the Eagles heading into training camp.
One problem was, after arriving in a trade last year from New England,* Hobbs had been given a chance to wrest a starting role away from disgruntled incumbent Sheldon Brown, and hadn't done that. He was playing only situationally, and not that well. But a more pressing problem was that Hobbs couldn't feel his legs.
"For a brief second, I couldn't move. I stood up, after what seemed like an eternity -- maybe five seconds or so," Hobbs recalled after taking part in much of yesterday's Eagles camp for rookies and select vets. "Walking funny afterwards. The doctors sitting right there, seeing me on the sideline, said I had every symptom of, basically, the type of injury I had -- a disc that came out. It's just one of those things where, after the fact, you look at it (as being) more scary than when it did happen."
Les Bowen, Daily News Staff Writer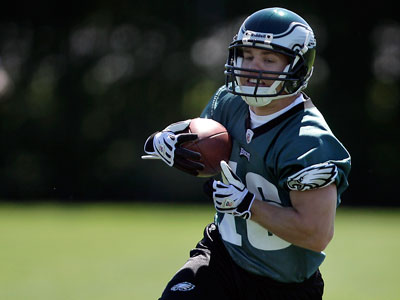 Soon, Chad Hall gets to quit his day job and concentrate his full energies on making the Eagles.
Hall, the former Air Force Academy star signed as a free agent this offseason, officially goes from active to reserve
duty May 27. Since Eagles offseason workouts began, he has been commuting between Philadelphia and the Salt Lake City area, where he is 2nd Lieutenant Hall, assistant commander for maintenance of the Black Widows, the 421st Fighter Squadron, responsible for keeping 28 F-16s airworthy.
"I get here Sunday night," Hall said after today's rookie camp workout at NovaCare. "I spend the week here. Thursday after practice, I'll fly back and (possibly) go straight in to work right then, Thursday night when I get there, and then work Friday and sometimes Saturday. Then fly back Sunday."
Vance Lehmkuhl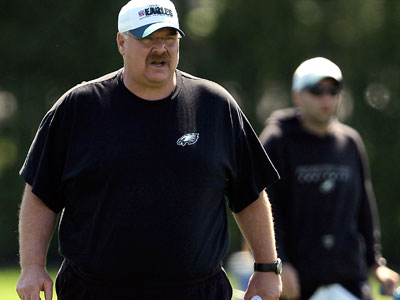 Les Bowen, Daily News Staff Writer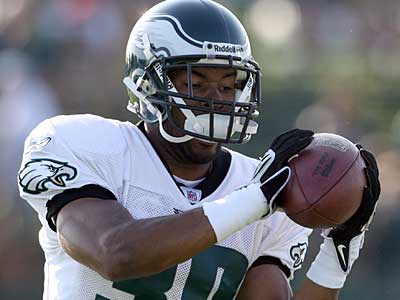 When the Eagles included safety Quintin Demps among the handful of veterans asked to show for the rookie camp that started today at NovaCare, it wasn't because they liked his play last season so much that they just had to see more of him.
Demps began the 2009 offseason as the presumed heir to Brian Dawkins at free safety. He ended it having played in nine games, none of them as a starter. The brash aggressiveness that had helped Demps get on the field the previous season as a rookie did not wear well in year two; it came off as unearned arrogance. Demps was hobbled by hamstring and ankle injuries, but even when he was healthy, new defensive coordinator Sean McDermott didn't seem to have much use for him, in a season that saw the Eagles struggle mightily at free safety.
So far, the 2010 Demps seems much more humble; he talks of wanting to show how he has grown up. But the Eagles drafted South Florida safety Nate Allen in the second round last month, after signing the Colts' Marlin Jackson as a free agent. Allen will be given every chance to start as a rookie. Coming off back-to-back knee surgeries, Jackson seems slated more for safety than corner once he fully recuperates. (Jackson was noticeably gimpy today.) Meanwhile, Macho Harris, who started eight games at safety as a fifth-round rookie last year, is now playing cornerback.