Archive: March, 2011
Daily News staff
Eagles great Chuck Bednarik was released last night from St. Luke's-Fountain Hill hospital in Bethlehem, where the 85-year-old has been since early last week.
"There's no reason why he shouldn't be back on his feet in a couple of days," his son-in-law, Ken Safarowic said. "He left with a clean bill of health."
Bednarik has been hospitalized since last Tuesday when he was taken there after shortness of breath and feeling faint.
Daily News staff and Paul Domowitch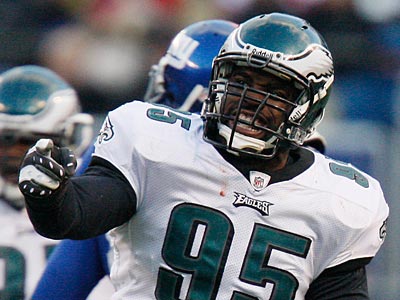 A story in today's Charlotte Observer references a contract loophole in the CBA that would impact injured linebacker Thomas Davis.
The story cites Article XXXII, Section 2 of the previous CBA that said "any player who was not activated from PUP while in the last year of his contract would have that contract "toll" or carry over into the next season."
The article goes on to state that Eagles defensive end Victor Abiamiri is in the same position, meaning his contract would carry over with the Eagles. Abiamiri spent all of last season on the PUP list after undergoing microfracture surgery on his knee. He made $550,000 (most of it guaranteed) last season and would make the same salary again if the rule was applied.
Kerith Gabriel
Eagles great Chuck Bednarik still shows signs of the resilience that made him a beast in the National Football League for 13 seasons.
According to his son-in-law Ken Safarowic, a nurse walked in on Bednarik this morning as he tried to get out of his hospital bed at St. Luke's-Fountain Hill in Bethlehem, where the 85-year-old has been since early last week.
Safarowic said Bednarik is alert, eating and that with aid he is "shuffling around."
Daily News staff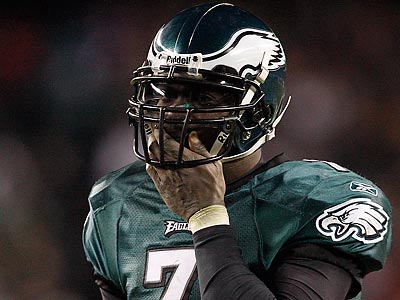 Where Michael Vick is or isn't has become something of a sport this offseason.
The latest incident involved the Southeastern Virginia Arts Association Black Tie gala on Saturday night in Norfolk, Va. Vick was to be honored as a "hero" by the group and the invitation seems to indicate that organizers expected Vick to attend. According to WAVY-TV, several guests who had paid for the $100 tickets walked out when told Vick was not there.
However, Vick spokesman Chris Shigas said organizers were told months ago that Vick would not attend.
Daily News staff
DeSean Jackson has gotten a lot of air time for a variety of reasons this offseason, but we thought this one was amusing.
Jimmy Kimmel, trying to help an out of work NFL player during the lockout, "hires" Jackson to work as a production assistant on his show.
Jackson, as some have noted, is wearing Cal colors for his No. 10 jersey, not Eagles green.
Daily News Staff
The Eagles were awarded two seventh round compensatory draft picks for the 2011 draft. They now have 10 overall selections. Here is a breakdown:
1st round – 23rd overall
2nd round – 54th overall
Paul Domowitch, Daily News NFL Columnist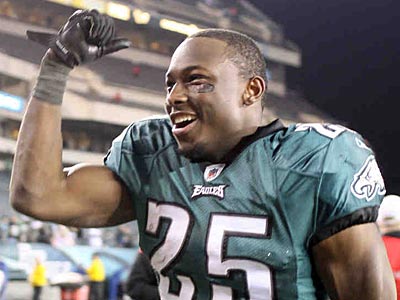 UPDATE: In a subsequent email to the Daily News, LeSean McCoy's brother, LeRon, says the advance is ``ready to be returned.''
He said the reason they were slow to return it was because they sensed Bentley's was going to sue them for punitive damages and ``get more money than they sent. . . we also think (McCoy's upcoming) April 2 appearance (at another Wilkes-Barre area location) helped prompt this attack, seeing as how we are dealing with competition.''
It was not, however, Bentley's that contacted the Daily News on this issue. We received a number of emails from upset fans who had attended the event and then pursued the story.
Les Bowen, Daily News Staff Writer
Your Eagletarian got back from New Orleans yesterday, feeling a chill from having boarded the plane dressed for a very different climate than March in Philadelphia, and also from what the NFL meetings revealed about the collective bargaining situation.
In media sessions with various league lawyers and with commissioner Roger Goodell, it was apparent that though the locked-down NFL keeps talking about wanting to get back to the bargaining table, nothing is going to happen before the parties appear April 6 before U.S. Judge Susan Nelson in Minneapolis.
It became clear in New Orleans, if it wasn't already, that the NFL is only eager to go back to talks with "the union." So the NFLPA would have to rescind its decertification, which is kind of its basis for the antitrust suit Judge Nelson is going to be hearing.