Archive: February, 2013
Paul Domowitch, Daily News NFL Columnist
This story appeared in Daily News Sportsweek on Saturday. In case you missed it, here it is again:
I don't know every single item on my wife's bucket list. I know Jim Caviezel's on there somewhere.
So is a train trip across Canada, a European river cruise (not on Carnival) and getting her MBA before our kids move us into an assisted-living facility.
Les Bowen, Daily News Staff Writer
The team most of us considered the main suitor for Nick Foles went in another direction Wednesday.
Andy Reid and the Kansas City Chiefs agreed in principle to a trade with the 49ers for quarterback Alex Smith, FoxSports.com reported. The 49ers will get Kansas City's second-round selection this April, 34th overall, and a conditional 2014 pick. The trade can't be official until free agency starts March 12.
This development could mean the Eagles were not just posturing, and really do want to hold onto Foles, at least until Reid's successor, Chip Kelly, gets a look at last year's rookie QB on the practice field. The Chiefs did ask the Eagles about trading for Foles, and were told last week that the Birds weren't ready to trade him.
Les Bowen, Daily News Staff Writer
Dee Milliner brought the goods, just as he predicted he would when Milliner met with reporters at the NFL Scouting Combine Sunday.
NFL Network analyst Mike Mayock said Sunday the big question about Milliner, the Alabama corner, was his "long speed." Milliner tore up the turf at Lucas Oil Stadium Tuesday with an unofficial 4.31 40, buttressing his assertion Sunday that anyone who doubted his athleticism should "watch the NFL Combine."
This was good news for Eagles fans, who have unofficially adopted Milliner as their favorite prospect after an exasperating interlude with Dominque Rodgers-Cromartie and Nnamdi Asomugha, but nearly two months before the draft, we're still a long way from the Eagles taking Milliner fourth overall.
Les Bowen, Daily News Staff Writer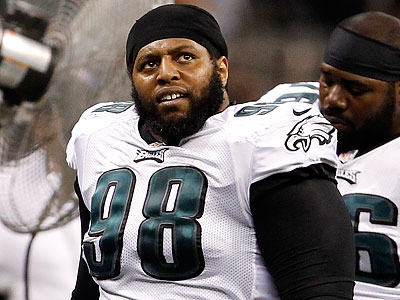 The reworking of the Eagles into a 3-4 defensive front moved into high gear Monday when the team released Mike Patterson, a source close to the situation told the Daily News, hours after releasing another veteran defensive tackle, Cullen Jenkins.
Patterson, who turns 30 in September, was the Eagles' first-round draft choice, 31st overall, in 2005, and played in 115 games over eight seasons, starting 99 of them. But at 6-1, 300, Patterson fit the smaller, quicker template the Eagles used for defensive linemen under Andy Reid. A 3-4 requires a space-eater nose tackle, flanked by ends big enough tio hold off blockers and set the edge, so mobile linebackers can make tackles.
Patterson's release was not unexpected. Jenkins' even less so.
Poll: Should the Eagles release Nnamdi Asomugha?

(10750 votes)
Les Bowen, Daily News Staff Writer
INDIANAPOLIS --- Tyrann Mathieu, like Manti Te'o the day before, talked a lot about having been humbled, about the need to prove his honesty, when Mathieu met with reporters Sunday at the NFL Scouting Combine.
But in NFL scouts' eyes, the "Honey Badger" from LSU has bigger problems than an imaginary girlfriend. Te'o still seems likely to be a first-round pick, maybe later in the round than before the scandal erupted around his dead girlfriend hoax. Mathieu, a corner, safety and punt returner who was the 2011 Chuck Bednarik Award winner as college defensive player of the year and MVP of the SEC Championship Game that same year, isn't likely to hear his named called in the first few rounds at all.
Mathieu didn't play in 2012 after being dismissed from the LSU team in August, reportedly for repeated drug test failures. He underwent rehab, but then he was arrested for marijuana possession in October. Off the record, NFL people will tell you they know players use marijuana and generally don't care, but if you can't stay off it long enough to pass a drug test, or to avoid getting arrested when you know your career is hanging by a thread, that might be indicative of much deeper problems.
Les Bowen, Daily News Staff Writer
INDIANAPOLIS --- Notre Dame linebacker Manti Te'o said NFL teams are asking him about the hoax involving his fictional girlfriend, but some only briefly inquire how he is handling the controversy. Others want to know more.
There has been speculation that Te'o was affected by the about-to-break story during the Fighting Irish's crushing loss to Alabama in the national championship game.
"I played hard, and so did my team," Te'o told a throng of hundreds of reporters at the NFL Scouting Combine Saturday. It was his first interview since the scandal in a noncontrolled setting, where he had no say in who was asking the questions. "They executed better than we did." He said his play was not affected,
Paul Domowitch, Daily News NFL Columnist
INDIANAPOLIS – Gus Bradley, who would be the Eagles head coach right now if Chip Kelly had decided to stay in Oregon, stopped by the media workroom at the NFL scouting combine Saturday to talk with reporters.
``It was a tremendous experience,'' said Bradley of his interview with the Eagles.``They treated me first class.''
Bradley accepted the Jacksonville Jaguars' job the day after the Eagles hired Kelly.
Paul Domowitch, Daily News NFL Columnist
Some highlights of Giants general manager Jerry Reese's Saturday morning chat with reporters at the NFL scouting combine:
On the fact that none of the 15 offseason head coach and general manager hires were a minority: "It's a little disappointing. There were some good (minority) candidates that had some opportunities, but it just didn't work out this time. 0-for-15. It is what it is."
On the fact that aside from first-round RB David Wilson, the team didn't get much contribution from their 2012 draft class: "When you pick 32nd in the draft, you're picking down low. A lot of the guys you get are developmental type players. We picked a tight end (Adrien Robinson in fourth round) who we think is going to be a good player for us. We picked a couple of offensive lineman (Brandon Mosley in fourth round, Matt McCants in sixth) we hope will develop."