Archive: February, 2011
Daily News staff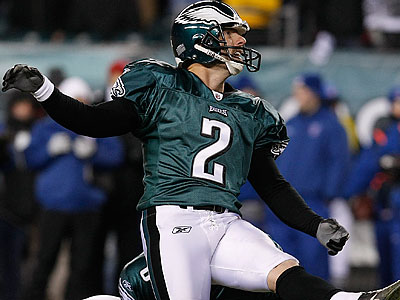 Kicker David Akers was not expecting to have the Eagles use the transition tag on him.
The Eagles say they had to use the tag to retain his rights, because like quarterback Michael Vick, Akers made 30 percent more in 2010 than he did in 2009 and teams are not allowed to extend players' contracts under those circumstances.
Like everyone else, though, Akers is in limbo as the clock ticks down toward the expiration of the CBA. Nothing will happen until a new CBA is put in place.
Paul Domowitch, Daily News NFL Columnist
INDIANAPOLIS – LSU's Patrick Peterson and Nebraskas's Prince Amukamara, who are regarded as the top 2 cornerbacks in the draft, spoke to reporters Sunday afternoon at NFL scouting combine
Peterson, who figures to be one of the first 5 or 6 players off the board, made two notable pronouncements. One was that he is hoping to run a sub-4.3 forty when he works out for scouts and coaches on Tuesday.
The other was that, while he wants to remain a cornerback at the next level, the former LSU star won't fight a move to safety if the team that drafts him wants to put him there.
Les Bowen, Daily News Staff Writer
INDIANAPOLIS --- The NFL Scouting Combine continues with defensive backs coming to the
interview room today, along with defensive linemen who didn't get to the room yesterday. You're watching quarterbacks run the 40 on the NFL Network, but we've already talked to them and won't get another chance, one of the quirks of the combine process.
The biggest interview room buzz so far was when Auburn DL Nick Fairley, a potential No. 1 overall pick, took the podium. Fairley, 6-4, 291, probably would be a DT in a 4-3 and an LB in a 3-4.
Fairley was asked what player he models himself after. He chose the late Reggie White, because, Fairley said, White "played the game the way it should be played."
Daily News staff
The Southeastern Virginia Arts Association will honor Eagles quarterback Michael Vick at its first Black-Tie Honors Gala next month in Norfolk, the Virignian-Pilot is reporting.
In a news release, the group said it plans to honor Vick, a Newport News native, because he "epitomized the meaning of 'hero' not only by his unparalleled accomplishments on the football field, but more importantly, by his relentless resilience in overcoming the obstacles he has faced... and becoming a true example of life success for all to emulate."
Attorney Carl C. La Mondue is also being honored at the March 26 event.
---
Les Bowen, Daily News Staff Writer
INDIANAPOLIS --- A few hundred credentialed media members surrounded the podium where Cam Newton was about to speak, before Newton even entered the room.
It wasn't clear whether the reporters gathered at the NFL Scouting Combine considered Newton an "icon," but they certainly seemed to expect entertainment, and the Auburn QB provided it.
He opened with a prepared statement explaining his reference to himself as "an entertainer and an icon," words that had set the NFL world abuzz with speculation over how being a football player might fit into that rubric.
Les Bowen, Daily News Staff Writer
INDIANAPOLIS --- New Cleveland Browns coach Pat Shurmur told reporters today he got together with some old friends Friday night at the NFL Scouting Combine.
Shurmur said he and the other four former Andy Reid assistants who are now NFL head coaches gathered with Reid for dinner at St. Elmo's, a downtown Indianapolis steakhouse popular with the NFL crowd.
Shurmur was joined by new Vikings coach Leslie Frazier, new Panthers coach Ron Rivera, Rams coach Steve Spagnuolo and Ravens coach John Harbaugh, along with, of course, Reid. Shurmur said he keeps in his office a group photo of Reid's original Eagles staff, taken at the Vet in 1999, in which all those coaches are present, as is Brad Childress, the Vikings coach Frazier replaced last month.
Les Bowen, Daily News Staff Writer
INDIANAPOLIS --- Cam Heyward was asked today at the NFL Scouting Combine what part of his game resembles that of his late father, Craig "Ironhead" Heyward, the former bulldozing fullback who played 11 NFL seasons.
Cam, an Ohio State star expected to go in the first round of the NFL draft, said: "Using my head.
I need to stop." The assembled reporters laughed, but it was a strange moment.
Ironhead Heyward, known for using his extra-large head as a battering ram, died in 2006 at age 39 of a brain tumor, when Cam was still in high school, near Atlanta. Of course, nobody knows if Heyward's style of play had anything to do with his death, but given all the focus today on head injuries and their ramifications, using your head as a battering ram is less celebrated now than it once was.
Paul Domowitch, Daily News NFL Columnist
While we wait for entertainer and icon Cam Newton to arrive in the media workroom at the NFL scouting combine, a few thoughts on the Auburn quarterback from NFL Network draft analyst Mike Mayock, who knows quarterbacks better than McDonald's knows hamburgers.
Mayock: ``His throwing mechanics are excellent. If you want to compare them to the best (running quarterbacks) in the last bunch of years of big quarterbacks – Vince Young and Tim Tebow – his throwing mechanics are superior to both. He's a big, strong guy.
``To me, there are 2 (still unanswered) questions to Cam Newton that you've got to figure out. He comes out of a very simple pass offense at Auburn. Basically, one look and either the ball comes out or he comes on out.