Archive: February, 2009
Les Bowen, Daily News Staff Writer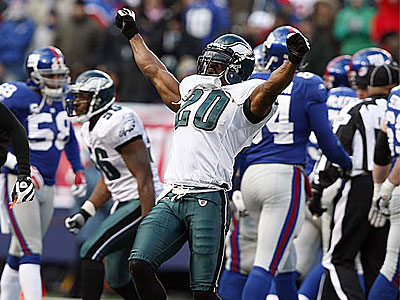 It's a dark day in Eagles Nation.
If you have the stomach for it, here's the link to the story on the Denver Broncos' Web site about the signing of Brian
Dawkins today. Dawk didn't want to talk about Philadelphia during his press conference in Denver. Aparently, the five-year, $17 million deal boils down to two years and $9 million guaranteed. When the Eagles last extended Dawk's deal in August 2006, he got just $6 million in new money, spread over three seasons. I think we can assume $9 million over two years was way, way more than the Birds had planned on spending on a 35-year-old free safety.
Also, the Eagles confirmed the Lito Sheppard trade with the Jets, for a fith-round pick this year and a 2010 pick that can be anywhere from a second- to a fourth-rounder, depending on how Lito fares. (They couldn't have gotten this a year ago? Of course they could have.)
Les Bowen, Daily News Staff Writer
Agent Jim Steiner has confirmed that free safety Brian Dawkins is visiting the Denver Broncos today. Dawkins, 35, is Philadelphia's longest-tenured pro athlete, and had been considered very likely to re-sign with the Eagles before free agency began at 12:01 Friday morning. That still might happen, but for now, Dawk is in Denver. Stay tuned.
Editor's note: Click here for an update on the addition of Bengals offensive tackle Stacy Andrews.
Les Bowen, Daily News Staff Writer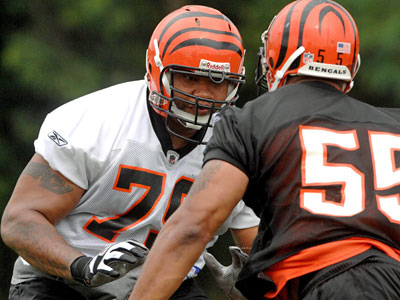 Editor's note: Click here for a Brian Dawkins update.
Stacy Andrews was wearing a Reds cap when he arrived at Philadelphia International Airport Friday afternoon on Delta Flight 6438 from Cincinnati. Let's hope Eagles head athletic trainer Rick Burkholder or security chief Butch Buchanico, who accompanied Andrews into a waiting limo, made a stop for some more appropriate apparel on their way to the NovaCare complex, where the Birds' new right offensive tackle was to undergo a physical that presumably will cement the deal to make him Jon Runyan's successor.
Officially, Andrews, who underwent reconstructive knee surgery last month, is "visiting" the Eagles and will talk to
reporters at NovaCare Saturday, presumably when details are wrapped up.
Daily News staff
The Eagles have tendered 1-year contracts to restricted free agents Hank Baskett and Nick Cole and exclusive rights free agent Tank Daniels.
Playing under the tender, Baskett and Cole would each make $1.545 million next season. Because both were signed as undrafted free agents, the Birds had to offer the so-called "middle" tender in order to retain the right to match.
If another team signs Baskett or Cole to an offer sheet, the Eagles have 7 days to match. If they choose not to match, the Eagles will receive a second-round draft pick. By tendering Daniels, the Eagles retained exclusive negotiating rights with him.
Paul Domowitch, Daily News NFL Columnist
Les Bowen, Daily News Staff Writer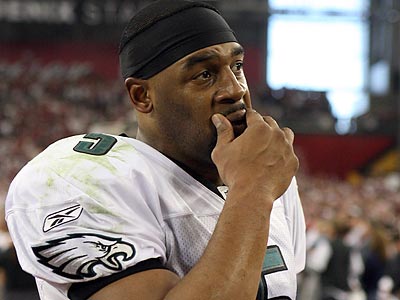 OK, now in this morning's Inquirer we have another version of last week's Donovan McNabb meeting with the Eagles. In this scenario - provided by a "league source" who probably wasn't McNabb, given the tenor of the piece -- McNabb met one-on-one with Eagles president Joe Banner. This is a convenient version in one respect -- it gives Eagles coach Andy Reid and McNabb's agent Fletcher Smith, at least a fig leaf's worth of cover for their statements last week denying that a big McNabb powwow had taken place.
Of course, to accept this revised edition of what was originally reported by ESPN.com's Michael Smith (a meeting with McNabb, Fletcher Smith, Reid and Banner), you have to get past the notion that McNabb for some reason conducted a meeting in which his contract was discussed without his agent being present. The point of that would have been ... ? And why on earth would Reid not have been part of this?
The part of the revised version that rings true is that the Eagles were surprised by the Michael Smith report, that they hadn't perceived McNabb's stance as being as confrontational as ESPN.com depicted it. All the other tea leaves available to be read suggest this, as well. If management came away from a meeting with McNabb in which it had been lectured to about the need to improve the team in specific ways so that McNabb would not ask to be traded, and so that he would deign to entertain offers of a contract extension, we would have known about that right away. There would have been spin, through friendly media outlets -- "You know, Donovan didn't really play as well as some stats suggest last season, the team is still evaluating whether it's time to turn the page."
Les Bowen, Daily News Staff Writer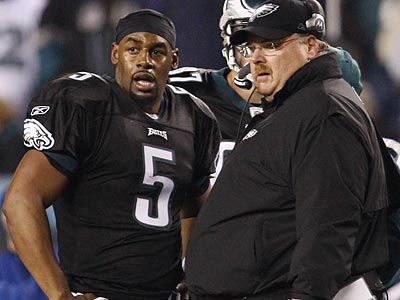 Your Eagletarian finally got a text from Fletcher Smith, agent for Eagles quarterback Donovan McNabb, whom we've
been trying to reach since word broke late Monday afternoon about Michael Smith's ESPN.com report, saying McNabb and Smith have met with team management, and McNabb will not deign to sign a contract extension with the Eagles until he passes judgement on their offseason acquisitions. If McNabb deems those acquisitions worthy, he won't ask to be traded.
Never mind that Fletcher Smith point-blank denied such a meeting had taken place, two days after it happened, or that McNabb soft-peddled the whole "weapons" angle in extensive interviews at the Super Bowl a little more than three weeks ago.
Anyhow, if you know anything about how the newspaper/radio/TV biz works, you know that Fletcher Smith's BlackBerry was buzzing with calls and e-mails from every news outlet in the Delaware Valley yesterday evening. No response. But this morning we had a text message from the agent, which read: "I can't respond to every report by ESPN or any other news outlet for that matter. Moreover, I am not commenting on any Donovan-related issues at this time."
Les Bowen, Daily News Staff Writer
Sunday afternoon, your Eagletarian was allowed the rare privilege of penetrating the NFL Scouting Combine's inner sanctum.
For some reason, the league doesn't routinely allow the public and the media to witness the combine drills live. It shows the drills from eleventy-seven different camera angles on the NFL Network, but watch them with your own, unfiltered eyes? Not no way, not no how!
The past few years, though, the Pro Football Writers of America (we're like the Justice League, only with better uniforms) has gotten the NFL to agree to let small, closely guided groups filter unobtrusively into an unoccupied stadium box to watch a few hours of workouts on Sunday. So it was that I grasped my notepad, hoisted my binoculars and took my place on this brave, historic mission, just before lunchtime yesterday.