Archive: December, 2012
Paul Domowitch, Daily News NFL Columnist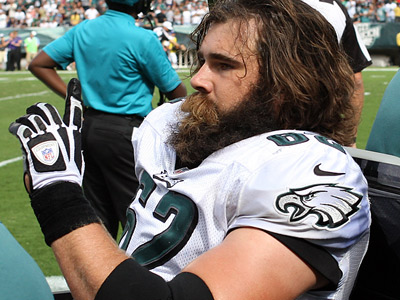 Everybody has an opinion on what the Eagles need to become a playoff contender again.
So does Jason Kelce.
"I think we're in desperate need of leadership on both sides of the ball," the Eagles center said Monday as the players cleaned out their lockers at the NovaCare complex just before owner Jeff Lurie made Andy Reid's firing official.
Les Bowen, Daily News Staff Writer
Eagles chairman Jeffrey Lurie denied a report Monday that he had already scheduled an interview with Atlanta Falcons offensive coordinator Dirk Koetter, but Lurie said he has a definite list of people he wants to talk to about coaching the Eagles.
Lurie said he is looking for a strong leader, rather than someone who runs a particular scheme, or has some hot idea of the moment. He said college coaches and NFL assistants are on his list. Both Lurie and team president Don Smolenski said getting the right person is more important than getting something done quickly; it's conceivable the Eagles wouldn't be able to hire an assistant from a Super Bowl team until February.
Speaking after his lengthy news conference, in which he explained his decision to move on from 14-year head coach Andy Reid, Lurie agreed with a questioner that college coaches perhaps face less of an adjustment than they would have back when Lurie hired Reid, who was the Packers' quarterbacks coach at the time.
Les Bowen, Daily News Staff Writer
Andy Reid got the word of his dismissal from Eagles chairman Jeffrey Lurie sometime between 8:30 and 9 a.m. Monday, an Eagles spokesman said, then addressed the team in the NovaCare auditorium at 10 am. At 10:45, there was a staff sendoff for Reid in the cafeteria, where Lurie spoke and gave Reid a special game ball, commemorating his 14 years running the team.
In the locker room after that, as players packed belongings into boxes, many expressed displeasure with the way the team greased the skids for Reid's departure, going 4-12 in a year when everyone knew the Birds needed to contend to save Reid's job.
"No, I don't think so," running back LeSean McCoy said, when asked if he thought players all laid it on the line for Reid. "That's obvious, man .. you've seen the games."
Les Bowen, Daily News Staff Writer
The Eagles announced Monday morning that Andy Reid's 14-year tenure as the team's coach has ended.
Team chariman Jeffrey Lurie will speak to reporters at noon at NovaCare.
"Andy Reid won the most games of any head coach in Eagles history, and he is someone I respect greatly and will remain friends with for many years to come," Lurie said in a statement released by the team. "But it is time for the Eagles to move in a new direction. Andy leaves us with a winning tradition that we can build upon. And we are very excited about the future."
Les Bowen, Daily News Staff Writer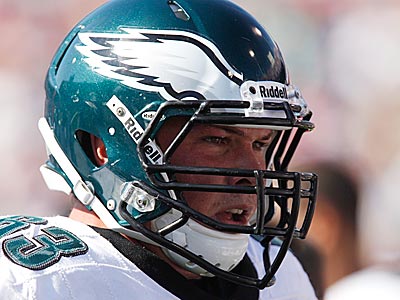 EAST RUTHERFORD, N.J. -- The Eagles decided not to activate 2011 first-round draft pick Danny Watkins once again Sunday, in the season finale against the Giants.
Watkins lost his starting job to veteran Jake Scott last month, and for the final two games, he was not among the subs activated for the game.
Other inactives Sunday are WR Greg Salas, OL Matt Kopa, RB Chris Polk and three guys we knew were injured and weren't playing -- TE Evan Moore, DT Fletcher Cox and LB Mychal Kendricks. With Moore out, Brent Celek's only backup is rookie FB/TE Emil Igwenagu.
Les Bowen, Daily News Staff Writer
Michael Vick said Friday he would love to come back to the Eagles next season, but he sees himself as a starter. That presumably means Vick would not be interested in a job backing up and mentoring Nick Foles.
"Of course you'd like to come back and play," said Vick, who also said "I've never been so close with so many people I've worked with."
"I want to be a starter in this league. I can't see myself not being a starter right now. I feel like I have too much talent, too much to offer."
Les Bowen, Daily News Staff Writer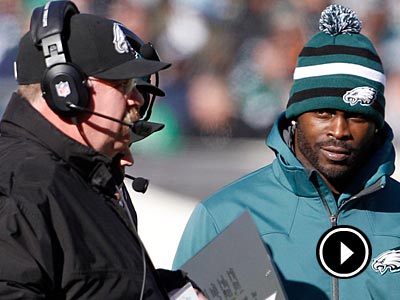 Can Michael Vick flip the switch and be ready to play after missing the last six games? CineSport's Tara Petrolino and the Daily News' Les Bowen discuss this & the end of the Andy Reid era.
Philly.com Staff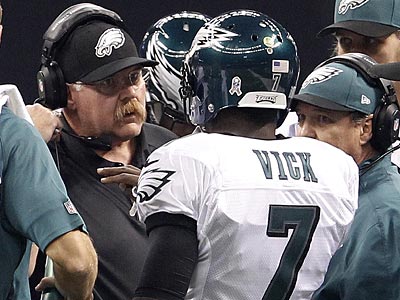 Join the Daily News' Paul Domowitch as he takes your Eagles questions in a live chat, scheduled for Friday at noon.
On a mobile device? Click HERE.