Archive: November, 2012
Les Bowen, Daily News Staff Writer
Eagles coach Andy Reid hotly denied an ESPN report that concussed quarterback Michael Vick "thinks he's a victim of politics" amid repeated failures to pass baseline testing that would allow Vick to return to the field.
Reid said he has spoken with Vick and there is no disagreement over the handling of his treatment. The Eagles have started rookie Nick Foles in the two games since Vick went down, and at 3-8, it's plausible that they might want to stick with Foles.
Eagles head athletic trainer Rick Burkholder said the imPACT test Vick is struggling to pass is graded by league concussion experts in Pittsburgh, not by the Eagles. "There's no conspiracy," Burkholder said.
Paul Domowitch, Daily News NFL Columnist
If Andy Reid wants another NFL head-coaching job after the Eagles let him go later this month, he'll have no trouble finding one. Wherever he winds up, though, he's going to need a new offensive line coach.
Howard Mudd acknowledged to the Daily News Thursday what most people had already suspected – he's calling it quits after the season.
``I decided quite a while ago,'' the 71-year-old Mudd said. ``I gotta go be a grandpa. That was the plan two years ago and Andy talked me out of it. But this time, it's going to be permanent.
Philly.com Sports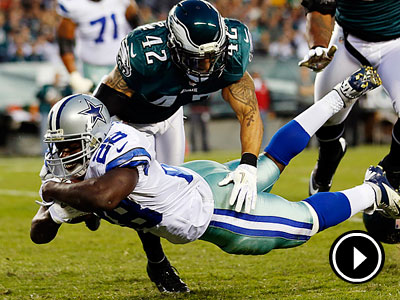 Should the Eagles' defense feel confident heading into Sunday's game against the Cowboys? Will Andy Reid let Nick Foles loose? Les Bowen of the Daily News looks at these question sin a chat with Noah Coslov of Cinesport.
Philly.com sports
Join the Daily News' Paul Domowitch as he takes your questions about all things Eagles at noon on Friday.
If you're on a mobile device, click HERE to follow along and post questions.
Philly.com sports
Vegas Vic drops by to talk about this weekend's football action in a live chat, beginning Friday at 2 p.m.
On a mobile phone? Click HERE to join the chat!
Philly.com Sports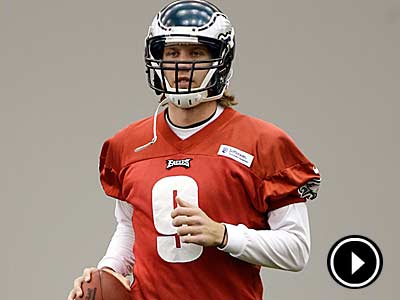 Video: Les Bowen of the Daily News reports from the NovaCare Complex after it was officially announced that Nick Foles will make his third consecutive start Sunday night.
Paul Domowitch, Daily News NFL Columnist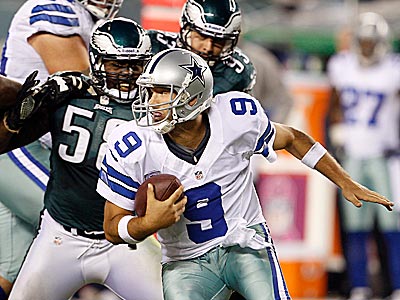 Brother, Can You Spare A Turnover? The Cowboys' 23 giveaways are the third most in the NFL. Tony Romo is 30th in interception percentage. But the Eagles are having more trouble forcing turnovers than Lindsay Lohan is staying out of the police blotter. They have just 10 takeaways, the second fewest in the league. None in the last three games and only four in the last nine. Five games without an interception. One in the last seven.
Point of No Returns. The Eagles are 20th in punt return average (7.9) and 28th in kick return average (20.6), which actually is better than last week when they were 24th and 29th respectively. Before Brandon Boykin's 44-yard KR Monday night (punctuated by a costly fumble), their longest return was 31 yards. Damaris Johnson's 18-yard PR against the Panthers was the Eagles' second longest of the season (they had a 20-yard return v. Saints). They need better production from their return game Sunday to shorten the field for the offense.
Secondary Concerns. Few times in Eagles history has the pass defense been as inept as it's been in the five games since Todd Bowles replaced Juan Castillo as defensive coordinator. In the last five games, opposing quarterbacks have a combined 139.9 passer rating. They've completed 75.2 percent of their passes, averaged 9.7 yards per attempt and thrown 13 touchdown passes and no interceptions. The opponent passer rating on third down in those five games is even higher – 146.8. On Sunday, they're going up against a quarterback – Tony Romo -- who threw just seven incompletions against them three weeks ago.
Les Bowen, Daily News Staff Writer
After Monday night's seventh successive Eagles loss, Todd Bowles vowed that players who weren't doing the job would be replaced.
Tuesday, the Birds parted ways with defensive end Jason Babin, but there have been no further defensive lineup changes. D-coordinator Bowles said Thursday that was because, well, he doesn't have anybody better to put in there.
"You show in practice every week from training camp to now, we have possible lineup changes, people compete every day ... we're playing our best guys," Bowles said. "If there was somebody that definitely could play better, they'd be playing."