Archive: October, 2012
Les Bowen, Daily News Staff Writer
Andy Reid let it be known Wednesday that Michael Vick will start Monday night in New Orleans.
The fact that Reid needed three days after Sunday's devastating loss to the Falcons to announce his quarterbacking decision tells us it was not an easy, automatic one. Reid won't speak about his thought process until Thursday, when practice resumes, but it's likely he came to the same conclusion many observers reached this week: the Eagles' best chance to save their season and make the playoffs remains with getting Vick back in the flow. The 2-5 Saints have the league's 32nd-ranked defense. Unlike the Birds' last three opponents, they are not coming off their bye week.
If Vick regains some swagger in New Orleans, the Eagles are 4-4 at midseason and everything looks better. If Vick can't beat the Saints, then the playoffs are a distant dream, and Reid might as well go with rookie Nick Foles the next Sunday, at home against the Cowboys. As Daily News columnist Rich Hofmann has mentioned, the only hope Reid has then of keeping his job is some sort of promising finish under Foles that would allow Reid to create a narrative of hope for the future. Though it's very hard to see Jeffrey Lurie buying that. Even harder to picture Lurie trying to SELL that, after last year's tortured postseaon Lurie performance, in which the owner said the only reason not to fire Reid right then was because he thought the team was on the right road to turn things around this year.
Les Bowen, Daily News Staff Writer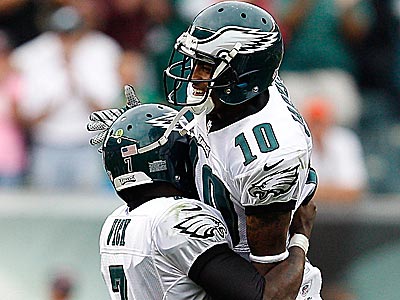 Eagles wideout DeSean Jackson appeared on the NFL Network's "NFL AM" show Tuesday. Jackson was asked several questions about quarterback Michael Vick, and he didn't exactly rally to Vick's cause.
Asked about the possibility of change, Jackson said: "We are too good of a team to be on a three-game losing streak, so whatever it is we can do to get things rolling, that is what we are here to do."
Jackson was asked if a QB switch would help. "You never know until it happens," he said.
Paul Domowitch, Daily News NFL Columnist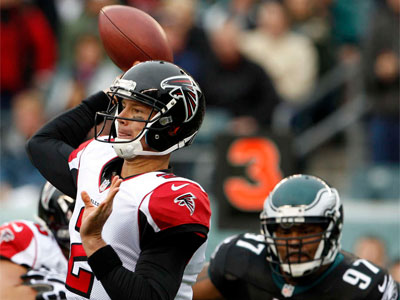 Surveying the wreckage of Sunday's 30-17 loss to the Falcons:
If Andy Reid decides to bench Michael Vick this week, it will be because of his quarterback's decision-making more than anything else.
Vick's passing numbers weren't all that bad Sunday. He completed 60 percent of his passes and didn't throw an interception for the fourth time in the last five games.
Les Bowen, Daily News Staff Writer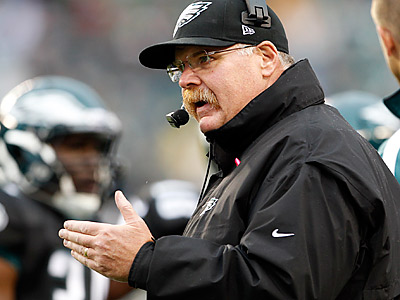 Not much to do today other than try to find a secure spot for my recycling bins, and think about what happened to the Eagles yesterday.
I'm most fascinated by the postgame scene. When Andy Reid trundled into the interview room, I was struck by how deflated he looked. Almost literally. Not making a weight joke here, but we all know the coach has lost more than a few pounds this year, and he's been growing out that brushy mustache until it dwarfs the rest of his features. The man who stood at the podium Sunday, swathed in rain-spattered black, looked like a shrunken, diminished version of the familiar coach.
We've seen Andy lose games before, and then brusquely declare how he has to do a better job. This was different. This time, the 14th-year coach seemed to be questioning himself as much as we were questioning him. I asked Reid if the change in defensive coordinators during the bye week, intended to galvanize the defense, had instead unsettled it.
Les Bowen, Daily News Staff Writer
No surprises among the Eagles' inactives. Punt returner/wideout Damaris Johnson is sitting out for the second game in a row, even though special teams coordinator Bobby April said Thursday he does not blame Johnson for the Birds' poor return results.
Also inactive are third quarterback Trent Edwards, DE Vinny Curry, OL Nate Menkin, LB Jamar Chaney, RG Danny Watkins and RB Dion Lewis. Watkins is out with an ankle injury. As expected, his place will be taken by rookie Dennis Kelly, making his first start.
Stay tuned.
Les Bowen, Daily News Staff Writer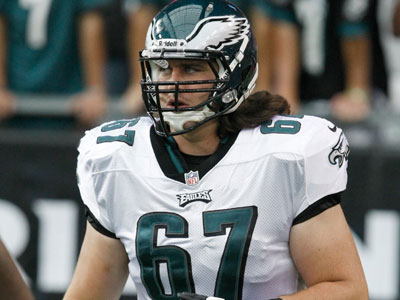 Eagles right guard Danny Watkins did not practice Friday and is listed as doubtful for Sunday's encounter with the Atlanta Falcons. Rookie Dennis Kelly is expected to make his first NFL start in Watkins' spot.
"It's exciting," Kelly said. "At the same time, you want Danny to be healthy and to be all right. To be given the opportunity, I'm excited for it and ready if I have to (play)."
Eagles coach Andy Reid said Watkins aggravated a chronic ankle problem in the Oct. 14 loss to the Lions, and though he practiced Monday and Wednesday, Reid said it was obvious Wednesday that Watkins was struggling. Reid said he didn't think the setback would be long-term.
Philly.com Sports
The Daily News' Les Bowen talks with CineSport's Justin Schackil about the Eagles as they come off their bye week. For their first task back, the Birds face a challenge, taking on the 6-0 Atlanta Falcons with new defensive coordinator Todd Bowles. Can Bowles adjust in time? Watch and find out.
Philly.com sports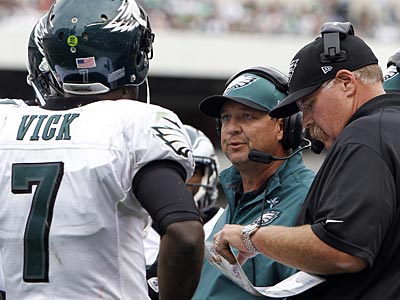 Join the Daily News' Paul Domowitch as he takes your questions about all things Eagles at noon on Friday.
If you're on a mobile device, click HERE to follow along and post questions.