Archive: September, 2010
Daily News staff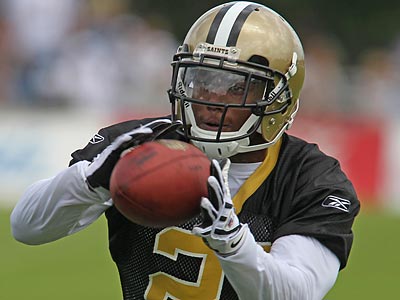 UPDATED:
The Eagles have completed their practice squad with the signing of safety Chip Vaughn.
He was drafted by New Orleans in the fourth round in 2009 and spent his first season on injured reserve. He was cut Saturday after playing in all four preseason games and registering 12 tackles.
Les Bowen, Daily News Staff Writer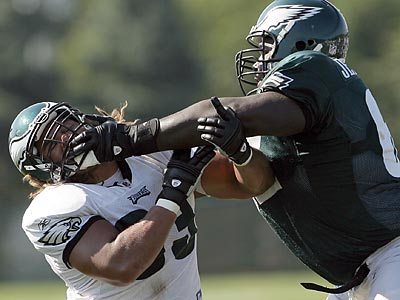 Max Jean-Gilles was getting a tattoo Saturday evening around 6:30, he said, when agent Drew Rosenhaus called with an odd bit of news.
The Eagles had just missed the 6 p.m. deadline for filing their trade of guard Stacy Andrews to Seattle with the league office. Guard Jean-Gilles was being released, to get the team under the 53-man roster limit. But assuming Jean-Gilles didn't want to try to strike out for greener pastures, the team that drafted him in the fourth round in 2006 would re-sign him the next day.
"I love Philly," Jean-Gilles said Sunday afternoon, after re-signing his one-year restricted free agent tender and practicing with his teammates at NovaCare. "They wanted me here, I love being here, so, I'm here ... Everything happens for a reason. I've got a job, so, I'm good."
Les Bowen, Daily News Staff Writer
As expected, guard Max Jean-Gilles has re-signed with the Eagles, the team announced.
Jean-Gilles was cut Saturday when the trade of Stacy Andrews to Seattle wasn't completed by the NFL's 6 p.m. deadline for cutting rosters to the regular-season limit of 53. Eagles officials and Jean-Gilles' agent, Drew Rosenhaus, said he would return to the team today.
The roster now stands at 53, and the Birds have named 5 members of what can be an 8-member practice squad. So far we know that WR Chad Hall, RB Martell Mallett, OL Dallas Reynolds, DT Jeff Owens and C A.Q. Shipley are on.
Paul Domowitch, Daily News NFL Columnist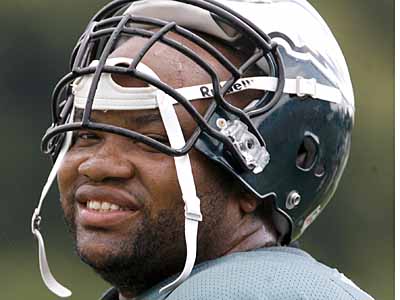 On their way out the door this weekend, Stacy Andrews and his agent, Rich Moran, managed to come up with a number of convenient excuses for why he stunk up the place during his short, but very profitable stay in Philadelphia.
There was the this-wasn't-the-job-I-signed-on-for excuse, in which Andrews says the Eagles pulled the old switcheroo on him, shifting him to right guard after he came to town expecting to be the team's starting right tackle.
He says they told him they did it because they wanted to protect his brother Shawn's injured back. Doesn't mention at all that maybe it had more than a little to do with the fact that he was coming off an ACL injury and would've gotten his butt handed to him if they had lined him up on the outside last season.
Les Bowen and Daily News staff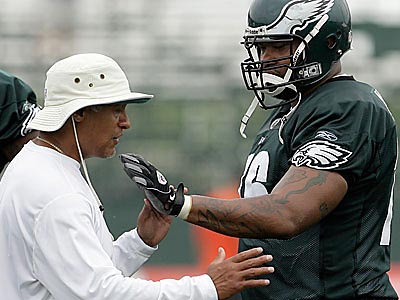 Eagles general manager Howie Roseman told reporters this evening that the Birds' trade with Seattle, which sent Stacy Andrews to the Seahawks for an undisclosed (not real high) draft pick, wasn't officially completed until 6:03, three minutes past the NFL roster deadline. So, Roseman said, the team had to cut guard Max Jean-Gilles, with the intention of bringing him back Sunday if he doesn't sign elsewhere. Roseman indicated he thinks Jean-Gilles will choose to stay where he has played since 2006. Jean-Gilles' agent, Drew Rosenhaus, confirmed that his client will re-sign with the Birds Sunday morning.
"Rules are rules," said Roseman, who said the trade actually was done by 6 p.m., but hadn't been filed with the league by then.
Also, the team made WR Kelley Washington its final cut to get to 53. Linebacker Tracy White, announced as released, actually was traded to New England, Roseman said. Apparently the Birds will get a conditional 2012 pick there.
Les Bowen, Daily News Staff Writer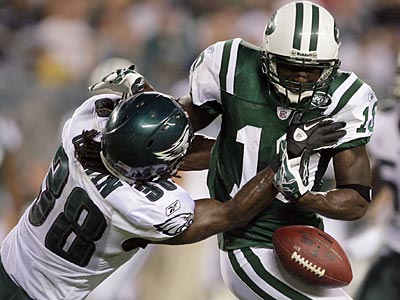 For Jorrick Calvin and Pannel Egboh, Thursday's Eagles preseason finale was a beginning, as well as an end.

Cornerback Calvin and defensive end Egboh joined the Birds during the week, Calvin in a trade with Arizona, Egboh after being waived by the Texans. They played against the Jets knowing this would be their only chance to be evaluated by their new team before today's 6 p.m. deadline to trim NFL rosters from 75 to 53. If theirs was not quite a hopeless task, it certainly cruised through that neighborhood.

"It went really well; I think I did pretty good," Calvin said afterward. "Special teams wise, a couple good catches, a couple good runs, not too big, but just productive … defensivewise, I had a pretty good game. I had a couple tackles, missed a couple tackles."

Unlike Egboh, who was released yesterday, Calvin has an outside chance at clinging to the edge of the roster, given that the Birds traded for him (their sixth-rounder, fullback Charles Scott), and given that Calvin was one of the 30 players the Eagles flew in for a predraft visit. Still, the fact that it's September, the practice games are over, and he has very little idea what he's supposed to do in Sean McDermott's defense kind of argues against him.

"I knew a little bit, but not enough that I can play it to the full extent," Calvin said after spending three quarters chasing Jets wideouts, learning on the fly.

So what's he thinking now?

"I'm not thinking anything, I'm praying, actually," Calvin said. "I'll just leave it in God's hands and go from there. If they saw something they liked, then I'll be here next week."

The one-game shot was worth taking for Calvin and Egboh for two reasons. They appeared on more game film, the currency of the NFL job-seeker. And even after they're cut, both players are eligible for the eight-member practice squad, which is much better than being unemployed.

Calvin describes himself as a "lethal" returner. "Any kind of a break, I can take one," he said.

Calvin averaged 28 yards on two kickoff returns and 12.5 yards on two punt returns (perhaps sealing the fate of undersized Chad Hall.) At corner, he forced a fumble.

Egboh's sack forced a fumble, and he tripped up a running back trying to turn the corner, Egboh closing the gap there impressively for a 6-6, 287-pound man. He played the entire second half.

"We ran a 4-3 in Houston, so I knew a little bit, but there was a lot of cramming about 24 hours ago," Egboh said after the game. "God gave me another opportunity and I'm thankful for it ... It think it's finally clicking for me."
Daily News staff
Reading Sports Illustrated's recent piece on Kevin Kolb and his proficiency at hunting, fishing and other outdoor activities in his native Texas, we were brought back to the first trip by a Philadelphia sports writer to Kolb's hometown of Stephenville, Texas.
Les Bowen visited with Kolb, his parents and others shortly after he was drafted by the Eagles in the second round in 2007.
We went back to the archives for this piece ... Really interesting to see what the expectations were for him back then as he gets ready to begin his first full season as a starter.
Les Bowen, Daily News Staff Writer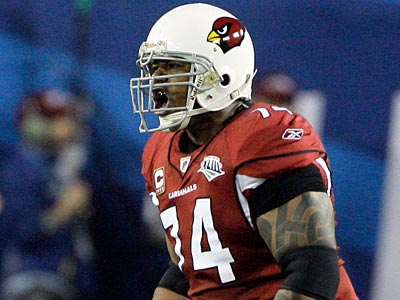 The Eagles confirmed reports that they have traded with Arizona again, this time getting 29-year-old guard-tackle Reggie Wells for an undisclosed pick, reportedly a sixth-rounder.
This would seem to be bad news for at least one sub o-lineman, possibly Max Jean-Gilles or Fenuki Topou. ESPN's
Adam Schefter, who reported the Wells trade, speculates that the Birds might be trying to move Stacy Andrews, who obviously would rather be playing tackle than guard.
Other sources subsequently said the Eagles are shopping Andrews.