Archive: September, 2009
Les Bowen, Daily News Staff Writer
Just about everyone figured that the 53-man roster the Eagles announced Saturday, heavy on wide receivers and quarterbacks, light on defensive tackles and tight ends, would not be the roster for the season opener a week from today at Carolina. That's already official, with a team source confirming this afternoon that the Eagles have released A.J. Feeley to make room for defensive tackle Antonio Dixon.
The Birds wanted to trade the 32-year-old backup quarterback, who had an excellent preseason, and probably won't be out of work long. But it's hard to get NFL teams to give up something for a player they don't think you can afford to keep, and that was the situation with the Eagles and Feeley, who could not be reached for comment Sunday.
With the addition of Dixon, an undrafted Miami University rookie released by the Redskins, dropping Feeley will not mean that Michael Vick comes off the exempt list and onto the active roster, even though Vick emphasized after Thursday's preseason finale that being able to practice during his two-week suspension would be "very, very important" to sharpening his skills.
Les Bowen, Daily News Staff Writer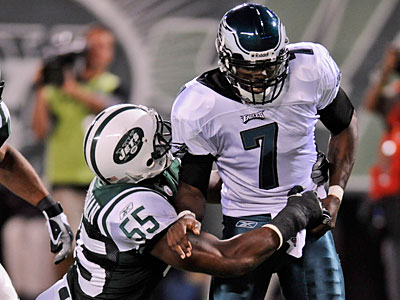 The Eagles made their roster cuts down to the regular-season limit of 53 Saturday, and the biggest surprise might have been that they placed quarterback Michael Vick on the "exempt" list, meaning he doesn't count against the roster but cannot practice during the two weeks he is suspended. Perhaps because of that exemption, A.J. Feeley remains with the team for now.
Vick had said following Thursday's preseason finale that it would be "very, very important" for him to be able to practice during his suspension, but Eagles coach Andy Reid obviously felt differently.
Another surprise was that because the team kept 7 wide receivers, at least for now, Reggie Brown remains an Eagle. Clearly, the Birds wanted to show potential trade partners that they did not have to release Feeley or Brown. Just as clearly, they aren't keeping 4 QBs or 7 wideouts long term.
Daily News staff
Tis the sesason for prognistication -- the Daily News predictions will be coming later this week -- but we are always interested when the rather large Sports Illustrated NFL preview lands in the mailbox. That happened yesterday, with a big piece about quarterbacks on the cover.
Inside, SI's Peter King predicts that the Eagles will go 9-7, finish third in the NFC East and miss the playoffs.
King has Dallas at 12-4, the Giants at 10-6 and then the Redskins in last place at 6-10.
Les Bowen, Daily News Staff Writer
Things have reached a strange state in Eagles Nation when it's a big deal that Winston Justice isn't seriously injured.
But rumors were flying Friday that Justice, who has played right tackle all preseason in place of back-spasmed Shawn Andrews, suffered a torn pectoral muscle in Thursday night' preseason finale against the Jets. That would be a season-ending injury, and seemingly would completely set the table for a Jon Runyan return, if just in a reserve role behind Andrews, who has said he expects to play in the season opener a week from Sunday
.
Your Eagletarian's thumbs were a blur as he texted back and forth with Runyan over this possibility. Big Jon had no comment other than to ask what I knew about the extent of Justice's injury. At that point, I was Sgt. Schultz, I couldn't provide any enlightenment. But then, no doubt in response to a number of media queries, an Eagles spokesman phoned to say that neither Justice's pec injury nor cornerback Dimitri Patterson's ankle problem were serious. He said both players are day-to-day and could practice Monday, when the Birds reconvene.
Daily News staff
Michael Vick said he was "happy with the decision," that commissioner Roger Goodell made to allow him to return after two games, but added that he would have been happy even if Goodell had opted for a longer suspension.
"It's still somewhat like a dream stepping out on the field, coming from where I was two years ago and where I have been," Vick said after seeing extensive action in the Eagles' loss to the Jets in the preseason finale.
Vick and Andy Reid met with Goodell for 45-50 minutes earlier today, and Vick said he learned of his fate from Reid about 3 hours later.
Paul Domowitch and Les Bowen
UPDATE: A few hours after getting the news on his reinstatement, Michael Vick scored his first Eagles touchdown. On the first play after Jack Ikegwuonu returned an interception to the Jets' 2, Vick lined up as quarterback in a shotgun formation, with Kevin Kolb split right. Vick faked a handoff and took the ball up the middle himself for the score, which gave the Eagles a 14-7 lead in their final preseason game.
Vick and Kolb were on the field together quite a bit in the early going, with Kolb flanked out.
NEW YORK -- Eagles quarterback Michael Vick will be eligible to play in Week 3, NFL commissioner Roger Goodell said today.
Poll: What do you think of Goodell's decision?

(1193 votes)
Daily News staff
An NFL spokesman did not deny a report in the Los Angeles Times that NFL commissioner Roger Goodell and Eagles quarterback Michael Vick are meeting today in New York. The spokesman instead deferred to a later session that Goodell has scheduled with reporters. Vick figures to be a substantial topic of conversation.
The Eagles have been in the New York area since yesterday in advance of tonight's preseason finale against the New York Jets at the Meadowlands. Vick is expected to see a substantial amount of playing time in the second half tonight.
A source close to the situation told the Daily News last night that the Eagles expected a ruling on Vick's status before teams must cut down to the 53-man roster limit by 6 p.m. Saturday. That was in response to an ESPN report.