Archive: November, 2010
Paul Domowitch, Daily News NFL Columnist
Here is what we will be watching during Sunday's game between the Eagles and Colts:
1. Peyton Place. That would be inside the 20. On their way to the Super Bowl last year, Manning and the Colts converted 66 percent of their red-zone opportunities into touchdowns. Even with injuries to many of their key skill-position players, the Colts still are fourth in the league in red-zone offense this season (64.0). That's the bad news. The worse news: the Eagles are dead-last in the league in red-zone defense, giving up 12 TDs in 16 opportunities. Opposing QBs are 17-for-23 with 8 TDs v. Eags inside the 20.
2. Third down is the money down. Manning is one of the best third-down passers in NFL history. Over the last 6 seasons, he's got a .648 completion percentage and a 102.3 passer rating on third down. He's the closest thing to unblitzable as there is. As for the Eagles, they are 20th in third-down defense and have had a knack for third-and-long screwups, whether it's been a blown coverage, a lack of pressure, a missed tackle or a penalty.
Les Bowen, Daily News Staff Writer
It was not a fun bye week for Eagles defensive coordinator Sean McDermott, coming off that horrific 37-19 loss to the Titans in which Tennessee's offense scored 20 fourth-quarter points. As McDermott peered under the hood of a defense that has already allowed 13 touchdown passes, he also dealt with speculation that he could lose his job -- speculation the front office strongly discouraged, by the way.
"Comments that are going to be made are not under my control," McDermott said today, after his regular Thursday media session. "What's going to be said is said. That's only going to push me harder. What I'm focused on is our defense. In a lot of ways, I'm proud of what we've done defensively so far. I think a lot of people around the league would love to be where we are and have done what we've done defensively, with the turnovers and with the (ranking of 12th overall) coming out of the Titans game ... I look forward to growing with these guys and working to accomplish our goals."
Earlier, McDermott said he does not fault Ellis Hobbs for trying to play through a hip injury against Tennessee.
Daily News staff
Eagles linebacker Ernie Sims was fined $50,000 by the NFL for unnecessary roughness against the Titans for a hit on wide receiver Lavelle Hawkins on a pass play in the second quarter of the Oct. 24 game. No penalty was called on the play.
"Specifically, on a pass play, he unnecessarily struck his opponent, a defenseless receiver, in the head and neck area with his forearm," spokesman Jon Zimmer said in an email.
Sims was deemed a repeat offender by the league, having been fined for unnecessary roughness violations on Dec. 28, 2008 and Sept. 13, 2009, when he was a member of the Detroit Lions.
Daily News staff and Les Bowen
Eagles cornerback Ellis Hobbs has a hip flexor strain and it will be "a struggle" for him to play Sunday against Indianapolis, coach Andy Reid said. Dimitri Patterson said on Monday that he had been told he would start for Hobbs against the Colts.
Reid said the injury was bothering Hobbs during the loss to Tennessee, when the Eagles were victimized for four fourth-quarter catches for 159 yards by wideout Kenny Britt. Reid said he did not know about the injury until after the game, when it "tightened up" Reid said that was why he didn't mention Hobbs in his postgame injury report. reid didn't say why Hobbs still wasn't listed among the injured the next day, when the coach held his final news conference before the bye week.
Reid said he didn't fault Hobbs for trying to play through the injury.
Les Bowen and Daily News staff
Eagles wideout DeSean Jackson said he saw independent neurologist Dr. William Welch today and that he will practice tomorrow. Jackson did not say whether Welch gave him final clearance to play Sunday against the Colts. In fact, he said he is still "taking it day by day" as he recovers from a concussion suffered Oct. 17 against the Falcons.
Jackson, speaking on Comcast SportsNet's Daily News Live, said he was ready to "start off fresh." He said his violent collision with the Falcons' Dunta Robinson wasn't so much of a trauma to his head as a "whiplash-type injry" to his shoulders and neck. He said he hasn't had a lot of headaches.
"I don't know man, that's not my decision," said Jackson, when asked when he would know if he is cleared to play. He said he would "keep preparing myself like I'm gonna play, taking steps I normally take to play in a game."
Paul Domowitch, Daily News NFL Columnist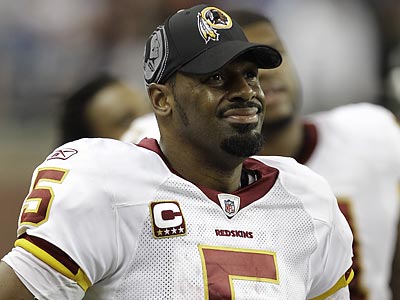 If history is any guide, Donovan McNabb's unexpected benching late in the fourth quarter of the Redskins' 37-25 loss to the Lions Sunday isn't good news for the Eagles, who have to travel to D.C. for a Monday night game against McNabb and the Redskins in 2 weeks.
You may recall the last time a coach told McNabb to take a seat. If you don't, let me refresh your memory. Nov. 23, 2008. Halftime of a 36-7 loss to the Ravens in Baltimore that dropped the Eagles to 5-5-1 and seemed to effectively kill any hope they had of making the playoffs.
That benching by Eagles coach Andy Reid was warranted. McNabb had been stinking up the place for a while. He'd completed just 8 of 18 passes for 59 yards and had thrown two interceptions in the first half against the Ravens.
Les Bowen, Daily News Staff Writer
DeSean Jackson declined a request to talk to reporters today, other than to say his participation Sunday will be a "gametime decision," but teammates said the wideout practiced as the Eagles returned to NovaCare after their bye week.
Quarterback Michael Vick said he is hoping to have Jackson available against the Colts. Tight end Brent Celek said Jackson was "his normal self" as he returned to the field after suffering a concussion Oct. 17 against the Falcons.
As expected, Vick was the No. 1 QB and left tackle Jason Peters returned as the starting left tackle, coming back from minor knee surgery. Peters said he expects to start Sunday. King Dunlap, who has done a respectable job filling in for Peters, did not practice today, with a knee hyperextension and bone bruise. Dunlap said he hopes to practice when workouts resume Wednesday.