Archive: October, 2011
Daily News staff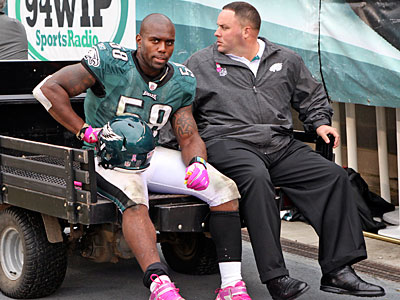 Eagles coach Andy Reid today said that Pro Bowl DE Trent Cole could miss as much as a month, according to reports, with a "significant" strained right calf suffered late in Sunday's loss to the Niners.
Pro Bowl left tackle Jason Peters' strained left hamstring, suffered on the last offensive play Sunday, could cost Peters "significant" time, too.
King Dunlap confirmed that he will start for LT Jason Peters (hamstring) this week, and expects to start next week, too. Peters is expected to return after the bye.
Paul Domowitch, Daily News NFL Columnist
Here is Paul Domowitch's report card from the Eagles' loss to San Francisco. Click here to enter your grades. We will publish the results in Tuesday's Daily News.
RUSHING OFFENSE: LeSean McCoy entered the game as the league's second leading rusher with 345 yards. Almost two-thirds of those yards came out of one-back, two-tight-end sets. So naturally yesterday the Eagles rarely used two-tight-end sets and McCoy had just nine rushing attempts. WTF?
Grade: D
Daily News staff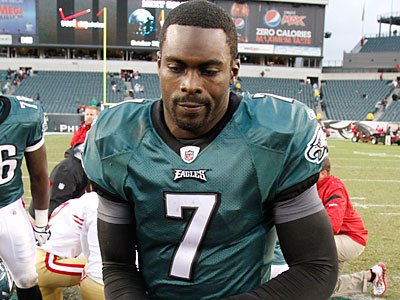 Michael Vick used the word "frustrating" multiple times in his postgame press conference, before stopping himself. "I'm not going to continue to use that word, but it's tough."
He began with, "It's shocking. It's frustrating. Other than that, I don't know what to say."
He also pointed at the players, rather than the coaches. "We just have to figure it all out. We need to take the coaches out of the equation … we have to take into consideration ourselves and go out and make it happen. That's about it. They can't go on the field and play for us. We have to go out and make it work. We have to get it done. We have to get it done."
Daily News staff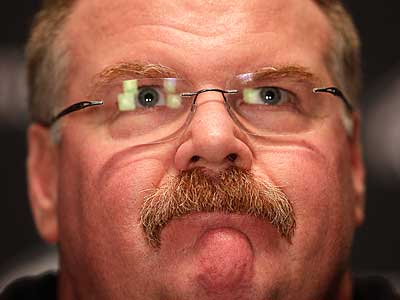 The Eagles fell to 1-3 with a 24-23 loss to San Francisco, in which they again squandered a fourth-quarter lead. Here are some of the comments from Andy Reid after the game:
"It was an absolutely terrible job by myself and my football team," Reid said. "When you have a lead in the National Football League, you build on it and continue to score points. In all areas we were terrible, a lot of yards on offense, 2 for -7 in the red zone, three scoring drives in the second half; our young kicker, he needs to figure it out too just like everyone else."
Reid was asked about the defense and said "we're not pointing fingers at anybody. We're going to take a look at each other and look in the mirror and figure it out."
Daily News staff
Gasp.
Two weeks removed from a concussion, a week after his right hand was so badly bruised it was thought to be broken, Michael Vick channeled his inner Randall Cunningham.
Vick shucked two Carl Banks-like tackles – he ducked under Ahmad Brooks and Ray McDonald – then emerged like Alice from the rabbit hole. He then trotted ... (ital) trotted (end ital) … toward the line of scrimmage and coolly found tight end Clay Harbor for a 16-yard touchdown with 4:08 to play in the first quarter.
Daily News staff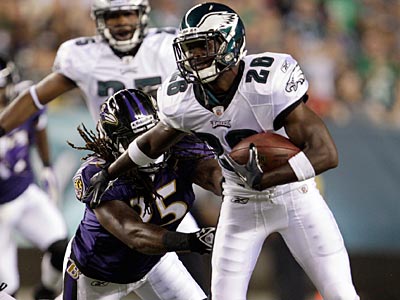 Defensive lineman Darryl Tapp will again be inactive for the Eagles today as they face San Francisco.
Tapp has been hampered by a pectoral strain and was limited in practice.
With Brandon Hughes sidelined with a hamstring strain, second round pick Jaiquawn Jarrett, out of Temple, will be active for the first time in his career.
Daily News staff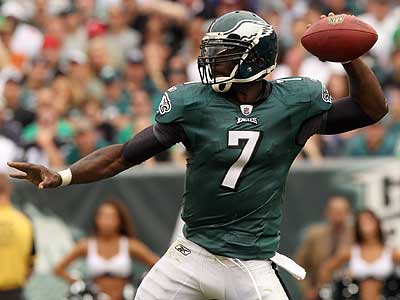 Here are the staff predictions for today's Eagles game against the San Francisco 49ers at the Linc:
LES BOWEN
This game is going to be more about the Eagles than the 49ers. If the Birds manage to lose as a strong home favorite for the second week in a row, if they drop to 1-3, the wheels are off and we can start surveying disaster scenarios, wondering what the fallout is going to be. Hey, if Mike Vick doesn't play four full quarters and hit the tunnel healthy, we can unearth the old debate about whether the Birds should have kept Kevin Kolb and traded Vick.
Paul Domowitch, Daily News NFL Columnist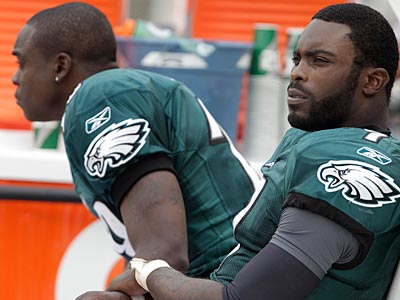 Here is a look at what we will be watching during Sunday's Eagles-49ers game:
The Vernon Davis Dilemma. The Niners' tight end is Alex Smith's go-to guy. He's been targeted a team-high 17 times in the first 3 games and is coming off an 8-catch, 114-yard performance v. the Bengals. The Eagles' problems with opposing tight ends has been well-documented. Last year, Davis had five catches for 104 yards and a touchdown against the Eagles.
Tale of the Bouncing Ball. The Niners have been very opportunistic thus far. They are third in the league in takeaways with 8 and tied for first in turnover ratio (+6). The Eagles, meanwhile, who historically have done a pretty good job of protecting the football in the Andy Reid era, already have 7 giveaways and will be starting a quarterback with a bum hand who has fumbled 8 times in his last 4 regular-season starts.