Archive: January, 2011
Daily News staff
Packers coach Mike McCarthy said he is "worried about Philadelphia," but he also sounds very confident in his team heading into next Sunday's NFC wild-card matchup at the Linc.
The Packers began the season in Philly with a 27-20 win over the Eagles. Kevin Kolb started that game, but Michael Vick finished it. In many ways, the two teams are much different than they were 17 weeks ago.
"Philadelphia is a hard place to win. I'm sure our team looks a lot different than the first time we met to start the year. It's one at a time. We feel very good about our chances. We'll play anybody, anytime, anywhere. That's been our motto and we're well oiled. We've been challenged and we've learned from those challenges. Trust me, we'll be ready when we get to Philadelphia."
Paul Domowitch, Daily News NFL Columnist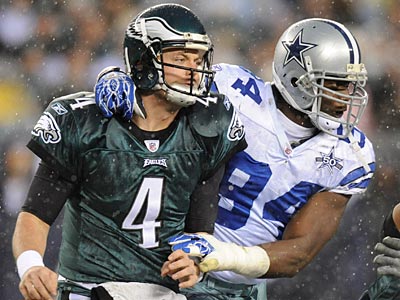 Here is Domo's report card for the Eagles-Cowboys game. You can give your grades by clicking here.

RUSHING OFFENSE: The Eagles' offensive line did a much better job of opening holes for Jerome Harrison than it did of protecting Kevin Kolb. The little-used Harrison, who came into the game with just 19 carries this season, rushed for 99 yards on 21 attempts
Grade: B-plus
PASS OFFENSE: Kevin Kolb was sacked 6 times and spent much of the game running for his life behind his porous protection. He completed just 18 of 36 passes, threw 3 interceptions and averaged only 4.5 yards per attempt.
Daily News staff
NFL WILD CARD WEEKEND
Saturday, January 8
NFC: 4:30 PM (ET)
New Orleans at St. Louis/Seattle (NBC-TV)
Daily News staff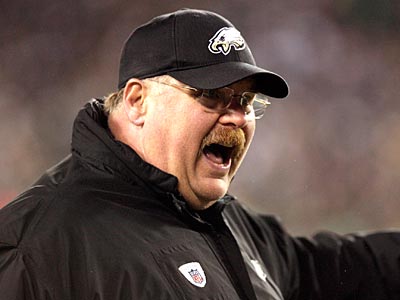 The Eagles will host the Green Bay Packers in an NFC wild-card round game next Sunday at 4:30 p.m.
The game will be broadcast on Fox.
As for today's game, Andy Reid was eager to put the 14-13 loss to Dallas behind him and begin looking forward to next Sunday's wild-card game against Green Bay.
Les Bowen, Daily News Staff Writer
Updating: The Cowboys did absolutely nothing in the first half offensively but claimed a 7-7 halftime tie anyhow, when Anthony Spencer, the guy Dallas ended up drafting with the Eagles' first-round choice in 2007, when the Birds traded down to take Kevin Kolb, punched the ball out of Kolb's hand. DeMarcus Ware picked it up and ran for a 17-yard touchdown.
At halftime, Kolb,. who launched a Hail Mary on the final play that was picked off in the end zone, was 14 for 23 for 87 yards. Dallas' Stephen McGee was 4 for 8 for 33, 31 of them coming on a first-series screen to Miles Austin.
Jerome Harrison has 10 carries for 39 yards.
Daily News staff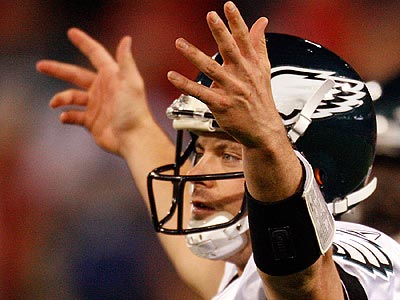 The playoff schedule for next weekend's wild-card games will be announced tonight, the NFL said.
The league also could announce the schedule for the Divisional Playoff weekend tonight, although there is a possibility that won't come until Monday.
On paper, we'd say the Eagles game will be Saturday in prime time on NBC. An Eagles-Packers or Eagles-Giants matchup would do huge ratings; NBC has shown plenty of love for Michael Vick; and the alternative would be a second consecutive weekend with either St. Louis or Seattle in prime time.
Daily News staff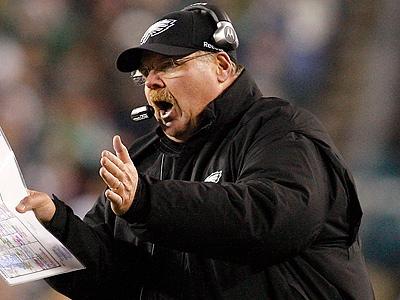 As you know, the Eagles are locked into the No. 3 seed in the NFC playoffs, the only team that is locked in.
If you are interested in some mathematical formulas relating to the Eagles' probable opponent, according to Sports Club Stats.
The Packers have a 78.6 percent chance of being the sixth seed.
Paul Domowitch, Daily News NFL Columnist
Here are the Daily News' NFL Power Rankings heading into the final week of the regular season:
(Last Week's Rankings in Parentheses)
1. Patriots 13-2 ( 1)