Archive: September, 2008
Les Bowen, Daily News Staff Writer
Eagles defensive coordinator Jim Johnson said Thursday he can't be concerned with cornerback Lito Sheppard's dissatisfaction over not starting and not being traded, especially since Lito is not letting the matter affect his play.
"Every time I walk on the field, I see three excellent corners, actually four, with (Joselio) Hanson, and it gives me a lot of confidence," Johnson said. "I don't even think about (the Sheppard situation). I just think about how we're going to match up, what we're going to do with these three guys."
Johnson said Brown is the starter opposite $57 million free agent Asante Samuel mostly because that has been his job since 2004.
Daily News staff
Today, the Daily News presents is 32-page Eagles and NFL season preview.
We take an in-depth look at the relationship between quarterback Donovan McNabb and the Eagles fans, a relationship filled with plenty of ups and downs as it heads into its 10th year.
"You have people who really like you. You have people who don't mind talking bad about you," McNabb said. "And then you have people who are kind of off to the side, and just want to see a winning football team," people whose perceptions of the quarterback remain malleable.
Les Bowen, Daily News Staff Writer
One minute, it was a slightly boring, back-down-to-business, first day of real preparation for the season opener.
Then, suddenly, it was 2005 again.
Reporters wanted to know Wednesday how Sheldon Brown felt about Drew Rosenhaus, the agent of his friend and teammate, Lito Sheppard, saying that Sheppard should be starting ahead of Brown in a video Rosenhaus disseminated last week. (link here.)
Les Bowen, Daily News Staff Writer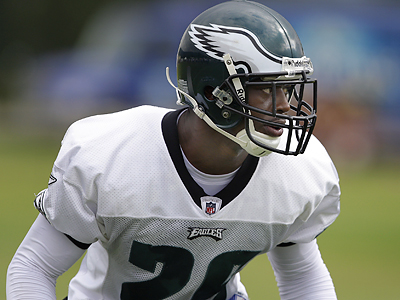 Eagletarian's close personal friend, Drew Rosenhaus, (who could forget that sunny afternoon we spent together on T.O.'s lawn in Moorestown? I get lost in fond reverie every time someone mouths the words "next question!") checked in with me today, and I didn't even have to go to YouTube. Boiling it down for you, Drew says the Eagles got an offer for Lito Sheppard within the past few weeks, and he still expects Lito to be traded shortly.
"At least one team has made a recent trade proposal to the Eagles," Rosenhaus wrote in an email to the Daily News. "The Eagles didn't like the compensation and turned it down. I will not identify the team at this time. I think there is a very good chance Lito gets traded in the next few weeks."
Hey, I'm not rooting for Lito to remain miserable, I really like the guy. But once again, I'll be really surprised if he gets traded at this point. Back in April, before the draft, maybe the Eagles would have taken a second-rounder. Now? Well, you seriously weaken the 2008 team if you trade Lito for a 2009 pick of any sort. And indications are that the offer Rosenhaus alluded to was not for a second-rounder. Would you trade Lito for, say, a fourth? I can't see why the Eagles would do that. If he really is one of the league's best, as Drew contends (and I believe, more or less), he's worth more than a fourth-rounder next year.
Daily News staff
Agent Drew Rosenhaus, via his commentary for Sprint Sports, posted another video recently describing the plight of his client, Eagles cornerback Lito Sheppard.
"I'm not sure what the eventual outcome will be," Rosenhaus said in the video, which you can watch below. "We have talked to the team about an extension. We have talked to the team about a potential trade. All bets are off. We're going to have to take it one day at a time. Certainly, it's not a positive situation and my client should be starting."
Rosenhaus and Sheppard seemingly are the only ones who think that anything will happen other than Sheppard having to play this season under his current contract as the third corner.
Les Bowen, Daily News Staff Writer
There were no big surprises when the Eagles announced their 8-member practice squad. (Can there be surprises on a practice squad?) Members work out with the team but are not eligible for games unless they are signed and brought onto the 53-man roster. Other teams can sign players to their rosters off opponents' practice squads. The participants make $4,000 a week during the season, which is more than most of us, but less than, say, Donovan McNabb.
As expected, and as was foreshadowed Sunday by your Eagletarian, the Eagles brought back sixth-round
linebacker Andy Studebaker, and added CB Trae Williams, an intriguing player who was cut by Jacksonille after being drafted in the fifth round out of South Florida. At one point last spring, Williams, who played alongside Cowboys' first-round pick Mike Jenkins at South Florida, was a highly regarded prospect.
The Birds also brought back Chester's own favorite wideout, Shaheer McBride, CB Kyle Arrington, FB Jed Collins and DT Mike Marquardt, all of whom spent training camp time with the Eagles. They added OT Chris Patrick and WR Willie Reid.