Archive: August, 2010
Nate Mink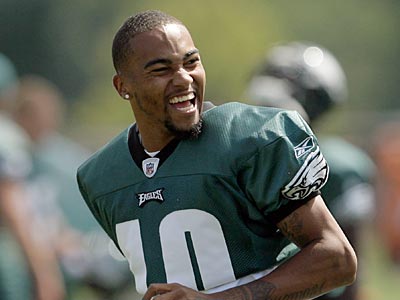 BETHLEHEM — DJax was back in a role Eagles fans are used to seeing him in Friday at Lehigh.
Jackson fielded punts and participated in 11-on-11 shell drills during the Eagles' shoulder pads-and-helmet-practice session Friday afternoon. He looked fine catching consecutive passes from quarterback Kevin Kolb on out patterns, where he's forced to turn his hips and twist and his body.
Jackson declined to comment to reporters after practice, continuing his training camp silence.
Les Bowen, Daily News Staff Writer
Les Bowen of the Daily News talks about Jeremy Maclin's injury during training camp and how his ability as a possession receiver fits in well with Kevin Kolb and the west coast offensive scheme.
Les Bowen, Daily News Staff Writer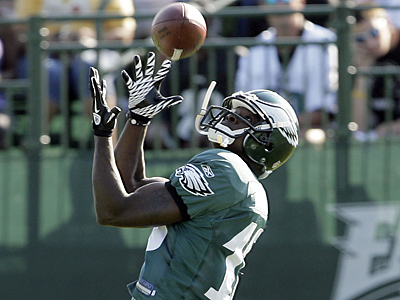 Jeremy Maclin said today his left knee bone bruise is something that "just takes a little time to heal ... I'll be back out here in a little bit," and that having come back from an ACL tear in college at Missouri, he was very relieved to find he hadn't suffered a catastrophic injury on the final play of Tuesday afternoon's practice.
"I'm blessed and I'm thankful that it didn't turn out as bad as it could have," said Maclin, who worked hard in the offseason to improve on his strong rookie season at wideout. "I'm happy that it is what it is; I mean, I wish I was out there competin', but now I've got to get better and get out there as soon as I can."
Maclin didn't offer a timetable. A few weeks seems likely.
Daily News staff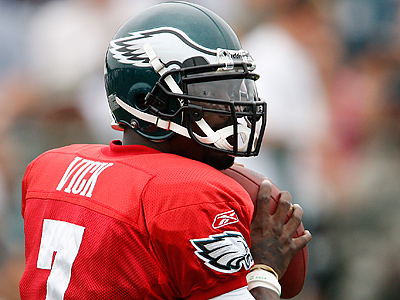 After the morning practice, Eagles quarterback Michael Vick addressed the media about his brief in-person session with comissioner Roger Goodell last night.
"We had a great conversation; we're on the same page now," Vick said. "I understand everything that I am supposed to be doing and that I'm out here to do, and it was a great meeting."
Vick was asked if there were things that he did understand previously from his earlier interactions with Goodell.
Les Bowen, Daily News Staff Writer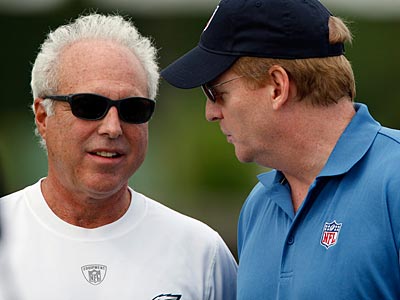 Not surprisingly, Eagles chairman Jeffrey Lurie's annual state of the team training camp address was dominated today by questions about Michael Vick, the day after NFL commissioner Roger Goodell met with Vick and prescribed additional support measures for the reinstated quarterback.
Lurie explained his feeling about why Vick should remain on the team, despite Lurie's stern words a year ago when Vick was signed about the lack of a margin for error. The 30th birthday party in Virginia Beach at which Vick dogfighting codefendant Quanis Phillips was shot in the leg was a "lapse in judgment," and not "wrongdoing," which would have terminated Vick's opportunity to be an Eagle, Lurie said.
Lurie said Vick was trying to satisfy old friends and relatives by having the party, which Lurie said "it was a mistake for him to be at," but one motivated by a desire to not be seen as forgetting where he came from. Lurie said the additional support measures Goodell mentioned would somehow include grappling with the issue of how players with inner-city backgrounds can steer clear of trouble without divorcing themselves from their loved ones. He didn't clarify how that could be done.
Les Bowen, Daily News Staff Writer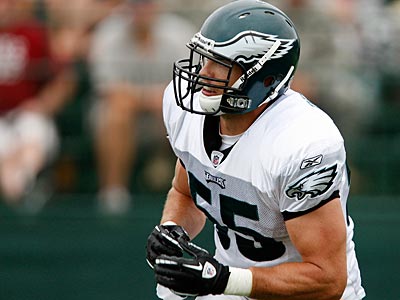 Stewart Bradley missed practice all of Sunday and on Monday morning with a mild hamstring injury, a speed bump in his road back. In training camp last year - 367 days ago, in fact - Bradley blew out his knee and missed the season, leaving the Birds to founder all season in search of a middle linebacker.
"It felt good. It was nice to get out there and run around. Just glad to get back on the field," Bradley said yesterday, his first real work since the injury occurred Saturday.
He didn't seem hindered during, but then he hasn't seemed hindered since camp began.
Marcus Hayes and Les Bowen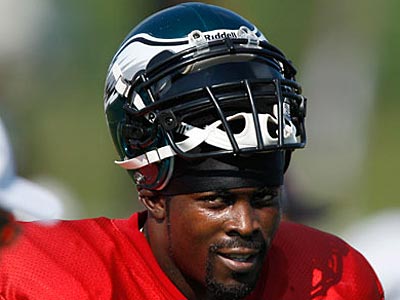 BETHLEHEM – The man with the big gun kept a bullet to himself.
After an hour of watching practice and another hour of marketing his league, NFL czar Roger Goodell headed over the mountain, in the parlance of training camp, for his much-anticipated face-to-face meeting with Michael Vick, after which, he said, he finally determined Vick's future in the NFL.
"There will be no disciplinary action," according to a statement released by the Eagles this evening. Later, Goodell met with a small group of reporters outside the bus he traveled to Lehigh in along with retired broadcaster John Madden.
Marcus Hayes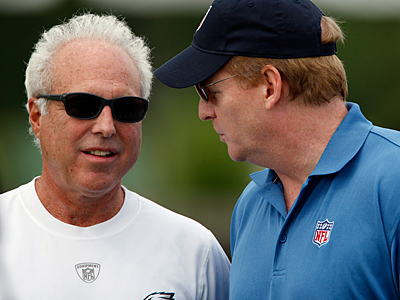 Roger Goodell is heading over the mountain, in the parlance of training camp, for his much-anticipated face-to-face meeting with Michael Vick, after which, he said, he finally will determine Vick's future in the NFL.
Of course, considering that, in the wake of the Vick's bang-up birthday bash, Goodell has allowed Vick to report to training camp and participate as if nothing ever happened, any action on the commissioner's part seems highly unlikely.
"I haven't announced a decision, have I?" Goodell said.