Archive: August, 2009
Les Bowen and Daily News staff
Eagles first-round pick Jeremy Maclin arrived at Philadelphia airport this morning and was at Lehigh by midday to sign his contract, ending a holdout that had gone on for nine days.
"It's been a little hard," Maclin said when asked about missing the start of training camp. "Obviously, I am a competitive guy and I want to be out here playing, but it is what it is and I'm looking forward to seeing what the future has in store."
Asked what the issue was that led to the delay, Maclin said, "When it comes to football, especially in the NFL, I think there is a business part of it first and sometimes you've got to get that figured out. This may be the only contract, so sometimes you've got to do what's best and get that first one right. But like I said, I'm looking forward to moving on."
Les Bowen, Daily News Staff Writer
Jeremy Maclin arrived at Lehigh after the morning practice, signed his contract and was expected to speak to the media following special teams practice, around 2:45. Maclin is scheduled to take the field for the first time Wednesday morning.
Maclin, the Eagles' first-round pick, agreed to terms Monday night, but was in St. Louis. He arrived in Philadelphia a little after 10 a.m., then had to journey northward to Bethlehem.
Apparently, Maclin spent much of last week in Philly, but went home to Missouri over the weekend.
Paul Domowitch, Daily News NFL Columnist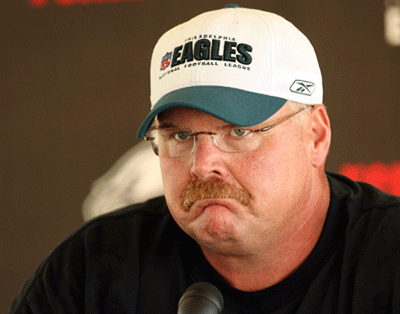 If a tree falls in the woods and no one is around to hear it, does it make a sound?
If a middle linebacker shreds his anterior cruciate ligament in a scrimmage and the head coach refuses to confirm reports that it's torn, did he really tear it?
The first question always has been too deep for me. The answer to the second one is, of course he tore it, no matter how much Andy Reid and his new defensive coordinator, Sean McDermott, wish it weren't so.
Daily News staff
UPDATED: Maclin arrived at the airport this morning and is on his way to Lehigh.
If you're heading up to Lehigh this morning, pumped to see just-signed first-round pick Jeremy Maclin, alas, the Eagles say Maclin is still en route from St. Louis. A team spokesman said Maclin might be a possibility for this afternoon's 2 p.m. special teams session.
Hey, it's not like there's any urgency or anything -- this is only the ninth day of workouts since Maclin was supposed to report, with the other rookies.
Les Bowen, Daily News Staff Writer
First-round pick Jeremy Maclin has agreed to terms on a 5-year deal with the Eagles, a source close to the situation said late tonight.
The deal calls for a total of $15.5 million with $9.5 million guaranteed, the source said.
The Eagles confirmed the signing with a press release shortly after 11:30.
John Smallwood
If anything is to be read into the first practice without middle linebacker Stewart Bradley, Joe Mays has the upper hand over Omar Gaither as the starter.
However, a likely scenario for new coordinator Sean McDermott might be what the Eagles showed in practice -- Mays playing in the base defense on first and second down with Gaither playing in the nickel package on passing downs.
Mays, a sixth-round pick in 2008 from North Dakota State, appeared in two games last season and said he is eager to step in.
Daily News staff
Eagles middle linebacker Stewart Bradley's injury suffered at Flight Night is more serious than anticipated.
Bradley has a torn anterior cruciate ligament that will end his season, his agent, Eric Metz, confirmed to the Daily News' Les Bowen.
Metz said the injury is a "complete tear." Metz said they are examining their options as to who will perform the surgery.
Les Bowen, Daily News Staff Writer
This evening, the Denver Broncos announced they have reached agreement on a five-year contract with first-round pick Robert Ayers, a defensive end drafted 18th overall, one slot before the Eagles took wideout Jeremy Maclin.
Earlier, a source close to the situation indicated Ayers' signing would be a key step in ending the Maclin impasse.
Maclin has missed more than a week of camp. Previously, deals for other receivers, such as wideout Percy Harvin, taken 22nd by the Vikings, were thought to be keys to getting Maclin done, but Harvin signed Sunday and Maclin did not.
Daily News staff
The Eagles put on quite a show tonight with their first Flight Night fundraiser at the Linc. A crowd of 31, 786 enjoyed the festivities that surrounded a practice that went more than an hour, and was surrounded by a parachute landing and capped by fireworks.
The only blemish were what seem to be minor injuries to linebacker Stewart Bradley and cornerback Ellis Hobbs.
Bradley limped off and made his way to a training table where athletic trainer Rick Burkholder looked him over. He trotted off the field to the locker room with an unspecified knee injury. The team said he will have an MRI on Monday morning. Joe Mays took Bradley's place at the middle linebacker spot.
Les Bowen, Daily News Staff Writer
Back when everybody on both sides was saying Jeremy Maclin ought to be signed before the start of training camp, agent Jim Steiner denied that he would need to see what other first-rounders were getting before he could reach an agreement. However, as the impasse has dragged on through a solid week of workouts (for rookies, anyway, three days for vets), that is exactly what front-office sources have felt was the holdup -- specifically,they've felt that Steiner was waiting for another wideout, Percy Harvin. taken 22nd overall by the Vikings, to agree to terms.
Well, according to ESPN.com, that has happened, Harvin agreeing to a five-year deal Sunday, terms undisclosed. As soon as that news arrived, miracle of miracles, there were indications that a Maclin deal was close, too. It would be nice to have him waving to the fans on the giant scoreboard screens at Eagles Flight Night tonight, wouldn't it? Although by late afternoon, as Flight Night neared, a source close to Maclin was throwing cold water on the "deal is imminent" buzz, so don't count on that.
Certainly, there is a strong sense the Eagles have put their best offer on the table, and if Maclin doesn't sign today, this signing that no one thought would be complicated is going to become just that.