Archive: November, 2010
Daily News staff
Here are Paul Domowitch's NFL Power Rankings for Week 10 (last week's ranking in parentheses):

1. Steelers 6-2 (2)
2. Giants 6-2 (3)
Les Bowen, Daily News Staff Writer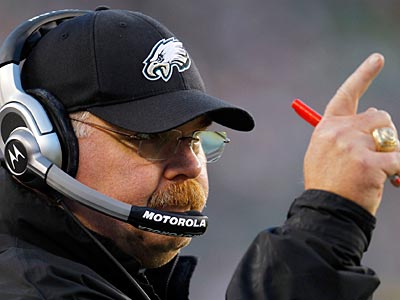 The previous meeting with the Redskins was not the Eagles defense's finest hour. Washington scored only 17 points, but it got those on its first three drives of the game, which put the Eagles' offense in a big hole. As offensive coordinator Marty Mornhinweg sniffed when asked about the effectiveness of Washington's Cover 2 in shutting down his unit, "It worked well, 14 points up."
The Redskins rushed for 169 yards, and the Eagles ended the day ranked 27th in the league against the rush.
"We got chewed out," recalled defensive tackle Antonio Dixon,, who has been a big part of the defense's ascent to 12th against the run, as the Birds prepare to face the Redskins again Monday night. Chewed out by defensive coordinator Sean McDermott? By d-line coach Rory Segrest? "Both," Dixon said. "And coach Reid. When it's coming from coach Reid, we know we have to do better, We had to step up."
Les Bowen, Daily News Staff Writer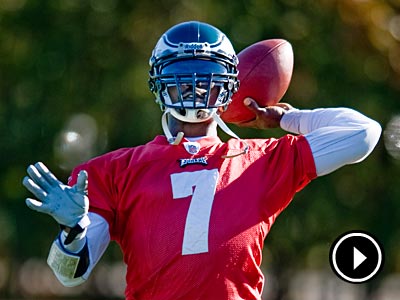 Video: CineSport's Noah Coslov turns to Les Bowen of the Daily News for the three keys to the game for the Eagles on Monday night against the Redskins.
Les Bowen, Daily News Staff Writer
Video: Les Bowen of the Daily News reports from Eagles practice as they prepare for their rematch with Donovan McNabb and the Redskins on Monday night in Washington.
Daily News staff and Les Bowen
Eagles safety Nate Allen and lineman Max Jean-Gilles will not practice today. Jean-Gilles has not passed concussion testing yet. Allen has a sprained neck.
Cornerback Ellis Hobbs and tackle King Dunlap will work with the scout team, easing themselves back in. Coach Andy Reid said it was still a "stretch" to expect Hobbs or Dunlap to play Monday night against Washington.
Reid said a back specialist did not find any problems with Hobbs earlier this week, but his hip flexor injury is improving.
Daily News staff
The Eagles continued their roster shuffling of the last few days by signing tight end Cornelius Ingram to the practice squad.
Ingram was a fifth-round pick out of Florida by the Eagles in 2009 after missing his final season with the Gators because of a left knee injury. He then missed what would have been his rookie season after tearing the ACL in the same knee.
After aggressively rehabbing the knee, he returned last spring and took part in training camp and the preseason, although he missed time with a Baker's cyst on the back of his left knee and calf.
Daily News staff
The Redskins were back at practice today to prepare for the game against the Eagles on Monday night.
Questions will continue to surround Donovan McNabb as the game draws closer.
Mike Shanahan was asked in his meeting with the media on McNabb's physical condition. You might remember Shanahan's second explanation for benching McNabb involved injuries.