Archive: October, 2011
Daily News staff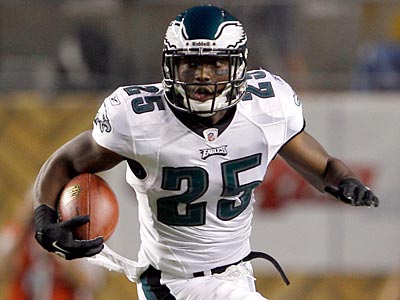 Each week on Eagletarian and in the Daily News, Paul Domowitch grades the Eagles in the following six categories.
After four games, the Eagles are 1-3, and here are his composite grades based on the average of the individual games.
He has only given one A- this season, for the pass defense in the St. Louis game, and no A's. That is the highest grade of the season.
Philly.com Sports
Join Ed Barkowitz of the Daily News for a live chat about the coming weekend in fantasy football, starting at 3 p.m. Thursday.
If you're on a mobile device, click here to follow along and post questions.
Philly.com sports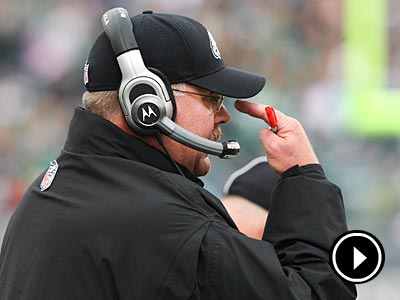 Video: The Daily News' Marcus Hayes reports from Eagles practice where the importance of Sunday's game against the Bills is understood by everyone.
Daily News staff and Les Bowen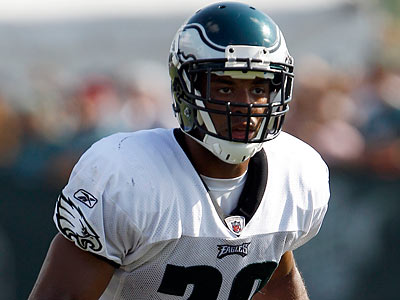 Eagles coach Andy Reid said the starting safeties will remain the same, but he expects all of them to work in.
As for second-round pick Jaiquawn Jarrett, who was active for the first time in his NFL career against San Francisco, Reid said Jarrett did well on special teams and the Eagles are bringing him along on the defense.
* Trent Cole and Jason Peters aren't practicing, as expected, and will struggle to play, Reid said. (In reality, they aren't playing this week.) Juqua Parker (high ankle sprain) will "be out there working, we'll see how he does," Reid said. The same goes for Darryl Tapp (pectoral muscle). Both Parker and Tapp are hoping they can play Sunday; Tapp, a limited practice participant last week, seems more likely to be ready. And since the Eagles didn't make a DE move with Cole hurt, you can infer that the Eagles think there's a good chance Tapp will be ready. Tapp was listed as a full practice participant Friday.
Les Bowen, Daily News Staff Writer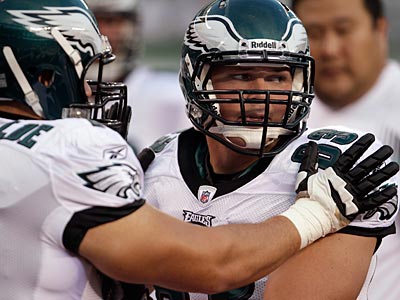 Eagles coach Andy Reid today confirmed a Wilmington News-Journal report that first-round draft pick Danny Watkins will start at right guard this week.
Watkins said: 'I've been coming in early, leaving late, trying to get better and work away at it. I've made ground, for sure."
Watkins said his early season comment about being overwhelmed was overhyped -- he said he didn't mean the Eagles offense overwhelmed him, he was talking about moving to a new city in a new part of the country, having to deal with media attention, fans knowing him when he went out to eat, and so on.
Daily News staff and Les Bowen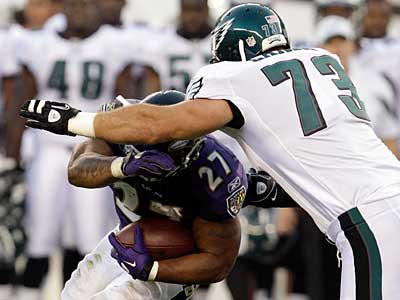 The Eagles have re-signed defensive tackle Derek Landri to a one-year deal and placed defensive tackle Antonio Dixon on the injured reserve list with a torn triceps.
Landri (6-2, 290) spent the 2011 preseason with the Eagles, but was released as part of the team's final roster cutdown. He is entering his fifth NFL season after spending the first four years of his career in Jacksonville (2007-09) and Carolina (2009-10).
Landri started all 16 games for the Panthers in 2010, posting 43 tackles and three sacks after being acquired by the team off waivers from Jacksonville late in the season.
Paul Domowitch, Daily News NFL Columnist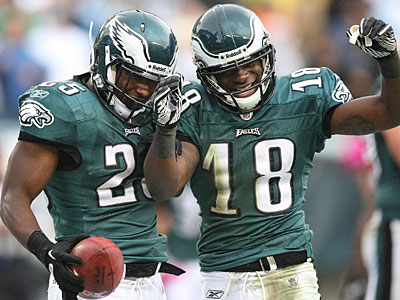 Reviewing the wreckage of the Eagles' 24-23 collapse to the 49ers while wondering how many hours Juan Castillo plans to go without sleep this week:
By the Numbers
--LeSean McCoy, who entered Sunday's game as the league's second leading rusher, had just just nine carries against the Niners and only four in the second half of a game in which the Eagles had a 20-point lead. Andy Reid, who repeatedly has said over the years that he likes to run the ball in the second half after getting a lead, denied that Monday. Must've been another Andy Reid.
Daily News staff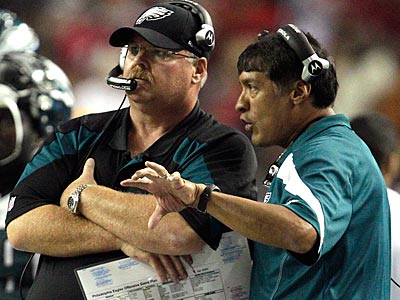 As criticism of defensive coordinator Juan Castillo mounts after four weeks, Eagles coach Andy Reid said today that the "coaches will stay intact."
"The coaches will stay intact, but we have to thoroughly evaluate everything," Reid said. "We and I evaluate everything ... The coaches will stay intact and we go from there."
Asked specifically about Castillo, Reid said, "Listen, I thnik Juan is doing some good things. If you ask the same question about myself and the other coaches and the players, there are some good things that we're doing and a lot of things we need to work on. I'm telling you it's not one person. It's all of us pulling this thing together and doing our jobs together."