Archive: January, 2011
Les Bowen, Daily News Staff Writer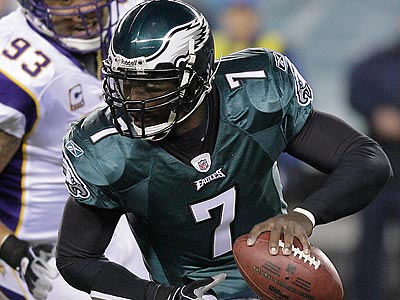 A few pieces of news in the early going from Andy Reid's news conference at a jam-packed NovaCare Complex.
* Quarterback Michael Vick's quadriceps is "OK" and he will not be limited in practice this week, Reid said. Later, Vick told reporters he "definitely will be 100 percent" by Sunday's game. "I would think everybody took a look at that film (from the Minnesota loss) and critiqued it and tried to figure out what we can do to get better ... I'm almost 100 percent sure that we'll get the same looks (from Green Bay). It might not be exactly the same, but in some way, shape, or form, it'll be similar. We have to be ready for it," Vick said.
* Dimitri Patterson will be the starter at right cornerback against the Packers. Patterson seemed to lose his starting job after being beaten on three Giants touchdowns, but he played a strong, aggressive game last Sunday against the Cowboys, particularly as a blitzer. Who starts might matter little with the Eagles likely to play a lot of nickel with Joselio Hanson; the Packers use a lot of three wide receiver sets. Hanson said today he prefers to stay inside, where he has played most of the year.
Daily News staff
The national analysts are starting to line up behind the Green Bay Packers, heading into Sunday's wild card game against the Eagles.
"They're the scariest team right now in the playoffs," Deion Sanders said on the NFL Network.
Daily News staff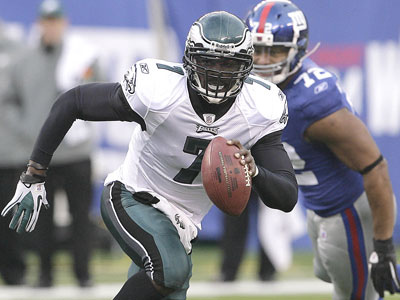 Of the many ridiculous things said about Michael Vick this season, none was more ridiculous than political analyst Tucker Carlson's suggestion that Vick should have been executed for his role in a dogfighting ring.
Carlson got plenty of attention for the remark, and of course that led to another shot at it for him to backtrack. You will note, however, that there is no apology anywhere in his latest remarks.
Carlson made the comments when he was serving as a guest host on "Hannity." He returned to the show last night, this time with Sean Hannity as the host.
Paul Domowitch, Daily News NFL Columnist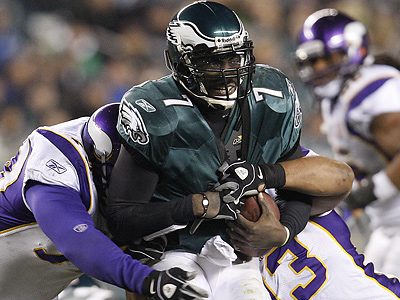 Some incoherent thoughts and some off-the-mark observations as I get my game-face on for Sunday's Eagles-Packers playoff game:
* If I can oversimplify Sunday's wildcard matchup between the Eagles and Packers for a second, the game basically is going to come down to two things – protection and pressure.
Les Bowen, Daily News Staff Writer
Asked today if he feels he is 100 percent with the quad injury he suffered last week against the Vikings, Eagles quarterback Michael Vick said he is "getting there."
Vick, who will lead the Eagles against Green Bay Sunday at the Linc in a wild-card-round playoff game, said handling the blitz "is not an issue," that he is learning as he goes. Vick said he does not need to adjust to the way teams are playing him, even though the Eagles' offense has sputtered in recent weeks.
"I don't have to do nuttin'. I'm still going to be me. I'm still going to play my game, still play with confidence, still try to rally the guys around me, and make sure they're focused and in tune with what we're doing, what we're trying to accomplish," Vick said. "That's what's important. You can't change your game around this time of the season ... You just go out and play your best football. It's the playoffs."
Daily News staff and Les Bowen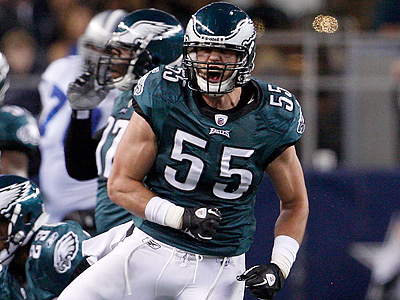 Asked Sunday if he expected to play Sunday in the playoff game against the Packers, linebacker Stewart Bradley said "that's the plan," Bradley responding to a TV reporter who told Bradley Eagles coach Andy Reid had said Bradley was ready, which Reid did not say.
Bradley suffered a dislocated elbow Dec. 12 at Dallas.
Today, Reid said it would be 'a stretch' for Bradley to play.
Paul Domowitch, Daily News NFL Columnist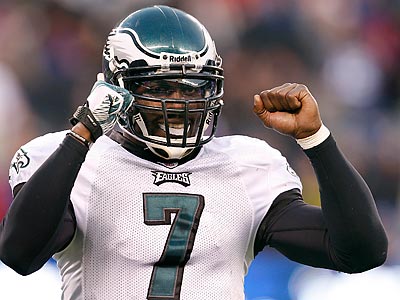 Five Eagles playoff questions as the countdown to Green Bay begins:
1. What is the state of Vick? Michael Vick sat out yesterday's game with a quad bruise. But Eagles coach Andy Reid gave every indication that he will be ready, willing and able to play Sunday against the Packers.

2. What is Stewart Bradley's status? Middle linebacker Stewart Bradley, who has missed the last 3 games with a dislocated elbow, said after the game yesterday that he will be ready to go for Sunday's playoff game against the Packers. If that's the case, the only question is where he'll play. Will he return to middle linebacker or will Sean McDermott shuffle his linebackers, keep rookie Jamar Chaney at MIKE and move Bradley to the strong side, where he played in college?

3. Can the Eagles stop Aaron Rodgers? The Eagles defense, which has given up 31 touchdown passes and is dead last in the league in red zone defense, will have its work cut out for it Sunday when it takes on red-hot Aaron Rodgers, who has a 122.0 passer rating in his last 7 starts. "They gave us some problems when we played up there," Rodgers said. "We weren't overly efficient on offense, so it's going to be important for us to have a good week of practice."

4. Do the Eagles have an answer for Clay Matthews? The last time the Eagles faced the Packers, linebacker Clay Matthews made their life miserable. He had two sacks in that game and knocked starter Kevin Kolb out of the game with a concussion. Matthews finished the season with 14 sacks.

5. What will DeSean's contribution be? Wide receiver DeSean Jackson, who rested his sore foot yesterday, had just 4 catches for 30 yards in the Eagles' Week 1 loss to the Packers. They're going to need better production from him in Sunday's rematch if they hope to keep their Super Bowl hopes alive.
**
Philly.com Sports
Marcus Hayes of the Daily News takes your questions about the Eagles' loss to the Cowboys yesterday and the upcoming playoff game against the Packers in a live chat at 1 p.m.
If you're on a mobile device, click here to follow along and send in questions.
---
Download our NEW iPhone/Android app for even more Birds coverage, including app-exclusive videos and analysis. Get it here. On sale through the end of the season for just $0.99!