Archive: September, 2010
Daily News staff
If you watched any of "Hard Knocks" on HBO, you remember fullback Jason Davis.
Davis made no bones about how he viewed himself and promised Jets GM Mike Tannenbaum that he would beat the Jets butts whenever he had the chance with another team after the Jets released him. He used more colorful language, by the way.
Well, now Davis is on his way to Philadelphia to work out for the Eagles, who are in need of a fullback following Leonard Weaver's likely season-ending ACL tear. Weaver is scheduled to have an MRI. If it confirms the initial diagnosis, his season is expected to be over.
Paul Domowitch, Daily News NFL Columnist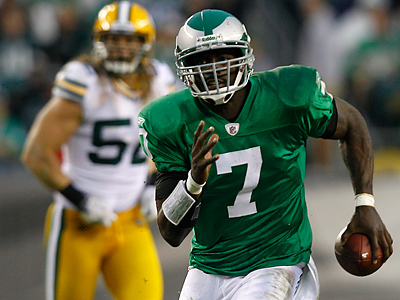 Here are Paul Domowitch's grades for the Eagles-Packers game. This season, you get to make the grades too. Click here to cast your votes. We will print the results in Tuesday's Daily News.
RUSH OFFENSE
If your idea of a ground game is your quarterback taking off and running, then the Eagles were terrific. Mike Vick rushed for 103 yards on 11 scampers, though the one time he should have run — on a third-and-goal from the 5 with 6 minutes left — he foolishly decided to throw. The running backs – LeSean McCoy and Leonard Weaver – combined for just eight carries, though McCoy had a nice, 12-yard scoring run.
Grade: C-minus
PASS OFFENSE
At halftime, center Mike McGlynn actually had more receptions – one – than wide receiver DeSean Jackson and tight end Brent Celek. Jackson and Celek finished with a combined six catches for 62 yards. Kevin Kolb completed five of 10 passes for 24 yards and should have had three interception before he left the game with a concussion. Mike Vick did much better, completing 16 of 24 passes. Grade: C
Daily News staff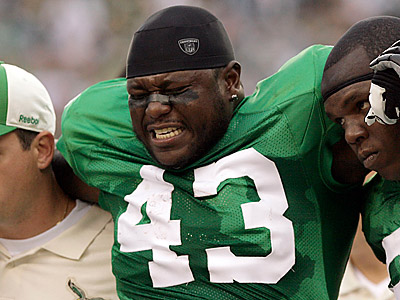 Kevin Kolb and Stewart Bradley both were re-inserted into the game after suffering what were later diagnosed as concussions.
"They were fine," coach Andy Reid said. "The [doctors] felt like all the questions were answered things they did with the docs, registered well. As it went on, they weren't feeling well and we took them out."
Kolb's injury was initially diagnosed as a jaw problem after Clay Matthews slammed him to the ground. He returned to the game after the injury. He was 5-for-10 for 24 yards and was sacked twice.
Les Bowen, Daily News Staff Writer
Updating, well, this was not where this game appeared to be going.
The Eagles moved the ball, but Michael Vick was stopped on a fourth-and-1 on the first play after the 2-minute warning.
The Birds have no timeouts, after using their last timeout with about 5 minutes remaining.
Daily News staff
The clock is ticking down to the 2010 season opener as the Eagles face the Green Bay Packers at the Linc on what could be a rainy afternoon.
So, what is your biggest concern entering the season?
As part of the latest Daily News fan survey conducted by the Temple University Sport Industry Research Center, we asked that question of fans who identified the Eagles as their favorite team in the city. The online survey was conducted in mid-to-late August.
Daily News staff
Here are Paul Domowitch's NFL rankings heading into Week 1 of the season:

1. Packers
2. Bengals
3. Colts
4. Saints
5. Texans
6. Vikings
7. Chargers
8. Cowboys
9. Ravens
10. Patriots
11. Jets
12. Dolphins
13. Eagles
14. 49ers
15. Falcons
16. Giants
17. Titans
18. Steelers
19. Raiders
20. Cardinals
21. Bears
22. Bills
23. Browns
24. Panthers
25. Lions
26. Broncos
27. Redskins
28. Chiefs
29. Jaguars
30. Bucs
31. Rams
32. Seahawks
**

As part of its coverage, the Green Bay Press Gazette asked several scouts to break down the Eagles. Here are a few of the observations:
Les Bowen, Daily News Staff Writer
The Eagles last played the Packers on Sept.9, 2007, at Lambeau Field, the first NFL game for Kevin Kolb and Brent Celek. Both players said today they remembered the historic setting more than anything else.
"I remember it was a lot like a college atmosphere," said quarterback Kolb, who also recalled that he was the No. 2 to Donovan McNabb that day, not No. 3, because A.J. Feeley had suffered a broken finger in the preseason. "I was pretty focused."
Tight end Celek said he remembered "Brett Favre running out of the tunnel."
Philly.com Staff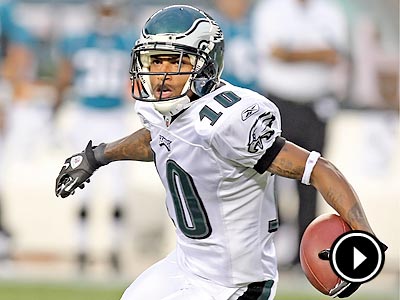 Les Bowen joins Cinesport's Noah Coslov to talk about three key matchups in Sunday's regular-season opener against the Packers.