Archive: September, 2009
Daily News staff and Les Bowen
UPDATING: Ruh-roh. Donovan McNabb just bulled into the end zone for a TD that made it 38-10, but he was hit lying on the ground by Charles Johnson and stayed down for quite a while. The Birds have the ball back now, after Jake Delhomme's fourth pick, and Kevin Kolb is quarterbacking, while team orthopedist Peter DeLuca seems to be working on McNabb's upper back. Now McNabb has left for the locker room. This is certainly a wild and crazy day
The early word from the locker room is a rib injury, no prognosis offered.
McNabb returned to the bench for the early part of the fourth quarter, but took off his shoulder pads and headed back to the locker room with about 7 minutes remaining.
Daily News staff
With all the attention on the offensive line and the rookie free safety and the middle linebacker situation, there has not been a lot of talk this week about special teams.
DeSean Jackson will be the punt returner and Ellis Hobbs and Quintin Demps both could potentially see time returning kicks, although Hobbs seems like the likely favorite.
Here are some of the comments from special teams coordinator Ted Daisher earlier this week:
Les Bowen, Daily News Staff Writer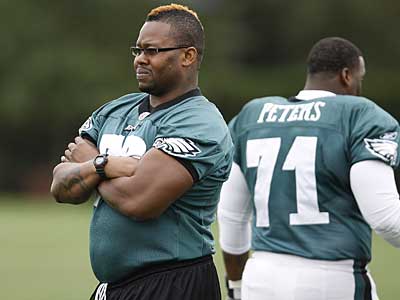 Right tackle Shawn Andrews did not practice Thursday or Friday and will not play in the Eagles' season opener
Sunday at Carolina, Eagles coach Andy Reid said. Running back Brian Westbrook practiced Friday, despite having been listed on the inury report Thursday with a knee problem, and he will play, Reid said.
Winston Justice will start for Andrews, who missed the preseason with back problems but has been sympton-free lately. Reid said Andrews' back tightened up after Wednesday's workout, the first full practice of game week.
"Neither our people or Shawn feel like he can make it through this game," Reid said.
Daily News
Shawn Andrews reinjured his balky back in Wednesday's practice. He reported to work Thursday and said his back hurt again. It cost him the last 14 games of last season, almost all of this preseason and will keep him out of at least Sunday's opener at Carolina.
If surging replacement Winston Justice plays well in Andrews absence Andrews could be watching whenever he finally is healthy, said head coach Andy Ried; it is Justice's job to win. Andrews declined to comment on his most recent setback.
Reid also said Jon Runyan's workout yesterday was to gauge Runyan's progess after offseason knee surgery. Reid offered no evaluation of Runyan, who is a free agent. Runyan played right tackle for the Eagles, where Andrews and Justice now play. Runyan's workout and Andrews' setback were coincidental, Reid insisted.
Paul Domowitch, Daily News NFL Columnist
Each week, Daily News football writer Paul Domowitch will tell you the things he will be keeping his eyes on during that week's game:
1. Slowing down the Panthers' ground game: The Panthers generally go as far as their power running game takes them, and it took them pretty far last season as RBs DeAngelo Williams and Jonathan Stewart combined for more than 2,300 rushing yards. The Eagles finished fourth in the league against the run last season, but are missing two fairly significant components from that unit — middle linebacker Stewart Bradley and free safety Brian Dawkins.
2. Making Jake Delhomme throw: Delhomme isn't a carry-the-load quarterback, as he proved in last year's playoffs when he threw five interceptions against Arizona. He is at his best when he can rely on his run game to set up his play-action and doesn't have to throw the ball a lot. In his last 32 starts, he's thrown 30 or more passes just 13 times. The Panthers have won just four of those games.
Les Bowen, Daily News Staff Writer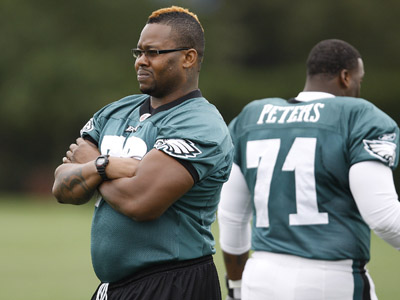 It wasn't until after he worked out for the Eagles this morning that Jon Runyan learned his successor, Shawn Andrews, wasn't practicing, Runyan told your Eagletarian in a text reply. Runyan said the workout with coaches he played for from 2000 to 2008 "went well."
Runyan's agent, Ben Dogra, acknowledged the workout but said there have been no contract talks. It's unlikely the Eagles would want to sign and then play Runyan this week, with no practice, and if they signed him, they'd have to cut someone, from an offensive line corps that will play without Todd Herremans (foot) this week. Also, as a vested veteran, Runyan's entire base salary would be guaranteed once he played in Week 1. The team can cut a potentially less expensive deal next week.
Andrews watched the early part of practice, wearing his jersey without pads, then went back into the NovaCare Complex.