Archive: August, 2011
Daily News staff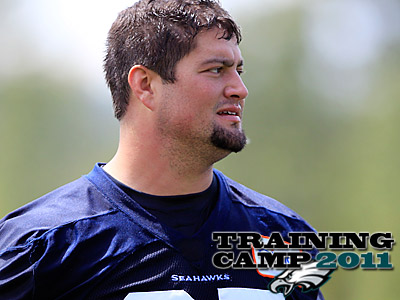 With injuries suffered in Thursday's preseason game by offensive lineman King Dunlap and Fenuki Tupou, the Eagles have signed undrafted rookie free agent Spencer Johnson from Utah State and Joe Toledo, who has played with four teams since being drafted in 2006.
Johnson, 6-7, 294, said he is excited about joining the Eagles, and especially about reuniting with his college teammate and close friend Curtis Marsh, who was drafted by the Eagles in the third round.
"It's been a dream of mine every since I was a little kid to play in the NFL. When I was little, I had hoped to be a basketball player, but then I realized that I couldn't shoot a basketball very well so that wasn't going to happen and I had to change my aspirations," Johnson said. "It is a great honor to play for a tremendous organization like the Philadelphia Eagles, plus I reunite with my best friend through college, Curtis Marsh. To be able to play football more is great, but to play with him makes it even better. I'm just excited to get up there and get to work."
Les Bowen, Daily News Staff Writer
Agent J.R. Rickert said today that there will be an announcement on the status of Eagles defensive tackle Mike Patterson on Monday. Rickert said the upshot is, Patterson won't be sidelined very long with what the team has said is a brain AVM, a tangle of blood vessels that triggered a scary on field seizure at training camp Aug. 3. Rickert said that though surgery has not been ruled out for the man who has played more games as an Eagle than anyone on the current roster (95), Rickert feels playing in the season opener is "definitely a possibility" for Patterson, who turns 28 next month.
Les Bowen, Daily News Staff Writer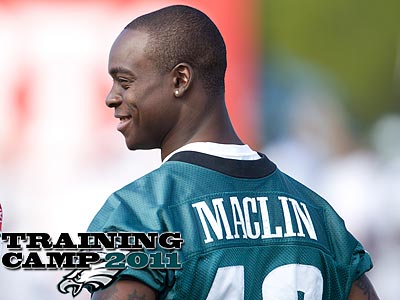 It's really strange to hear from WIP and Channel 10's Howard Eskin that Jeremy Maclin has returned home to St. Louis for medical tests. (A team spokesman subsequently confirmed the report.) Andy Reid has been talking about Maclin undergoing tests for more than a week, up at Eagles camp in Lehigh. Hard to conceive of any illness the Philadelphia medical community isn't sufficient to diagnose and treat.
But Maclin, the Eagles' top receiver last season, is from the suburbs of St. Louis, and you'll recall that he was more or less raised by the family of a youth football coach, Dr. Jeff Parres. Parres is a urologist, so I kinda doubt he's the one doing the tests right now, but obviously, Parres has deep connections in the medical community there, and no doubt, there are friends/associates he wants to assess this.
Those friends/associates had plenty of time to assess during the roughly six months from the time Maclin said he first fell ill with what he has described as a "mono-like" illness and when he reported to camp, but maybe the situation has changed somehow. Maybe there's a different diagnosis or possible direction the case has taken, that Maclin and Parres would like to double-check with the guys back home.
Daily News staff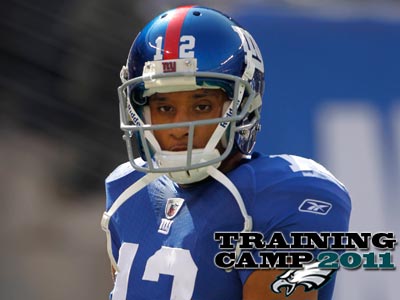 Ah, one Twitter fued ends and another begins.
New Eagles wide receiver Steve Smith was among the Giants players who took aim at Eagles running back LeSean McCoy in the offseason for McCoy's tweet about Osi Umenyiora.
To summarize, McCoy called Umenyiora "overrated" and "soft." Four Giants, including Smith, responded, with several referencing that they call McCoy "Lady Gaga."
Daily News staff and Les Bowen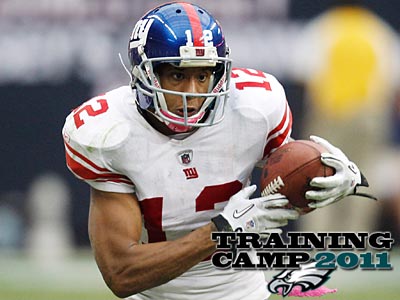 Wide receiver Steve Smith visited Giants training camp this week for a physical, as the team evaluated whether to bring him back. Giants coach Tom Coughlin opined that Smith was "a ways away."
Today, the Eagles announced that they have signed Smith to a 1-year contract, which a league source said guarantees the wideout $2 million, and gives him a chance to mayube double that if he reaches some lofty incentives.
Smith is coming off December microfracture surgery on his left knee and is not expected to be ready to start the season, but he could provide the Eagles with another top-shelf weapon as a slot receiver when he is healthy. Smith had surgery roughly around the same time as Eagles defensive end Brandon Graham.
Les Bowen, Daily News Staff Writer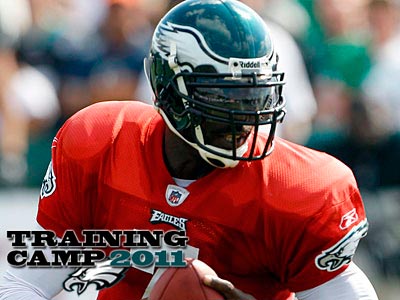 BETHLEHEM --- Michael Vick is ready to roll, even if the Eagles haven't had their normal prep time for a preseason opener, as they turn on the lights tomorrow night at the Linc against the Ravens.
"Football is back. This what it's all about. We all get to go out there tomorrow and do something we love to do, and we enjoy doing ... We're all excited about it," Vick said after the Eagles' morning walkthrough, their last workout before they bus down to Philadelphia tomorrow from Bethlehem.
Eagles coach Andy Reid said Vick and the starters will play a quarter, more than they have in most preseason openers. DeSean Jackson, who hasn't yet practiced with the team after ending his holdout, will not play. Ditto Trevor Laws (hip), Marlin Jackson (sports hernia surgery), Brandon Graham (knee), Winston Justice (knee), Brandon Collier (ankle), Jeremy Maclin (illness), and Mike Patterson (seizure).
Les Bowen, Daily News Staff Writer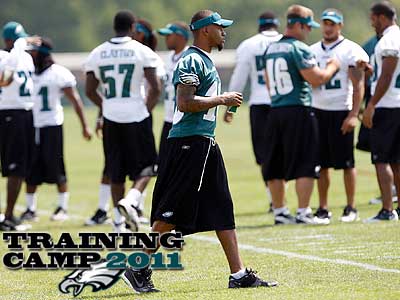 BETHLEHEM -- DeSean Jackson wouldn't articulate why he held out of Eagles training camp for 11 days, but he told reporters Monday afternoon that he is "here to play football," and will put everything into the season, now that he's onboard.
Jackson clearly expects to be rewarded with a new contract, before the Sept. 11 opening of the regular season. Now that he presumably feels he has made his point by sitting out, he apparently hopes to reassure the team about his character and his dedication, moving forward.
Of course, showing up on time might have helped out there.
Les Bowen, Daily News Staff Writer
BETHLEHEM -- Presumably, DeSean Jackson is at Lehigh, since TV cameras recorded him traipsing through Philadelphia International Airport last night, agent Drew Rosenhaus in tow. But Jackson is nowhere around the Lehigh practice fields, as the team convenes this morning. A team spokesman said he had not seen Jackson, or Rosenhaus, for that matter. The spokesman said Jackson will have to get a physical. Stay tuned.