Archive: November, 2011
Les Bowen, Daily News Staff Writer
The topic of the 3-5 Eagles and their reaction to adversity was prominent when reporters gathered around Michael Vick's locker stall today, as you might expect, with the Eagles having held fourth-quarter leads in seven of their eight games.
"When certain things happen in a game, we kind of go into a panic. You can't do that; you've got to keep pushing forward, stay confident, and keep a (winning) attitude. When we do that, we're one of the best teams in this league, I think," Vick said. "When we don't, you see what happens, we don't win football games."
It seemed natural to ask, in the wake of that response, if Vick agrees with fans and media observers that the Eagles are emotionally soft.
Paul Domowitch, Daily News NFL Columnist
Sifting through the wreckage of the Eagles' latest loss while wondering what Nnamdi Asomugha would do if he could go back in time 3 ½ months and be a free agent again:
People like to say Andy Reid never says anything at his news conferences. But that's not necessarily true. Sometimes you just have to listen really, really closely.
In not so many words, Reid admitted Tuesday what everybody else who watched Monday night's game already knew: that his three stud corners – Asante Samuel, Nnamdi Asomugha and Dominique Rodgers-Cromartie – stunk up the joint.
Daily News staff and Les Bowen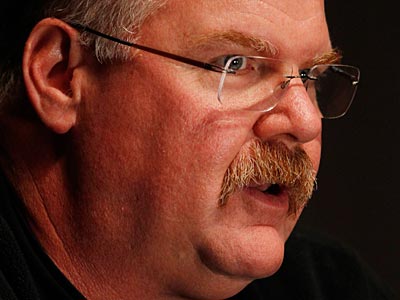 Here are some quick notes from Andy Reid's day-after news conference today following the loss to the Bears:
* Safety Nate Allen has a concussion. Left guard Evan Mathis has turf toe and will "struggle to practice tomorrow."
* Right at the start of the presser, Reid was asked whether the Eagles are a soft team. His one-word reply, "No."
Paul Domowitch, Daily News NFL Columnist
Click here to give your grades on the Eagles' Monday night performance against the Bears:
RUSHING OFFENSE: LeSean McCoy rushed for just 33 yards on 9 carries in the first half, but turned it on in the third quarter, scoring on a 33-yard run with the help of some excellent blocking from left tackle Jason Peters. Ronnie Brown had a four-yard touchdown run.
Grade: B
Les Bowen, Daily News Staff Writer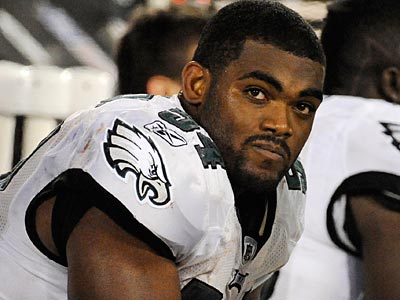 Updated:
The bad vibes started tonight when the Bears took the opening kickoff and drove 79 yards in 12 crisp plays. The Eagles weren't stopping the run or getting pass rush pressure; Jay Cutler had all day to find little-used target Matt Spaeth from 5 yards out on second and goal. Chicago had the ball for the first 5 minutes and 42 seconds of the game.
The Bears converted their first four third-down situations, but misfired on the fifth, and the Eagles mounted a drive. LeSean McCoy busted loose for an 18-yard inside run on third and 3 against a very tough run defense, for a first down on the Bears' 19. But on the next play, the "old" Eagles were back with a vengeance. Vick tried to force a pass to DeSean Jackson. Lance Briggs tipped it to Major Wright. The Bears then drove for a 51-yard Robbie Gould Field goal that made it 10-0.
Daily News staff
Eagles chairman Jeffrey Lurie said the team's slow start "doesn't matter now" and the Birds are "in prime contention" during an ESPN Monday Night Football Chalk Talk event at Lincoln Financial Field this afternoon.
Lurie was among the guests who addressed an overflow crowd of several hundred, in what ESPN said was the biggest turnout for these weekly events in the MNF host city. ESPN also honored veterans who were on hand to start Veterans Week.
"This is a big game for the Eagles. It's a big game for the Bears too," Lurie said. "We've got to win."
Paul Domowitch, Daily News NFL Columnist
What to keep an eye on in tonight's Bears at Eagles game:
NO HAPPY RETURNS: Devin Hester is the league's most dangerous return man. He's a home-run threat every time he touches the ball. He's third in the NFL in punt returns and seventh in kickoff returns and has taken both a punt and a kickoff to the house this season. It's incumbent upon Eagles' rookie kickers - Chas Henry and Alex Henery - to limit Hester's return chances. Easier said than done. Henry's directional punting skills aren't as good as Sav Rocca's, and Henery only has 15 touchbacks in 39 kickoffs.
NOT THEIR FORTE: Jury remains out on Eagles' run defense. Redskins ran just 14 times against them, and Dallas ran it just 10 last week (still averaged 8.5 yards a carry). Tonight, against red-hot running back Matt Forte, will be a better indicator of where they are. Forte has rushed for 138.2 yards a game - 6.2 yards a carry in last four games. He's also a dangerous receiver, averaging 11 yards a catch.
Les Bowen, Daily News Staff Writer
UPDATE: The Eagles have activated 2010 first-round pick Brandon Graham, who hasn't played since suffering a serious knee injury last December. To make room, they released G Kyle DeVan.
The Eagles picked DeVan up on waivers just before the season opener and started him at right guard ahead of first-round rookie Danny Watkins, who had a lot to learn about new offensive line coach Howard Mudd's techniques. DeVan had played for Mudd in Indianapolis. He started the Eagles' first four games, then gave way to Watkins, who has progressed well since. With Winston Justice more or less fully recovered from offseason knee surgery, DeVan was deemed expendable.
FROM EARLIER: Eagles coach Andy Reid said today that defensive end Juqua Parker is "doubtful" for Monday night with a high ankle sprain that hasn't healed as well as Parker and the team had hoped. Parker's possible absence against the Bears puts a different twist on the possible activation of defensive end Brandon Graham.
Les Bowen, Daily News Staff Writer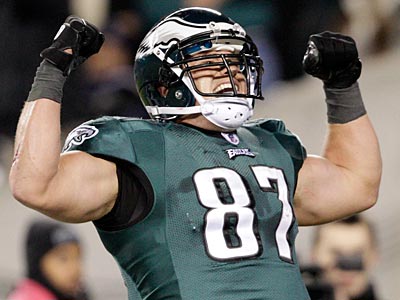 Tight end Brent Celek (hip bruise) confirmed he was practicing today, after your eagle-eyed Eagletarian saw him in the locker room with his practice uni on and his helmet in his hand.
Not present during my locker room sojourn was running back LeSean McCoy, who missed Thursday's practice with a stomach ailment. McCoy participated in the morning walkthrough, offensive coordinator Marty Mornhinweg said. A bottle of Pedialyte sat in McCoy's locker stall. When the team took the field, McCoy was among the players on the field. It was unclear if he would be a full or partial participant, but he certainly is expected to play Monday night against the Bears.
The coordinator press conferences did not reveal anything startling. Defensive coordinator Juan Castillo talked a lot about shutting down Bears running back Matt Forte, who accounts for 43.6 percent of Chicago's offense, as a runner and receiver. "Monday night is going to be about gang tackling," Castillo said.
Philly.com sports
Video: CineSport's Tara Petrolino is joined by Les Bowen of the Daily News to discuss the Eagles upcoming matchup against Matt Forte and the Chicago Bears.