Archive: November, 2011
Les Bowen, Daily News Staff Writer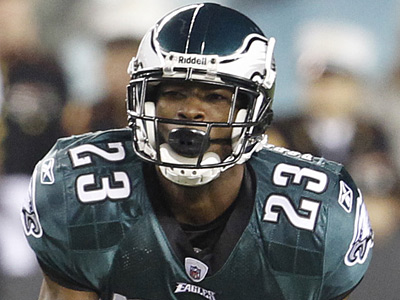 Andy Reid said corner Dominique Rodgers-Cromartie suffered a high ankle sprain on a second-half kickoff return Sunday, but Rodgers-Cromartie told reporters outside NovaCare today that he also suffered torn ankle ligaments.
DRC, who was wearing a white walking boot, wouldn't venture a guess on how long he might be sidelined. Several weeks would seem likely.
"As I went through the wedge, somebody rolled on it," Rodgers-Cromartie said.
Daily News Staff and Les Bowen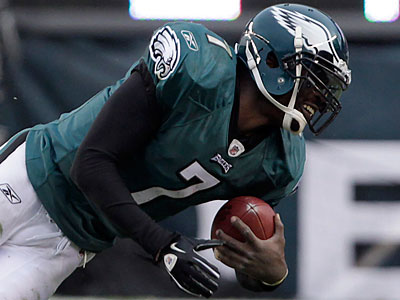 Eagles starting quarterback Michael Vick suffered two broken ribs in Sunday's loss to the Arizona Cardinals, coach Andy Reid said at his news conference on Monday. Reid said Vick was injured on the second play of the game, a completed pass to Brent Celek on which Cards linebacker Daryl Washington came in unblocked and blasted Vick just under his throwing arm after his release.
"Michael Vick has broken ribs . . . Yeah, he broke his ribs, the lower two ribs. We'll see in the next couple of days how things go."
Reid wouldn't speculate whether Vick will be ready to play Sunday night against the Giants.
Paul Domowitch, Daily News NFL Columnist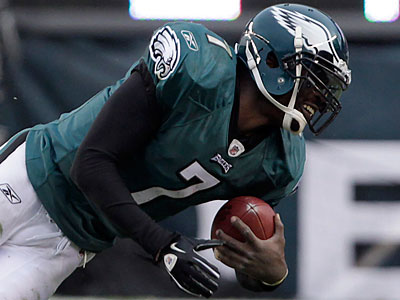 Here are Domo's grades for today's Eagles loss to Arizona. You can make your grades by clicking here.
RUSHING OFFENSE
You would think the absence of DeSean Jackson would encourage Andy Reid to run the ball more, not less. But LeSean McCoy's 14 carries were his fewest since he had 11 in the Eagles' Week 5 loss to the Bills. McCoy averaged 5.8 yards per carry, had three runs of 13 yards or more and notched his 10th rushing TD, making the 14 carries even more curious.
Daily News staff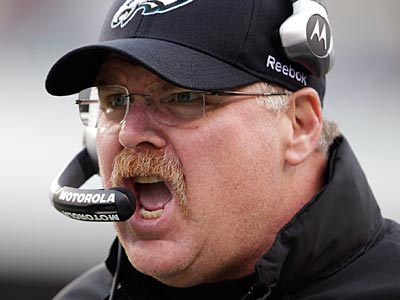 Eagles coach Andy Reid said sitting DeSean Jackson was "the right thing to do," in the aftermath of Jackson missing a team meeting Saturday.
"By now, it's out what happened," Reid said. "You just have to step back and make sure it doesn't happen again."
Reid was peppered with followup questions, but had little to add. "I'm not happy about it," he said.
Les Bowen, Daily News Staff Writer
The Eagles' offense definitely was missing something today through most of the first half against the Arizona Cardinals. Maybe DeSean Jackson. Definitely a spark, some chemistry in the passing game. Jeremy Maclin for several series, after a tough hit at midfield by Adrian Wilson caused him to head for the locker room for tests on a shoulder, the Eagles said.
Jackson, of course, is inactive today because he missed a Saturday special teams meeting. The wideouts, especially during the time Maclin was out, looked woefully unprepared for the spotlight, and quarterback Michael Vick was inacurrate, missing Brent Celek by a mile on an early bomb. No defender was anywhere near Celek at the time.
But the Eagles got a defensive touchdown for the second game in a row, Asante Samuel picking off John Skelton and going 19 yards to break a scoreless tie. Then the Cards, who missed two field goals in the first half, drove 84 yards on 10 plays and a penalty, Larry Fitzgerald catching a 10-yard Skelton pass for the tying TD.
Les Bowen, Daily News Staff Writer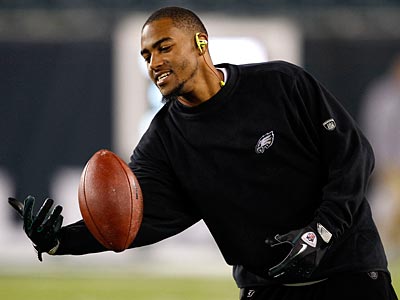 DeSean Jackson, who will watch today's game from his South Philly home, issued a statement about his deactivation today. Jackson missed an Eagles special teams meeting Saturday, apparently because he overslept.
Spokesman Bobby McRae said Jackson told him he "made an honest mistake," but realizes there are consequences for his actions.
"In coming back, he will make sure he works hard and does everything he can to help the team and prove its trust in him is not misplaced."
Daily News staff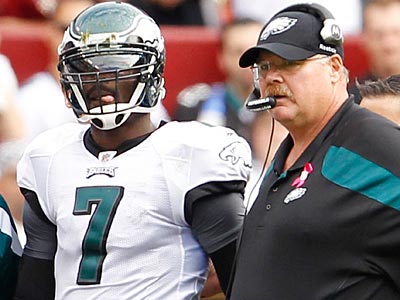 Here are our weekly Eagles predictions and for those wondering, these were made before DeSean Jackson was deemed inactive for the game:
LES BOWEN
Here we are again, the Eagles playing for their season. They responded well in that situation against the Redskins and Cowboys.
Les Bowen, Daily News Staff Writer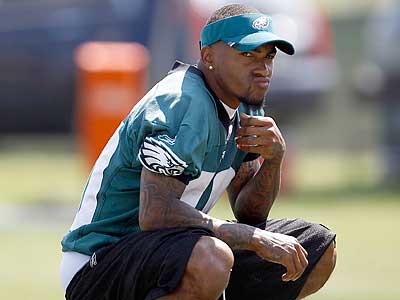 Updated: Jason Avant will start in place of DeSean Jackson today, the Eagles said, in announcing their inactives. Also out, in addition to Jackson are third quarterback Mike Kafka, S Nate Allen, CB Curtis Marsh, LG Evan Mathis, OT Winston Justice, and DE Phillip Hunt.
This means DE Juqua Parker is active with the persistent high ankle sprain that caused him to be listed as questionable for today's game against the Cards.
Earlier: When the Eagles' inactives are announced about 90 minutes before gametime today, there will be one very large surprise.