Archive: November, 2010
Les Bowen, Daily News Staff Writer
Video: Les Bowen of the Daily News reports from Eagles practice as they prepare for their rematch with Donovan McNabb and the Redskins on Monday night in Washington.
Daily News staff and Les Bowen
Eagles safety Nate Allen and lineman Max Jean-Gilles will not practice today. Jean-Gilles has not passed concussion testing yet. Allen has a sprained neck.
Cornerback Ellis Hobbs and tackle King Dunlap will work with the scout team, easing themselves back in. Coach Andy Reid said it was still a "stretch" to expect Hobbs or Dunlap to play Monday night against Washington.
Reid said a back specialist did not find any problems with Hobbs earlier this week, but his hip flexor injury is improving.
Daily News staff
The Eagles continued their roster shuffling of the last few days by signing tight end Cornelius Ingram to the practice squad.
Ingram was a fifth-round pick out of Florida by the Eagles in 2009 after missing his final season with the Gators because of a left knee injury. He then missed what would have been his rookie season after tearing the ACL in the same knee.
After aggressively rehabbing the knee, he returned last spring and took part in training camp and the preseason, although he missed time with a Baker's cyst on the back of his left knee and calf.
Daily News staff
The Redskins were back at practice today to prepare for the game against the Eagles on Monday night.
Questions will continue to surround Donovan McNabb as the game draws closer.
Mike Shanahan was asked in his meeting with the media on McNabb's physical condition. You might remember Shanahan's second explanation for benching McNabb involved injuries.
Les Bowen and Daily News staff
The Eagles have finally gotten around to announcing what was reported last night, that they have signed safety Colt Anderson off the Vikings practice squad, realeasing RB Joique Bell from the roster and DE Pannel Egboh from the practice squad, where Bell presumably is bound, if no one picks him up.
The Eagles have been carrying only three safeties, and head coach Andy Reid said Monday that Nate Allen is unlikely to be available this week at Washington with a neck injury.
"They just felt like now was the time to get me and make sure I'm there," Anderson told the Montana Standard, his hometown paper. "I'm really excited. I'm excited to get out on the field and prove myself.
Daily News staff
Those of you who regularly read Eagletarian know that after every game Paul Domowitch posts his grades and then we let the readers give theirs.
As we hit the midseason mark with the Eagles at 5-3, we went back and looked at what the Eagles' grade would be in each category by averaging Domo's game-by-game grades. Consider it the GPA for the first semester.
Run offense: B-
Daily News staff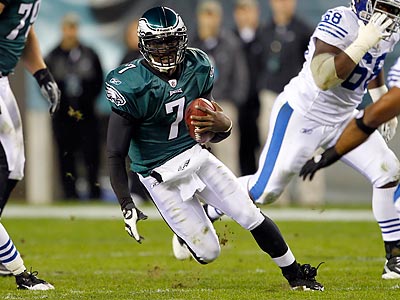 Michael Vick says he tends not to talk to his friends around the NFL during the season. That is what the offseason is for and he would rather focus on the task at hand with his own team.
Specifically, he said he has not spoken with Donovan McNabb in the aftermath of his benching and heading toward the Eagles game against the Redskins on Monday night.
"I haven't talked with Donovan," Vick said during his weekly radio show with Tony Mercurio on ESPN Radio 94.1 in Virginia Beach. "This is his bye week. It's important for him to get out and clear his mind and get away from football for a while. Not have to deal with some of the things that he is going through and I don't want to be a constant reminder of something that is so negative. It is important for him to get away and enjoy himself for a while."
Paul Domowitch, Daily News NFL Columnist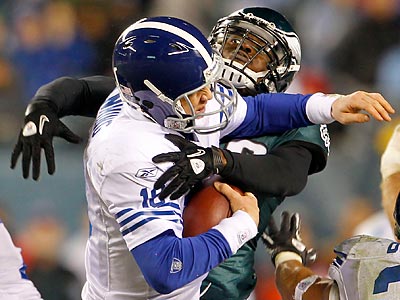 This one was for the old man.
This one was for Jim Johnson, who didn't live long enough to see his defense do what it did Sunday. He didn't live long enough to see it beat Peyton Manning.
"This is sweet,'' defensive coordinator Sean McDermott said after the Eagles intercepted Manning twice and sacked him 3 times in a dramatic 26-24 win over the Colts. ``Sweet. Sweet. We battled (Manning) for a lot of years. I know Jim always wanted to get him. He's a great player. But our players got him. They got him today.''
Daily News staff and Les Bowen
The NFL announced today that there will be no fine for safety Kurt Coleman'shit Sunday on Colts receiver Austin Collie.
Here is a statement from the league, delivered via email to the Daily News:
"In the second quarter of Sunday's game between the Eagles and Colts, the Eagles were penalized for unnecessary roughness for a hit on Colts wide receiver Austin Collie.