Archive: September, 2012
Paul Domowitch, Daily News NFL Columnist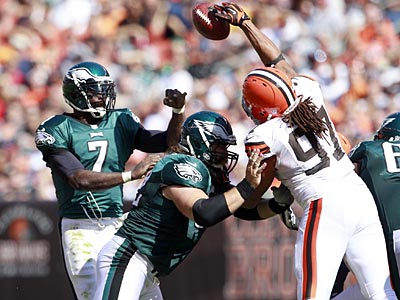 Breaking down the Eagles' 17-16 Week 1 win over the Browns while wondering how many live animals possibly are living in Jason Kelce's beard:
Michael Vick was very fortunate to get out of Sunday's game with just four interceptions, because that number very easily could've been eight. That's right, eight.
Linebacker Craig Robertson, who had one of Browns' four interceptions, very nearly picked off a careless second-quarter pass to LeSean McCoy. Linebacker D'Qwell Jackson almost did the same with a third-quarter pass to Jeremy Maclin.
Daily News staff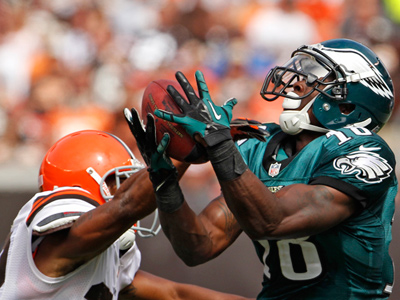 Eagles wide receiver Jeremy Maclin suffered a hip pointer during Sunday's 17-16 win over Cleveland, Andy Reid said at his day-after news conference on Monday.
"He has a little bit of a hip flexor there, too," Reid said about Maclin. "The hip pointer, with those things they hurt you more the next couple of days. He battled through it. You have to give him credit for it."
Reid did not indicate if Maclin will miss Sunday's game against Baltimore. If he does, Reid said Riley Cooper (collarbone) will not replace him.
Daily News staff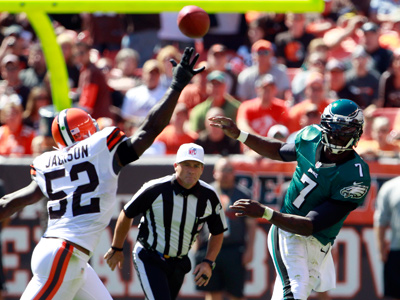 Eagles quarterback Michael Vick was plagued with four interceptions in Sunday's 17-16 victory over the host Cleveland Browns.
Vick completed 29-of-56 passes for 317 uards and two touchdowns. The interceptions nearly finished off the Eagles in their season-opening game.
"It was just stepping up and getting it done," Vick said in a postgame interview. "We had been through so much in the game – penalties and turnovers. But we got out of here 1-0 and that's what's important."
Les Bowen, Daily News Staff Writer
CLEVELAND -- Well, the Eagles didn't suffer any serious injuries in the first half of their season opener. And except for one trick play, they really stuffed the run, middle linebacker DeMeco Ryans looking like the guy the Birds thought they were getting when they traded with Houston.
See, there are some good things, for those in desperate need of hearing them. But there was more than enough to fit onto the other side of the ledger. The game, which the Birds led 10-3 at halftime, wasn't 11 minutes old before both LeSean McCoy and Michael Vick had turned the ball over. Those 12 preseason snaps that weren't going to be a problem for Vick? They were a problem, a problem partly created by a porous offensive line that didn't let No. 7 get comfortable.
Vick got hit at a rate that is simply not sustainable, if the Eagles want him upright in October. Whether it was the replacement refs or just bad blocking, three long McCoy runs were wiped out by holding penalties. The visiting Eagles were penalized seven times in the first half to Cleveland's two.
Les Bowen, Daily News Staff Writer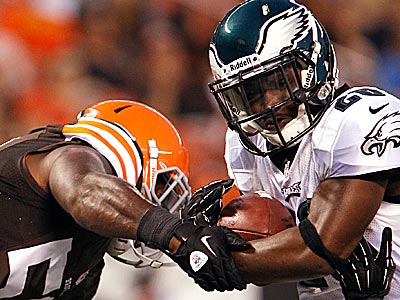 CLEVELAND --- The Eagles are getting ready to kick off the 2012 season Sunday, and they have posted their inactives for their game with the Browns. Headlining the list is left tackle Demetress Bell, signed to start back in March, but replaced by King Dunlap a few weeks ago.
Also inactive is running back Dion Lewis (hamstring), who will be replaced by Bryce Brown.
As previously announced, wideout Riley Cooper (collarbone) and safety/special teams ace Colt Anderson (knee) are inactive, as are just-acquired OL Nate Menkin, former BNrowns safety David Sims and second-round rookie defensive end Vinny Curry.
Paul Domowitch, Daily News NFL Columnist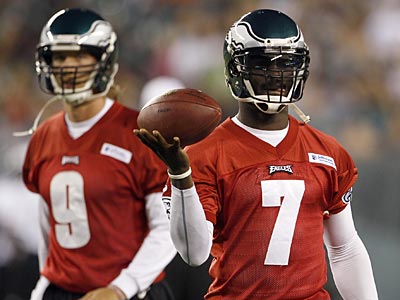 Vick's Rust: Quarterback Michael Vick played just 12 snaps in the preseason because of injuries. Vick says it's no big deal, but that remains to be seen. Under normal circumstances, he would've played about 60-70 snaps. Andy Reid and Marty Mornhinweg probably will open the game with some safe, high-percentage passes for Vick.
Pressuring the Rookie QB: The Eagles, who led the league in sacks last season, notched 20 in four preseason games, including 3 of the Browns' Brandon Weeden. Defensive line coach Jim Washburn's top priority Sunday will getting as much pressure on the rookie as possible.
Ryans' Hope: It looked like the Eagles finally had solved their middle linebacker problems when they traded for two-time Pro Bowler DeMeco Ryans in the offseason. But he made very few plays in the preseason. Is he playing possum? Or is he just not the same player he was before his 2010 Achilles injury.
Les Bowen, Daily News Staff Writer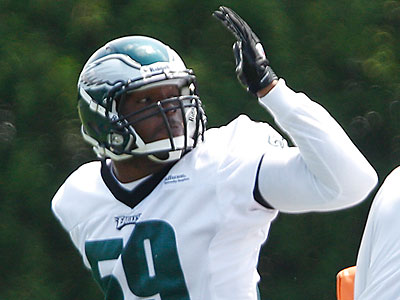 Several interesting developments from Friday's final real practice before the Eagles' season opener Sunday at Cleveland. The most interesting might have been Andy Reid's announcement that he plans to play all six of his linebackers --- not just on special teams, as you would expect, but in the defense.
This helps explain a dizzying back and forth in practice the past few days, with Jamar Chaney in the nickel, for example, along with Mychal Kendricks Thursday, and DeMeco Ryans back in Chaney's spot Friday, and Casey Matthews and Brian Rolle involved in other packages, along with starter Akeem Jordan.
Kendricks hinted at something like this Thursday, but reporters were more focused on an apparent increased role for Chaney, who was bothered by a hamstring during the preseason. Friday, Reid said he plans to rotate his linebackers, much as he (or, supposedly, Juan Castillo) does his defensive linemen.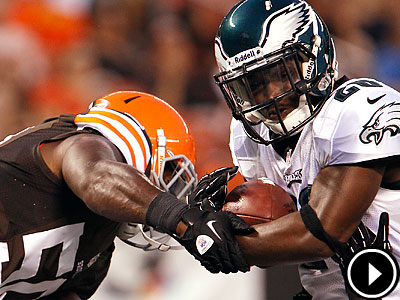 What do Michael Vick and the Eagles need to do to secure a victory against the Browns? Les Bowen of the Daily News and CineSport's Noah Coslov discuss the big talking points.