Archive: August, 2012
Philly.com Sports
Join the Daily News' Les Bowen as he takes your Eagles questions in a live chat, scheduled to start at 11:30 a.m. on Friday.
On a mobile device? Click HERE to join the chat!
Philly.com Sports
Video: The Eagles continue to struggle with injuries at training camp as a number of players left Thursday's afternoon session. The Daily News' Les Bowen and philly.com's John Roach report from Lehigh.
Les Bowen, Daily News Staff Writer
BETHLEHEM -- The Eagles didn't really need another corner, Howie Roseman acknowledged when asked how he came to trade for Kevin Thomas from Indianapolis Thursday. But Roseman liked Thomas coming out of USC in 2010, before the Colts drafted him in the third round, and corner is one of those positions where you always look for more real players, and maybe most important, former Eagles personnel chief Ryan Grigson is the GM in Indianapolis now, and Grigson needed linebackers.
Roseman had a couple of those, former seventh-round draft picks Moise Fokou (2009) and Greg Lloyd (2011), who did not fit into the Eagles' plans. So Fokou and Lloyd now are Colts, and Thomas is now an Eagle. The Birds also got a conditional 2013 seventh-round pick.
Thomas, 6-0, 192, missed his rookie season with a knee injury. Last season he started five games for the worst team in the league. Obviously, he was drafted by a previous regime; Grigson and co. have no investment in him.
Les Bowen, Daily News Staff Writer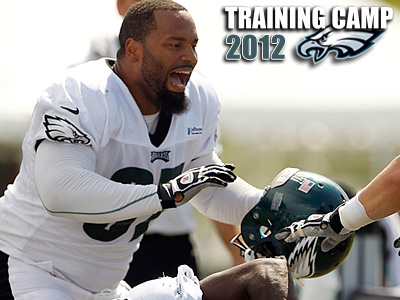 BETHLEHEM -- Eagles defensive tackle Cullen Jenkins said his hamstring problem is "just a tweak" that won't sideline him long.
Jenkins agreed it is strange having all four projected d-line starters injured right now. "We have our defensive line meetings in the training room," Jenkins joked.
Injuries to Jenkins and the other starting defensive tackle, Mike Patterson, whose skull is healing after surgery, have put the focus even more squarely on first-round rookie Fletcher Cox.
Les Bowen, Daily News Staff Writer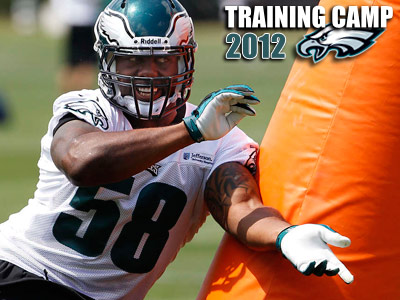 BETHLEHEM -- Eagles coach Andy Reid said defensive end Trent Cole has developed an AC joint (shoulder) problem that could keep him out of practice "anywhere from a day to a week." This was in the morning. By Wednesday afternoon, one of the players filling in at d-end, starting defensive tackle Cullen Jenkins, had left practice with what the Eagles said was a hamstring injury that was to be MRI'd Wednesday night. If a hamstring injury requires an MRI, it's usually more than a day-or-two-type thing.
Cole and fellow starting DE Jason Babin (calf) are unlikely to miss regular season time with their injuries. Their absence right now should give an extended look to players such as Brandon Graham, Phillip Hunt, Darryl Tapp and rookie Vinny Curry. (Yet another DE, Monte Tyalor, left Wednesday's afternoon workout with a concussion, the Eagles said.)
Babin left the Lehigh fieldhouse Wednesday with a large bag of ice strapped to his right leg. He told reporters he has a definite idea who might emerge from the pack in his absence. He wouldn't provide a name, but said he figures everyone will be able to figure it out by the end of the week. (The guess here is Graham, who has been relentless, on a quest to redeem his first-round promise, as he starts his third season since the Eagles traded up to draft him 15th overall.)