Archive: August, 2010
Les Bowen, Daily News Staff Writer
Five things to watch tonight when the Eagles open their preseason against Jacksonville:
1. Will Jim Devlin show up in his McNabb Redskins jersey? And how long before he gets tased if he does?
2. New era, Kevin Kolb, blah, blah, blah. Preseason really isn't going to tell us much there. But it will give talk radio a viable weekend topic.
Les Bowen, Daily News Staff Writer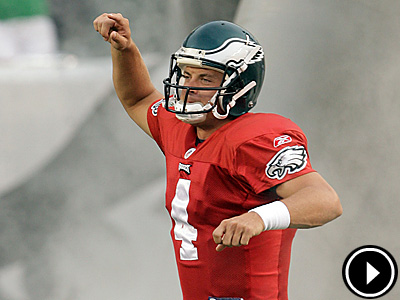 Les Bowen, Daily News Staff Writer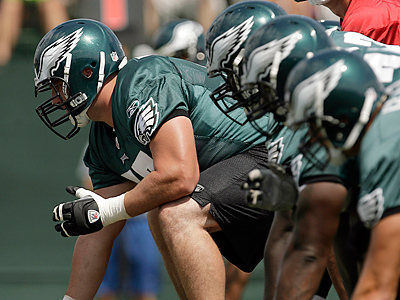 BETHLEHEM -- Finally, a game. Not a real game, of course, but after more than two weeks at Lehigh, interrupted only by a Flight Night practice that really was just more of the same in a different setting, getting to evaluate players in a completely fresh context is going to be a blessing, for coaches and reporters.
Eagles coach Andy Reid reiterated today what he'd said previously -- that his starters will play a quarter in the preseason opener tomorrow night against Jacksonville at Lincoln Financial Field. This is what Reid always says before the preseason opener. If the past is any guide, the starters certainly won't play more than a quarter, and they might play considerably less, particularly the offense, if it puts a couple of extended drives together.
The spotlight will be on new starting quarterback Kevin Kolb, obviously, and on two high-profile rookies, first-round defensive end Brandon Graham and second-round free safety Nate Allen, but perhaps just as important to the team's long-term prospects will be the play of center Mike McGlynn.
Daily News staff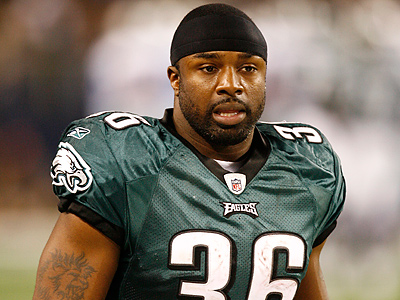 Former Eagles running back Brian Westbrook is set to decide by Monday on which team he will play for this season, according to ESPN's Chris Mortensen.
The suitors that he has visited are St. Louis, Washington and Denver. Green Bay had also expressed interest at one point. Redskins coach Mike Shanahan has said since the spring that the Redskins have had an offer out to Westbrook.
Whether he joins one of those teams or another team that has yet to be identified is not clear.
Paul Domowitch, Daily News NFL Columnist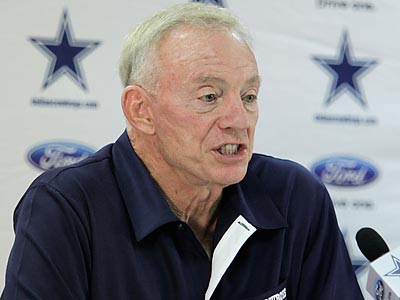 ARLINGTON, Texas -- Everybody's got an opinion on how the departure of Donovan McNabb will affect the Eagles. That includes Cowboys owner Jerry Jones.
During a Tuesday night interview with him at his $1 billion stadium in Arlington, Texas, Jones said he thinks the Eagles won't be as much a Jekyll-and-Hyde team with Kevin Kolb at quarterback as they were with the streaky McNabb.
When McNabb played well against the Cowboys, the Eagles usually won. When he didn't, they usually lost. Last year, the Cowboys won all three meetings against the Eagles, including a 34-14 win in the wildcard round of the playoffs.
Les Bowen, Daily News Staff Writer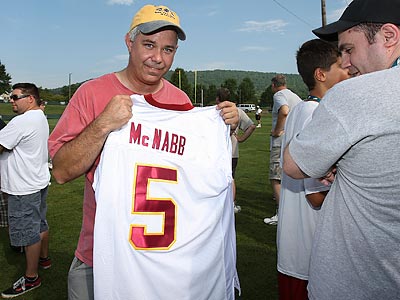 BETHLEHEM -- Eagles fan Jim Devlin, the guy Eagles security asked to take off his Donovan McNabb Redskins jersey during the morning session of training camp, appeared for the afternoon practice wearing a red No. 4 Eagles Kevin Kolb practice jersey.
Devlin, of King of Prussia, said he bought the Kolb jersey during lunch break, from the souvenir stand. He said he'd intended to buy a Kolb jersey at some point, and figured this was as good a time as any.
Devlin seemed taken aback by the media stir he'd caused. He spent much of the afternoon practice talking to Eagles spokesman Derek Boyko and security official Dom DiSandro.
Les Bowen, Daily News Staff Writer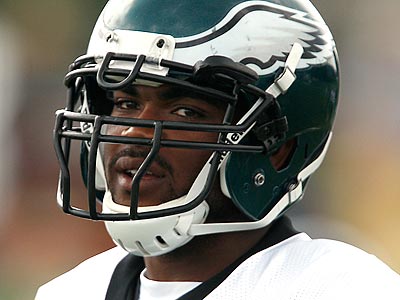 Today might have been Kevin Kolb's sharpest day of training camp, but one throw, at least, didn't find its way to the intended target.
Kolb's screen to tight end Brent Celek was picked off by exuberant rookie defensive end Brandon Graham, who pranced through the offensive players and high-stepped all the way to the end zone, though no one was actually in pursuit, and Graham could have just jogged to a halt and thrown the ball back.
"That reminded me of my linebacker days" early on at Michigan, first-round pick Graham said. "I just knew it was a screen because of the way he pushed off me. I just stood right there, and the ball came right to me. He pushed off me and rolled behind me, so I just shuffled with him, it ended up coming right into my hands."
BETHLEHEM --- Running back Mike Bell felt he was in the best shape of his career, but the Eagles were only three days into full-squad practices when Bell caught a pass running across the field, then suddenly let go of the ball, grabbed his left hamstring, and hit the ground, yelling.
"I put in so much hard work this summer, and I felt so good, I felt like I was having a good camp. When that happened, I just saw everything that happened my whole career just flash before my eyes," Bell said today. "I was like, 'not again.' Regardless of (reassurances about), injuries, being that this is a business, they gotta move on. My thing is, I don't want to ever fall out of the grace of the coaches, and I feel like that's what happened the last two places I was at (Denver and New Orleans). I think injuries caused my demise. But it feels different here."
That apparently was the impetus behind Bell's animated chat with Marty Mornhinweg a few days ago, the offensive coordinator calming Bell, who is frustrated that he has not been able to show his new team what he can do. Mornhinweg made sure Bell knew he will still get every chance to prove his worth.