Archive: November, 2010
Les Bowen, Daily News Staff Writer
Updated: It's 45-14 Eagles at the half and history has been made -- the most the Birds had ever scored in a half was 42 points, in their 56-21 victory over the Lions Sept. 23, 2007, the day of the yellow and blue unis that we've never seen again. (I think they got lost in a storage shed somewhere, alongside Reggie Brown's talent.)
Michael Vick, who probably thinks the Donovan McNabb contract would be a nice starting point for his negotiations, is 14 of 18 for 264 yards and three touchdowns, for a perfect 158.3 passer rating. McNabb, after a slow start, is nine of 16 for 206, 2 TDs and a pair of INTs that led to 14 Eagles points.His passer rating is 101, but the rainsoaked Fed Ex Field patrons don't seem to find that comforting.
Earlier: Never let it be said that Redskins fans lack a sense of humor. When the ref announced the end of the first quarter, the Eagles leading 28-0, a hearty cheer went up from the rain-flecked masses at Fed Ex Field.
Daily News staff
UPDATED:
Donovan McNabb and the Redskins have agreed to a 5-year, $78 million deal with $40 million guaranteed, ESPN's Michael Smith is reporting, citing a source. (Smith, you might recall was a confidante in the media of the McNabb camp during his the end of tenure with the Eagles.)
The deal includes the possibility of another $10 million in incentives, according to the report.
Paul Domowitch, Daily News NFL Columnist
Here is what we will be watching during Monday night's Eagles-Redskins game:
1. Walk, don't run. The last time the Eagles faced the Redskins, they were having major issues with their run defense. The Redskins gashed them for 57 rushing yards on their first 2 possessions and finished with 169 yards on 35 carries. Since then, though, the Eagles have been stout vs. the run. They've held their last 4 opponents to 69 rushing yards per game and a paltry 3.2 yards per carry.

2. The Vick-Jackson connection. DeSean Jackson has been much more of an offensive factor with Michael Vick at quarterback than Kevin Kolb. Vick's ability to extend plays with his feet, which has been essential given the instability of the offensive line, has afforded Jackson the opportunity to use double moves on defenders. Jackson's got 8 catches of 25 yards or more, and 7 of them have been thrown by Vick. In the 15 quarters he's been on the field with Vick, Jackson has 21 catches, 3 TDs and a 20.6 yards-per-catch average. In 13 quarters with Kolb: 5-1-14.2.

3. Limiting the charity. The Redskins have given up a ton of yards this season. They are 31st in total defense and 28th in first downs allowed. But they have been adept at forcing turnovers. They are tied for the league lead in takeaways with 19, including a league-best 10 fumble recoveries. A year ago, they forced 17 turnovers the entire season. But the Eagles have been very good at ball security this season. Their 9 giveaways are the second fewest in the league.

4. Early wake-up call. In their Week 4 win, The Redskins ambushed the Eagles defense early, scoring on its first 3 possessession and forcing the Eagles to play catch-up. The 'Skins ran the ball on 9 of their first 11 plays in that game and averaged 8.0 yards per play on those first 3 possessions, just 3.3 the rest of the game.

5. Third-down defense. The Redskins are 31st in third-down offense, converting just 23.8 percent of their third-down chances. But they converted 5 of 11 against the Eagles in Week 4. McNabb's 31-yard TD pass to Chris Cooley came on a third-and-5. His 57-yard completion to Anthony Armstrong came on a third-and-15. McNabb also had 2 third-down runs for first downs. And a pair of Eagles penalties on third down also kept Redskin drives alive. The Eagles, who are 20th in third-down defense, need to be able to get off the field tonight.
**

Daily News staff
The Eagles announced the death of two former assistant coaches.
Ken Iman, an offensive line coach from 1976-86 under three head coaches, died Saturday at his home in Springfiedl, Pa. He was 71.
Lew Carpenter, the wide receivers coach from 1990-94 under two head coaches, died this morning in Texas. He was 78.
Daily News staff
The Washington Redskins planned to use a spy on Michael Vick during the first meeting between the teams, according to Redskins players.
A safety or corner was set to be assigned to Vick because defensive linemen or linebackers would not have been able to keep up with him.
Then, Vick went out after he was sandwiched by two Redskins defenders at the goal line and the plan changed when Kevin Kolb came in.
Daily News staff and Les Bowen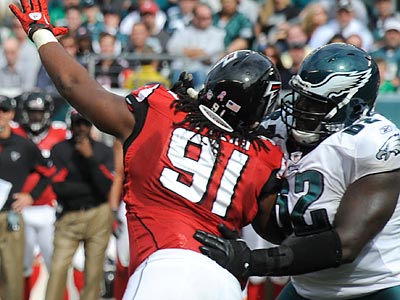 Eagles guard Max Jean-Gilles passed concussion testing, was cleared by an independent specialist, and returned to practice today.
Coach Andy Reid said he was not prepared to say whether Jean-Gilles would start Monday night against Washington or whether Nick Cole would be the starter, but Jean-Gilles said he expects to play, barring setback.
We'll see how things go," Reid said. "Nick has gotten the most reps this week ... Both guys are starting caliber gaurds. We need to see how Max does after this practice. That is the next step."
Daily News staff
Here are Paul Domowitch's NFL Power Rankings for Week 10 (last week's ranking in parentheses):

1. Steelers 6-2 (2)
2. Giants 6-2 (3)
Les Bowen, Daily News Staff Writer
The previous meeting with the Redskins was not the Eagles defense's finest hour. Washington scored only 17 points, but it got those on its first three drives of the game, which put the Eagles' offense in a big hole. As offensive coordinator Marty Mornhinweg sniffed when asked about the effectiveness of Washington's Cover 2 in shutting down his unit, "It worked well, 14 points up."
The Redskins rushed for 169 yards, and the Eagles ended the day ranked 27th in the league against the rush.
"We got chewed out," recalled defensive tackle Antonio Dixon,, who has been a big part of the defense's ascent to 12th against the run, as the Birds prepare to face the Redskins again Monday night. Chewed out by defensive coordinator Sean McDermott? By d-line coach Rory Segrest? "Both," Dixon said. "And coach Reid. When it's coming from coach Reid, we know we have to do better, We had to step up."
Les Bowen, Daily News Staff Writer
Video: CineSport's Noah Coslov turns to Les Bowen of the Daily News for the three keys to the game for the Eagles on Monday night against the Redskins.