Archive: October, 2011
Les Bowen, Daily News Staff Writer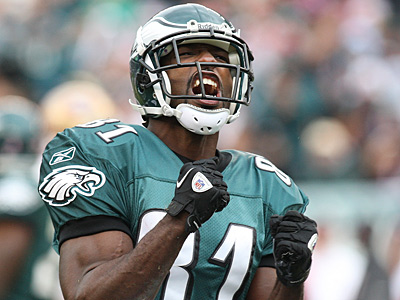 Jason Avant called a players-only meeting this morning, to stress sticking together and to reinforce the notion that the Eagles have the talent to work their way out of their dreadful 1-4 start, middle linebacker Jamar Chaney said.
"Everybody was calm," Chaney said. "You don't want to get heated right now; it ain't no time to panic. We know what we're capable of doing, and we're not going to panic. We've had a few bad games, four bad games, but at the end of the day, we don't think those four teams are better than us. They won the games ... we just have to go out there and do a better job of playing the whole game, on offense and defense ... when it's all said and done, we don't think no team can beat us, but we've been doing a good job of beating ourselves lately, and we've got to stop doing that."
Chaney said he thought the meeting reinforced the "sense of urgency for practice today" as the Eagles prepare to head for Washington. While five teams have made the playoffs after starting 1-4, under the current playoff format adopted in 1990, no 1-5 teams have made the postseason.
Daily News staff and Les Bowen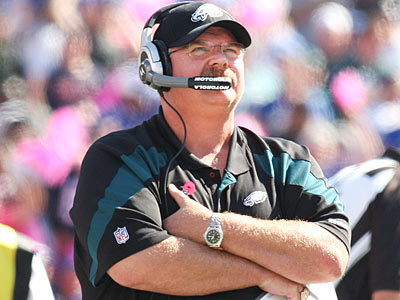 Eagles coach Andy Reid said he was not in touch with anyone regarding coming aboard as a defensive consultant and did not offer the position to anyone.
"Nobody. Zero. Nothing," he said.
He also denied being involved in any conversations about the subject.
Les Bowen, Daily News Staff Writer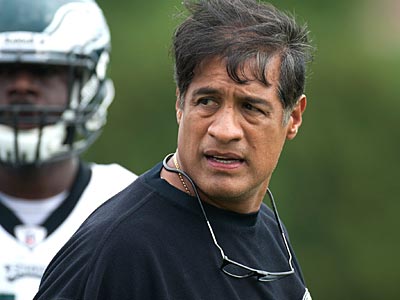 An Eagles spokesman today said the team is not hiring a defensive consultant. The spokesman was responding to a report by ESPN's Chris Mortensen last night, which said Eagles coach Andy Reid had discussed with management bringing in some help for new defensive corrdinator Juan Castillo during the bye week next week.
Today on ESPN.com, a version of Mortensen's report notes the Eagles' denial and points out that the team is denying it will make the move, not that the move was considered.
Of course, at 1-4, with the defense in tatters, it isn't hard to believe the Eagles would consider anything. Or that they might change their mind about help for Castillo during the bye week, if they drop to 1-5 after playing the Redskins.
Paul Domowitch, Daily News NFL Columnist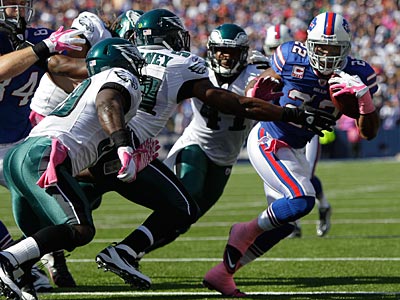 Surveying the wreckage of the Eagles' fourth straight loss while wondering why Donovan McNabb still can't seem to put Philadelphia in his rear-view mirror:
MARTY'S 3 THINGS
Last week, offensive coordinator Marty Mornhinweg said his unit needed to improve in three areas against the Bills: 1) eliminate turnovers; 2) convert third-and-short situations and 3) eliminate red-zone penalties.
Daily News staff and Les Bowen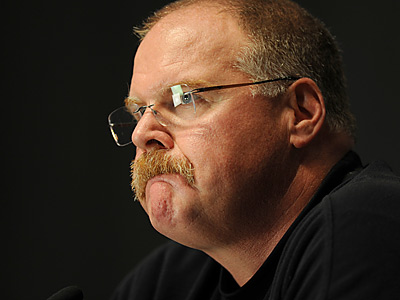 Eagles coach Andy Reid said he has no plans to scrap the "wide 9" defensive front that defensive line coach Jim Washburn brought to the team this season. Reid also affirmed that Juan Castillo will remain defensive coordinator.
The Eagles are among the worst teams in the league against the run, and were gashed early against Buffalo.
"You obviously saw it worked the second half very effectively," Reid said. "Anything new, you have to work with and work out the wrinkles and get it right. They players have to learn it, the coaches have to learn it. it's a joint effort there."
Paul Domowitch and Daily News staff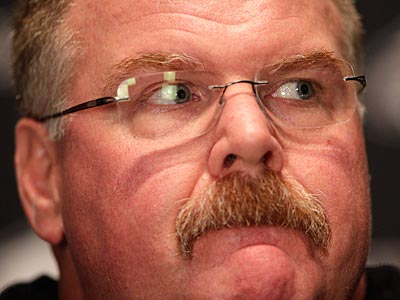 Plenty to digest after yesterday's Eagles loss to Buffalo. Here are some of the things we are talking about today:
All those turnovers. With their five giveaways in Sunday's loss, the Eagles already have 15 turnovers in their first five games, 14 of which have come in their four-game losing skid. Eagles have a league-worst minus-10 turnover ratio.
How hot is Andy's seat? After the money the Eagles shelled out in free agency and all of the talk about being all in, owner Jeff Lurie felt very, very good about his team's Super Bowl chances this season. Now the Dream Team is 1-4 and in a death spiral. Could season No. 12 be the head coach's last if the bad times continue?
Paul Domowitch, Daily News NFL Columnist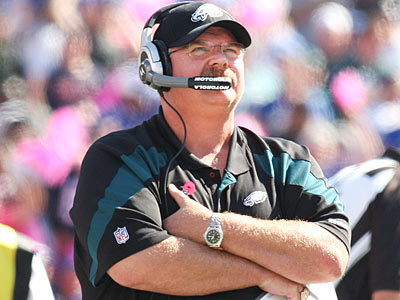 Here are Paul Domowitch's grades from the Eagles' loss to the Bills. You can click here to make your grades.
RUSHING OFFENSE
The Eagles rushed for 174 yards, including 90 by Michael Vick, who passed Randall Cunningham to become the league's all-time rushing leader among QBs. LeSean McCoy rushed for 80 yards on just 11 carries. Had four runs of 10 yards or more, including a 10-yarder for his fifth rushing TD of the season. Grade: B-plus
Daily News staff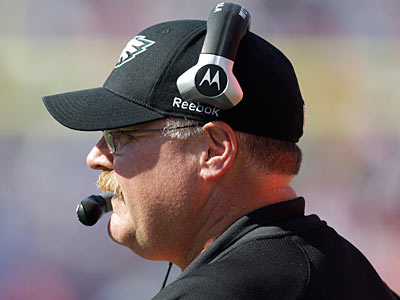 Eagles coach Andy Reid was asked about his job security as the team fell to 1-4 after a 31-24 loss to Buffalo.
"In the National Football League, your job is on the line every week, man," Reid said.
After his introductory statement and "time's yours," Reid walked off the podium when reporters took an extra second to ask the first question. "OK, that's good," Reid said.