Archive: January, 2009
Daily News staff
The Eagles are heading to the NFC title game for the fifth time in 8 years after their victory over the New York Giants and are not planning on stopping there. The Eagles face Arizona next Sunday at 3 p.m. and will open as a three-point favorite, according to Daily News handicapper Vegas Vic.
"I'm glad to be here. I want to keep going and this football team wants to keep going and this football team is going to work our tail off to do that," coach Andy Reid said in his postgame news conference.
Other thoughts from Reid:
Les Bowen, Daily News Staff Writer
Updating: Double wow. Two fourth downs the Giants have gone for near midfield, twice the middle of the Eagles' defense has stuffed. Time is ticking. David Akers just made it 23-11 with a 20-yard field goal. This is starting to look a lot like Arizona, and an NFC title berth.
Hold your breath. And don't take all the good airline seats while I'm stuck trying to write this stuff. In fact, anybody out there work for US Airways? Can you set me up? Friday, I need to go out. I like an aisle.
Previously: Well, well. Your Eagletarian has to confess that he thought the Giants were much the better team in the first half, that the Eagles were lucky to have that 10-8 lead. But the Birds were way, way better in the third quarter. They just scored a touchdown on the first play of the fourth quarter, after driving 63 yards in 10 plays. Donovan McNabb hit Brent Celek off play action for a 1-yard touchdown and a 20-11 lead that looks pretty big, as the swamplands shadows lengthen.
Daily News staff
The Eagles head to Giants Stadium today on the heels of victories by the visiting team in both of Saturday's Divisional Playoff games. Arizona knocked off Carolina and Baltimore beat Tennessee. Thus far, the road team has won four of the six NFL playoff games, including the Eagles' win at Minnesota last week.
Winning on the road, obviously, is not as impossible as it once was in the playoffs.
* Prior to this year, since 2003, the travelers have a repectable .420 winning percentage, significantly higher than the .262 winning percentage on the road the previous 13 years.
Daily News staff
5 REASONS EAGLES WILL WIN
1. When Donovan McNabb plays well, he plays very well. He plays well enough to beat any team, anywhere. Watching some of Fox's camera angles last week, you could see how McNabb was zipping his passes into very small spaces. If McNabb is hot, the Birds win.
2. There is a greater chance for McNabb to be hot if the running game is working. This task falls onto the offensive line and it also falls onto the coaches, who need to develop a game plan that stresses patience and encourages diligence. The last time in Giants Stadium, the Birds ran successfully and won. If the Birds control the ball, move the ball and convert third downs, they will win.
Les Bowen, Daily News Staff Writer
Dan Klecko practiced Friday, but with the scout team, and afterward, Eagles coach Andy Reid listed his fullback as
"doubtful" for Sunday's divisional round playoff game at the Giants with a shoulder injury sustained in last week's wild-card round playoff victory over the Vikings.
Reid said Correll Buckhalter will get most of the fullback reps if Klecko can't go, with Kyle Eckel working in.
That could be a significant change, since running the ball was so important to the Eagles' 20-14 victory at the Giants back on Dec. 7.
Paul Domowitch, Daily News NFL Columnist
Our weekly look at what we are watching in this weekend's Eagles game:
1. Defending Giants' ground game: Since getting gashed for 219 rushing yards by the Giants in Week 10, the Eagles' defense has stuffed the run better than anybody in the league. Held the Giants to 88 yards in their Week 14 rematch. Held NFL rushing champ Adrian Peterson to 83 yards last week. Needs to do the same Sunday to Brandon Jacobs and Derrick Ward.
2. The factor back: Brian Westbrook, who has battled knee and ankle injuries much of the season, had 203 rushing and receiving yards and both of the Eagles' TDs in their Week 14 win over the Giants. In the four games since, he's averaged just 3.0 yards per carry. He needs to be a factor again Sunday.
Daily News staff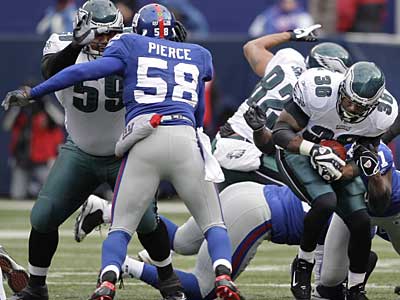 Giants middle linebacker Antonio Pierce was not buying into the notion that this year's Eagles are just like last year's Giants -- a team that went on the road and won in the postseason and had to face the top seed in the second round. Not unless the Eagles win the Super Bowl.
After asking a reporter what the date was to emphasize his point, Pierce said, "I won't know anything about any team until February 1st or 2nd. So you can't call any team – you can't be called the NY Giants of 2007, any other team can't because that team won the Super Bowl."
Pierce added that this year's Giants team has something last year's version lacked.
Les Bowen, Daily News Staff Writer
It was inevitable that Eagles offensive coordinator Marty Mornhinweg was going to be asked about the weather in his Thursday news conference. Wind was a huge factor in the last meeting with the Giants at the Meadowlands, Dec. 7, and of course, we all know the Birds (and kicker David Akers, specifically) benefited from playing indoors last week at Minnesota.
Right now, weather.com doesn't forecast anything horrendous for Sunday. The high in East Rutherford, N.J., is
predicted to be 32 degrees, nippy but not that cold for mid-January, with an estimated 13 mph wind, which would be significantly less swirly than last month's conditions. Apparently, it will be sunny.
"I've been up there before, going way back," Monrhinweg said. "I don't even worry about it. If it's windy, it's windy; we'll do certain things. If it's not windy, we'll do certain things ... we don't even worry about that."