Paul Domowitch, Daily News NFL Columnist
For the 12th straight year, NFL Network analyst Mike Mayock will break down each of the positions in the draft for the Daily News, providing his assessment of the best player at each position, as well as his top riser and sleeper. Mayock, 54, resides in Newtown Square and is a graduate of the Haverford School. He was a tenth-round pick of the Steelers in 1981 and played two seasons with the Giants (1982-83). I'll run his assessments in the days leading up to the April 25 draft, starting today with the quarterbacks:
QUARTERBACKS
THE BEST
Paul Domowitch, Daily News NFL Columnist
The Eagles released their 2013 preseason schedule Thursday. While the exact dates still aren't set, they'll open the preseason with back-to-back home games against the New England Patriots August 8-11 and the Carolina Panthers August 15-19.
They'll be on the road for their final two preseason games, traveling to Jacksonville to play the Jaguars August 22-25, and the Meadowlands on August 29 or 30 to face the Jets.
The NFL is expected to release the regular-season schedule in two weeks. The Eagles' non-division home opponents this season are Chicago, Detroit, Arizona, Kansas City and San Diego. Their non-division road opponents are Denver, Green Bay, Minnesota, Oakland and Tampa Bay.
Paul Domowitch, Daily News NFL Columnist
On the same day that the Eagles brought potential first-round quarterback Geno Smith in for a NovaCare visit, Nick Foles met with reporters Wednesday and made it clear that he thinks he can be the team's starting quarterback next season, foot-speed be damned.
"Whoever's the quarterback of your team, you build your offense around them,'' Foles said. "I feel like I can go in and run anything. I'm here to compete. Everybody's here to achieve the same goal and that's to win.''
Because Chip Kelly ran a read-option offense at Oregon, and because Foles doesn't have the speed to run the read-option, it has been assumed he will be the odd man out when Kelly decides on a starting quarterback.
Paul Domowitch, Daily News NFL Columnist
At the NFL scouting combine in late February, Oregon running back Kenjon Barner was asked what Eagles players should expect from Chip Kelly.
"A lot of speed," he said. "Everything's going to be fast-paced. Be in great shape. That's my advice to those guys. Be in great shape. He pushes you to a limit that you didn't know you had."
It hasn't taken the Eagles long to find that out. Two days into the team's voluntary offseason workouts, chests already are heaving and tongues are a wagging.
Les Bowen, Daily News Staff Writer
The main purpose of Thursday's Eagles trade of Stanley Havili to the Indianapolis Colts for defensive end Clifton Geathers was to get something for Havili, while giving the fullback a decent shot at continuing his career.
Havili, 25, was a good solider who worked his way up from the practice squad in 2011 to play in 15 games in 2012, but new coach Chip Kelly's offense is not expected to include a traditional fullback. The Colts' GM is Ryan Grigson, who was the Eagles' personnel director when Havili was drafted in the seventh round from USC in 2011.
For a guy they were going to cut sooner or later, the Birds got a potential 3-4 end in Geathers, also 25, listed at 6-7, 325. Geathers was a sixth-round pick of the Browns in 2010, and has since played for the Dolphins, Seahawks, Cowboys and Colts, in three years. That's a lot more teams than you'd think a guy Geathers' size would have played for by now. (So, no, the Eagles aren't cutting anybody because they got this guy, He'll compete for a roster spot.)
Les Bowen, Daily News Staff Writer
Donnie Jones thought he had earned another year with the Houston Texans, but when that didn't seem to be working out, Jones was happy to sign on with the Eagles, who announced him Monday as their new punter.
The Eagles released Mat McBriar, the former Cowboys Pro Bowler who beat out Chas Henry last season, but never seemed to come all the way back to the form he showed before a nerve problem caused by a cyst derailed his career.
Jones, 32, is a nine-year vet who was an All-Pro choice twice, with the Rams in 2008 and 2009. He also has punted for the Dolphins and Seahawks. Last season, he was signed because Texans punter Brett Hartmann had to serve a three-game illegal substance suspension, but Jones ended up winning the job outright. He finished the year with a 47.2-yard gross and a 40.5-yard net, with 28 punts downed inside the 20. McBriar had a 46.5-yard gross but a 36.5-yard net, in part a reflection of the Eagles' poor coverage. He dropped 13 punts inside the 20.
Les Bowen, Daily News Staff Writer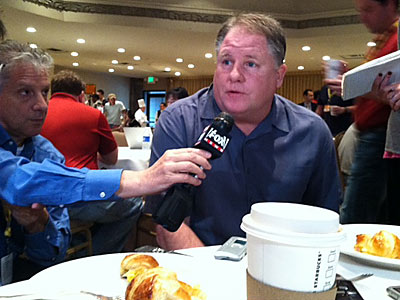 PHOENIX --- New Eagles coach Chip Kelly held his most extensive media session since he took the job two months ago, chatting with waves of curious reporters gathered for the NFC coaches' breakfast at the NFL Meetings.
The Chipper's main message was that he is not coming in as some sort of miracle worker/genius whose ideas will revolutionalize football. (Even if that is what he hopes for, there is no advantage to having the rest of the league eager to watch the "smart guy" fail.)
"We don't run some magical offense or defense,' Kelly said. At another juncture, when asked about NFL people who think the spread option won't last in the NFL, Kelly shrugged.
Les Bowen, Daily News Staff Writer
PHOENIX -- Andy Reid celebrated his 55th birthday Tuesday by sitting down at a breakfast table to be quizzed by half a dozen reporters from Philadelphia.
"I've missed you guys," Reid said, his mustache twitching just a bit.
The sign on the table displayed a Kansas City Chiefs helmet next to Reid's name, but there were no KC reporters in sight for the AFC coaches' breakfast, at the NFL Meetings in the Arizona Biltmore hotel. Different city, different media market.
Paul Domowitch, Daily News NFL Columnist
When last we left Joe Banner and Jeff Lurie, things were not good between the two childhood friends.
Lurie was publicly accusing the Eagles' former president of besmirching the good name of his general manager Howie Roseman, and Banner, now the CEO of the Browns, was suggesting Lurie might want to hire himself a good libel lawyer.
But that was then and this is now, and now, Little Joe and Jazzy Jeff appear to have buried the hatchet.
Les Bowen, Daily News Staff Writer
PHOENIX -- Eagles chairman Jeffrey Lurie said Monday he is enthusiastic about the New York-area Super Bowl next year, and will push for Philadelphia to host one, if the New York venture is a success.
"Growing up in Boston, I went to more great games in snow conditions," Lurie said during the lunch recess at the NFL Meetings at the Arizona Biltmore hotel. "Some of the most memorable games I've ever been to were very difficult and wonderful conditions. I would have no fear of it snowing -- as long as there's no public safety issue that day, I think it would be great if it's snowing a bit."
Asked then if he would seek a roman-numeraled game for Philly, Lurie said. "I will. Yes, I will. If it's a success. New York will help us."