Archive: September, 2008
Les Bowen, Daily News Staff Writer
Wideout Reggie Brown did his most extensive practice work Friday since injuring his left hamstring on the first play of the Aug. 14 preseason game against Carolina. The Eagles listed Brown as a partial participant and as "questionable" for Monday's game.
"I didn't do too much," Brown said. "I just tried to take it easy and work my way through it. I'm not trying to rush myself and have any setbacks right now."
Asked if he thought he might play in Dallas, Brown said: "That's not known right now. It's day-to-day."

Daily News staff

The 2004 Eagles are back in the spotlight thanks to Terrell Owens, who come to think of it helped them get into the spotlight back then, too.
The now-Dallas wide receiver said Thursday that the 2008 Cowboys are "way more talented" than that Eagles team, which went to the Super Bowl, winning 13 games in the regular season (starting 13-1 and then resting the starters in the last two regular-season games), scoring an average of 24 points per game and allowing an average of 16 points per game.
Asked about Owens' comments, Eagles safety Brian Dawkins said: "I don't even think about it in that way. Those are his opinions about his team. Quite frankly, he's supposed to have high expectations and high hopes for his team. 2004 was a great year for this Eagles organization. We made a great run; we didn't finish it. That's where it ends. I can't worry about what someone else is saying about whatever. My focus is completely and totally on this football team — the Philadelphia Eagles."
Les Bowen, Daily News Staff Writer
Wideout Reggie Brown probably will be listed as "questionable," Eagles coach Andy Reid said, but Brown (hamstring) is practicing, as the Birds begin preparation for Monday night's game at Dallas. Brown also practiced last Wednesday, but felt a pull in his injured hammy and hadn't taken the field since.
(PM Update -- Brown said he was "very limited" in practice. The team listed him as a limited participant. That doesn't sound too promising for Monday.)
Reid was asked Thursday when he first grasped what a big deal the Eagles-Cowboys rivalry was. Reid said in his first year,
1999, early in Dallas week, he went to a McDonald's near the Vet (hard to believe!) for "a little breakfast burrito" (just the one, surely).
Daily News staff
The folks in Dallas are hoping that they have the next Brian Westbrook in Felix Jones, at least according to the blog of the Dallas Morning News.
"That's kind of why we drafted him," Cowboys coach Wade Phillips told reporters. "We felt that he was in that mode of a versatile guy who can catch the football out of the backfield, split him out some if you have to and run with the football. He gives you that explosiveness.
"If you find a Westbrook, that would be really something. But we like Felix, and hopefully he'll come along in the right direction."
Les Bowen, Daily News Staff Writer
One of the many, many reasons your Eagletarian could never be a professional athlete is that he just doesn't get "bulletin board material." Most of it, anyway.
There aren't any actual bulletin boards in the Eagles' locker room. There's a marker board as you first walk in, that usually says something like "Bible study 4:30 p.m."
I've never seen it quote Jessica Simpson, or even Adam (nee Pac-Man) Jones. And I still can't believe professional athletes really make ferreting out possible disparaging comments by opponents and stray bystanders part of their preparation. If it's me, I laugh. Why would I care about something silly somebody said, unless they singled me out and critiqued my play? That's kind of kindergartenish.
Daily News staff
Eagles defensive coordinator Jim Johnson said Monday that it was too early to tell how he planned to defend Terrell Owens on Monday night.
In last year's second meeting – a 10-6 Eagles win – Johnson put Lito Sheppard on Owens, who finished with just two receptions for 37 yards.
"They're moving T.O. around a little bit more than last year," Johnson said in what is sure to not be the last time this week he is asked about Owens.
Paul Domowitch, Daily News NFL Columnist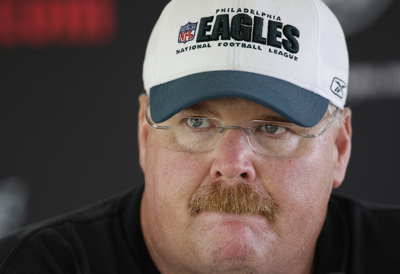 On measuring the significance of a victory over a team as seemingly inept as the Rams:
What he said: ``I think the Rams have some talent and they have good coaches. I don't think they're near as bad as what that score showed.''
What he meant: ``Man, that was like shooting fish in a barrel. Jeff Lurie's been in contact with the league office and is trying to get us an immediate transfer to the NFC West.''

On the status of injured wide receiver Reggie Brown:
What he said: ``He feels pretty good today. He's going to continue to rehab and we'll see how he is once we resume practice on Thursday.''
What he meant: ``After he watches the tape of DeSean Jackson's performance a couple of more times, he should be as good as new.''

On whether he's concerned at all about Jackson getting a big head:
What he said: ``DeSean's all right. He's been a star at every level he's been at. He's playing well right now. Does he have a lot of room to improve? Absolutely. But he's playing well and he's confident and we don't want him any other way than that.''
What he meant: ``Well, he hasn't said anything about changing his name to DeSean Diez (Spanish for 10) yet, so that's good. Even as we speak, Joe Banner is whipping up one of those super-duper below-market-value 20-year contract extensions for him to sign. Keep your fingers crossed.''
Les Bowen, Daily News Staff Writer
Cruising around the Internets this morning, looking for reaction to the Eagles' carving up of the Rams yesterday, I didn't find much that was noteworthy. John Clayton from ESPN.com throws out the ceremonial first Donovan McNabb MVP mention, but otherwise, people seem very consumed by an injury suffered by some person named Brady.
Marcia Brady? Wayne Brady? We'll try to track that down for you.
Even the local blogs are a little ho-hum. What sort of incisive commentary can you offer on a 35-point win? Trying to be critical just falls flat. Let's give it our best shot: Who had more drops yesterday, L.J. Smith or Asante Samuel? See, kinda lame.
Les Bowen, Daily News Staff Writer
Coaches and players don't gush over season-opening victories. It's kind of an unwritten rule, right up there with never mentioning to an opposing player that his disappointing performance is killing your fantasy team.
So, Andy Reid intoned that beating the St. Louis Rams, 38-3, while not allowing them a single third down conversion (they were 0-for-11), and while accumulating 522 net yards, was "a good way to start the season."
Yeah, kinda.
Les Bowen, Daily News Staff Writer
You know how athletes like to cite how positive and supportive St. Louis fans are?
I'm kind of wondering how that's going right now.
Granted, under the Arch, they're probably all about the Cardinals this afternoon and are barely aware their NFL team is playing, but for the people in St. Louis who do care, this had to be devastating.