Archive: July, 2008
Les Bowen, Daily News Staff Writer
You have to read through Donovan McNabb's musings on various Philadelphia-related sports topics in his latest blog entry to get to the stuff most of us really care about, the fact that he feels his shoulder is fine and that he's working out in Arizona with Brian Dawkins, a week before McNabb, other select veterans, and all rookies are scheduled to report to Lehigh. I'm told a bunch of Eagles receivers were to arrive today for sessions all this week, though I don't have any names.
As for DMac's other blog comments, I did take note of his endorsement of the Elton Brand signing. I think McNabb, who briefly played basketball for Syracuse, is usually pretty astute in his roundball observations. He seems to find it easier to say what he really thinks, when commenting on basketball. I remember briefly talking to him on the eve of the NBA Finals -- like most observers, he thought the Lakers would probably win, but he did note that if "Pau Gasol plays as soft as he did against San Antonio, the Celtics have a chance." He also did a pretty good job last spring with his NCAA tourney insights.
One other McNabb-related tidbit that came up while your Eagletarian was on vacation. Igglesblog summed up the whole, complicated, 10th-year McNabb situation very pithily, in what it calls a "Unified Theory of Donovan." it states the following:
Heck of a player.
Good guy.
Pretty much down to his last shot in this town.
Josh Barnett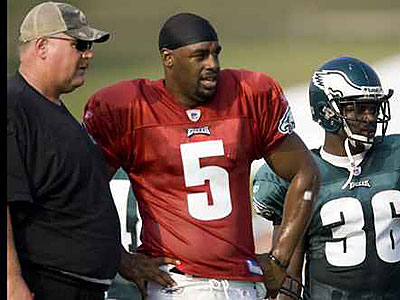 Andy Reid will utter the first "time's yours" of the summer next Monday evening when he begins his 10th training camp as Eagles coach. Rookies and selected veterans report that day and are on the field for the first time the following morning, at 8:45 a.m.
The Eagles do have a little bit of work to do before then, as their top two draft choices -- second-rounders Trevor Laws and DeSean Jackson -- remain unsigned. The team has agreed to terms with their other eight selections.
While we were away, a few Eagles items did catch our eye. Some have probably been talked about already among Eagles fans, but in case you missed it ...
Les Bowen, Daily News Staff Writer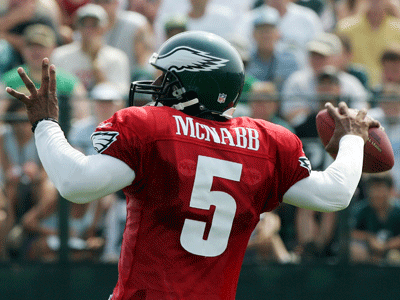 Just thought we'd better check in with something here, from vacationland. Even though nothing is really going on yet with the Eagles, rookies report to Lehigh two weeks from today, so it's time to start THINKING about stuff happening, anyway.
One thought your Eagletarian had recently, while waiting for the Mini-Me sex tape to download, was that while I am all for Jevon Kearse turning it around with Tennessee this season, I wish he would shut the hell up.
In case you missed it, The Freak opined last week that by the end of the 2008 season, Eagles fans will say, "Why the hell did we let that dude go? What were they thinking?"